Louisiana License Plate Lookup Procedure
The best way to run a Louisiana license plate number lookup for verification purposes is online. With the ability to access hundreds of millions of vehicle records on the fly, SearchQuarry.com Louisiana license plate search tool has streamlined to process of finding vehicle information. The first step is to enter the full license plate number of the vehicle in question and then verify that you're using it for an appropriate reason as outlined in the terms of this search. Then you'll have access to a bounty of vehicle information such as vehicle specifications, vehicle history reports, title verification, junk and salvaged vehicles, owner information and more. This powerful tool is to be used for unofficial verification purposes only. Additionally this service is not offered by any motor vehicle dept. in Louisiana. If you encounter any questions or difficulties with you search you can visit our blog at the bottom of this page, call support or email us to assist you with finding what you're looking for.
Why Run a Louisiana License Plate Search?
There are quite a few reasons people want to run a license plate search in Louisiana. Some of the top reasons in Louisiana for running a plate search is to verify vehicle information, verify ownership of the vehicle, driver safety concerns and to see if a vehicle has been abandoned. There are specific allowable reasons for running a Louisiana license plate search that should be adhered by according to local, state and federal privacy laws. You'll see the terms outlined during your plate search. One of the great benefits of using a service like SearchQuarry.com is you'll have the ability to run unlimited nationwide license plate searches in the member's area and all searches are confidential.
What You Can Find With a Louisiana License Plate Search
Vehicle History Report 

Owner Information

Manufacturer Specifications

 and Options

Vehicle Title Verification 

 

Salvage & Junk Records

 

Vital Vehicle Statistics

 

Accident  Records

 

Odometer Verification

 

About Louisiana License Plates
License plates in Louisiana were adopted in 1915, where it was required to everyone that drove an automobile in Louisiana was supposed to have a rear plates as deemed by the governing body at the time. Today only rear license plates are required on all vehicles today, as well as current tags and a current auto insurance policy. LA license plates are also issued to trailers, motorcycles and other towable non motorized vehicles. There are two basic sizes of plates available, the standard license plates and specialty plates. There are several varieties of specialty plates including organizational plates, personalized plates, special interest plates and military honor plates.
Nationwide License Plate Check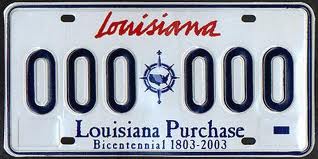 ---
Louisiana License Plate FAQs
Can I lookup someone else's Louisiana license plate?
Yes, if it's public information and you have a valid reason for running a plate search in Louisiana then you can find a lot of information using resources like SearchQuarry.com
---