Maine License Plate Lookup Tool
It's now a simple process to run a Maine license plate lookup on any vehicle. If you know the full ME license plate number and have a valid reason for running this search you can start by entering the full plate number into the search tool form. If you have the VIN and not the license plate number that's fine too. You can get the license plate number from the VIN as they are both connected as identifiers to the same vehicle. Once you've completed your search, verify that the vehicle is the correct one you're interested in finding more about and then you'll be eligible to find owner information, the history of the vehicle, vital statistics and specifications, title reports and much more. This powerful ME license plate lookup tool is intended for unofficial verification purposes only. This is not a service offered by any ME motor vehicle dept. If you need help with your inquiry you can reach out to our blog chat, call us or email us for assistance.
Reasons For a Maine License Plate Lookup
Many people use this ME license plate search tool to verify vehicle information, especially those that are looking to purchase a used car. One of the great features of this plate search tool is anyone can access it and use it on the fly to find out the history of a vehicle. The buyer can verify if the car seller is accurate with the description of the advertised vehicle or if the vehicle documents match the seller's information. Maybe the vehicle was in a major accident and it's title status been salvaged or junked or if the odometer reading is accurate. There are a lot of data points that are valuable to used car enthusiast that can help them to identify if that car is a good value. Other reasons people use this resource are for driver safety reasons, maybe there is an abandoned vehicle on their property or perhaps it was involved in some criminal activity. There are a lot of acceptable reasons that people can use this tool in Maine that follow the guidelines set out by state and federal privacy laws.
What You Can Find With a Maine License Plate Search
Owner Information For That Car 

 

Vehicle Specifications & Options

A Complete Vehicle History Report 

 

Vehicle Title Verification 

 

Junk & Salvage Records

 

Vital Statistics of The Car

Accident and Total Loss Records

Odometer Verification

 
More About Maine License Plates
Maine was one of the first states in the US to require and issue license plates starting in 1905. The first license plates Maine introduced were made of porcelain and are now valuable collectors items today. Today, all the ME license plates are made of aluminum and the state law requires vehicle owners to have two license plates: one on the front and another on the rear. Apart from the standard plates, the Maine Department of Motor Vehicles offers specialty plates and plates for disabled people.
Search a License Plate in Any State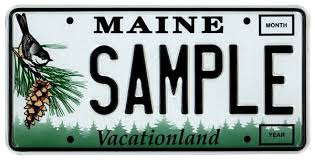 ---
Maine License Plate Search FAQs
Can I customize my Maine license plate to say whatever I want?
The answer is possibly. If you abide the character limitations on the Maine license plate and make sure your custom phrase is not offensive or derogatory in accordance with the rules then you can say what you like. The other caveat is if your phrase is already taken, then you'll have to choose something else to say
---