Maine License Plate Lookup Tool
It's now a simple process to run a Maine license plate lookup on any vehicle. If you know the full ME license plate number and have a valid reason for running this search you can start by entering the full plate number into the search tool form. If you have the VIN and not the license plate number that's fine too. You can get the license plate number from the VIN as they are both connected as identifiers to the same vehicle. Once you've completed your search, verify that the vehicle is the correct one you're interested in finding more about and then you'll be eligible to find owner information, the history of the vehicle, vital statistics and specifications, title reports and much more. This powerful ME license plate lookup tool is intended for unofficial verification purposes only. This is not a service offered by any ME motor vehicle dept. If you need help with your inquiry you can reach out to our blog chat, call us or email us for assistance.
Reasons For a Maine License Plate Lookup
Many people use this ME license plate search tool to verify vehicle information, especially those that are looking to purchase a used car. One of the great features of this plate search tool is anyone can access it and use it on the fly to find out the history of a vehicle. The buyer can verify if the car seller is accurate with the description of the advertised vehicle or if the vehicle documents match the seller's information. Maybe the vehicle was in a major accident and it's title status been salvaged or junked or if the odometer reading is accurate. There are a lot of data points that are valuable to used car enthusiast that can help them to identify if that car is a good value. Other reasons people use this resource are for driver safety reasons, maybe there is an abandoned vehicle on their property or perhaps it was involved in some criminal activity. There are a lot of acceptable reasons that people can use this tool in Maine that follow the guidelines set out by state and federal privacy laws. Below are some of the most popular reasons people run a plate search in Maine:
Vehicle History Check: Conducting a license plate lookup can provide important insights into a vehicle's history, including past accidents, recalls, odometer verification, title checks, or other significant events that may impact its value or safety.

 

Buying a Used Vehicle: Before purchasing a used car in Maine, running a license plate lookup can help verify the information provided by the seller. It can provide details about the vehicle's title, if there is a lien holder, if it's been reported stolen, or other vehicle specifications and options

 

Accident Investigations: A Maine license plate number lookups can assist law enforcement agencies and insurance companies in accident investigations. By accessing information about the vehicles involved, authorities can determine fault, verify insurance coverage, and vehicle owner information.

 

Safety and Security: If you suspect a vehicle is involved in suspicious activities, a quick search can provide ownership to the police so that they can follow up on the suspicious activity.

 

Private Investigators: A P.I. can use a plate number to help find someone that has fled from a court case, skip tracing fugitives and other related criminal investigations.

 
What You Can Find With a Maine License Plate Search
Owner Information For That Car 

 

Vehicle Specifications & Options

A Complete Vehicle History Report 

 

Vehicle Title Verification 

 

Junk & Salvage Records

 

Vital Statistics of The Car

Accident and Total Loss Records

Odometer Verification

 

Recalls and known vehicle safety issues

More About Maine License Plates
Maine was one of the first states in the US to require and issue license plates starting in 1905. The first license plates Maine introduced were made of porcelain and are now valuable collectors items today. Today, all the ME license plates are made of aluminum and the state law requires vehicle owners to have two license plates: one on the front and another on the rear. Apart from the standard plates, the Maine Bureau of Motor Vehicles offers specialty plates and plates for disabled people. According to the Maine Bureau of Motor Vehicles there were 387,233 registered vehicles in the state as of 2023, and thousands of those registered vehicles have specialized license plates.
Privacy Concerns and Considerations While Searching Maine License Plate Information
While license plate lookup services offer valuable information, privacy concerns can arise. It is important to be aware of the following considerations: 
Personal Privacy: A Maine License plate number lookup can expose the personal information of vehicle owners, potentially leading to privacy breaches or misuse of data. It is crucial for the lookup service providers to handle this information responsibly and have appropriate security measures in place. Some information may be restricted under Maine driver privacy laws.

Misuse of Data: There is a risk that the information obtained through license plate lookups may be misused for stalking, harassment, or other malicious activities. Strict regulations and policies should be in place to prevent such misuse and protect individuals' privacy.

 

Legal and Ethical Use: It is essential to use vehicle record services within the bounds of the law and for legitimate purposes. Unauthorized access to private information or using the obtained data for illegal activities can have severe consequences.

 
Understanding The Significance of a Maine License Plate Lookup
Maine license plate lookup services offer a range of benefits, from researching a vehicle's history to assisting in accident investigations and ensuring personal safety. However, it is extremely important to use this tool responsibly and follow the privacy guidelines associated with accessing personal information. By employing appropriate safeguards, vehicle record services can provide valuable information while respecting people's privacy rights and maintaining ethical standards. 
Search a License Plate in Any State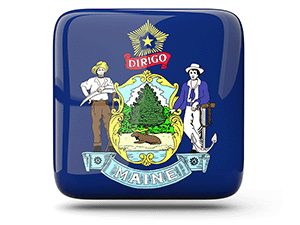 ---
Maine License Plate Search FAQs
Can I customize my Maine license plate to say whatever I want?
The answer is possibly. If you abide the character limitations on the Maine license plate and make sure your custom phrase is not offensive or derogatory in accordance with the rules then you can say what you like. The other caveat is if your phrase is already taken, then you'll have to choose something else to say
What is a Maine license plate lookup?
A Maine license plate lookup is a search that allows you to access information about a vehicleu2019s history, vehicle specifications, title verification, recalls and safety issues, and limited owner information depending on the reasons for the search and what entity is searching.
How can I perform a Maine license plate search?
You can perform a Maine license plate search by using online website services that specialize in vehicle public records.
Is it legal to perform a Maine license plate search?
Yes, it is legal to perform a Maine license plate search if it is done for legitimate purposes and within the boundaries of Maine privacy laws.
Can I find owner information through a Maine license plate lookup?
There are only certain allowable reasons to access Maine vehicle owner information with a plate search as defined by the state privacy DPPA laws. Typically only law enforcement, auto insurance companies, and certain business to business inquiries are allowed to access personal information
Can I use a Maine license plate check to find out if a vehicle is stolen?
Yes, a Maine license plate check can help you determine if a vehicle has been reported as stolen. You can also research if a vehicle is stolen with the 17 digit vehicle identification number
Can I run a free Maine license plate check?
Yes, there are a bunch of free vehicle record resources online however the free information you obtain might be limited and you may need to pay for premium information such as a vehicle's history report.
Can I find accident history with a Main license plate search?
Yes, a Maine license plate search can provide information about a vehicle's accident history, including previous accidents, recalls, safety issues, and the status of the vehicle title.
Can I find recalls with a Maine license plate number?
Yes, you can find a vehicle's recalls with either the license plate number or 17-digit VIN number.
Is a Maine license plate check legal?
Yes, you can legally run a Maine license plate check however, some personal information may be restricted under state privacy laws except for specific reasons and by specific entities such as law enforcement or insurance companies.
---