North Dakota License Plate Lookup Tool
With more vehicles than ever on the road in North Dakota, so are vehicle services. Once of those services that has grown in popularity over the last decade is looking up vehicle information online. SearchQuarry.com has created the North Dakota license plate lookup tool to allow anyone with an internet connection to access valuable details about a vehicle on the fly with any device. This ND plate search tool gives people the ability to find vehicle information such as owner details, vehicle history reports, vehicle title status, any major accidents or recalls or if the odometer is accurate. This has been very popular with buyers in the used car market in North Dakota. It's also important to note that this service is unofficial and indented for verification purposes only. Additionally, this is not a service offered by any motor vehicle department. If you encounter any difficulties with your search, we have an expert support team that can assist you via our blog, email or phone call.
Results of a North Dakota License Plate Search May Include
A Complete Vehicle History Report 

 

Vehicle Options and Manufacturer Specifications 

 

Vehicle Title Verification 

 

Salvage and Junk Records 

 

Vital Statistics of The Vehicle 

 

Accident and Damages Records 

 

Total Loss Records

 

Odometer Verification

 
Why Run a North Dakota License Plate Search?
The most popular reason people in North Dakota use the license plate search tool is to verify the legitimacy of a vehicle. Other people want to find out who the owner of a vehicle is, or if a vehicle has been abandoned. There are a multitude of reasons that people run a ND plate search and the convenience of being able to run this search from a smartphone and run unlimited searches are a big benefit of this tool. If you don't have the license plate of the vehicle you want to search, a VIN or vehicle identification number will work too. Both the ND license plate number and 17 digit VIN are both unique numbers to a specific vehicle. Make sure that when running a plate search that you abide by all the state and federal privacy laws as only certain ND license plate searches are allowable for specific reasons.
North Dakota License Plate Categories
Standard ND license plates
General Motorcycle license plates
Standard Trailer license plates
Official license plates
Mobility Impaired license plates
Specialized ND license plates
North Dakota Military License Plates
National Guard license plates
Veteran Air Force license plates
Veteran Army license plates
Veteran Coast Guard license plates
Veteran Marine license plates
Veteran Navy license plates
Gold Star Family license plates
Veteran Non-Branch license plates
Veteran Purple Heart license plates
North Dakota Special Interest License Plates
Collector license plates
Firefighters license plates
Future Farmers of America license plates
ND Cowboy Hall of Fame license plates, etc.
However, North Dakota specialty license plates cannot be ordered online. You must visit a motor vehicle dept. branch in person to apply for these specialty ND plates
Run a License Plate Search in Other States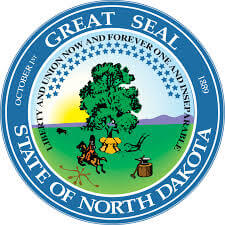 ---
North Dakota License Plate Frequently Asked Questions
Who can lookup a North Dakota license plate?
The police, the DMV and certain public record websites can lookup a North Dakota license plate number. If you want to find out information about the license plate owner or the vehicle then you must have a valid reason as outlined by the Driver Privacy Protection Act.
What do I need to lookup a North Dakota license plate number?
You just need the full license plate number from the North Dakota vehicle in question and then you can search for information from the North Dakota DOT, police department and certain 3rd party public record websites.
---