North Dakota License Plate Lookup Tool
With more vehicles than ever on the road in North Dakota, so are vehicle services. Once of those services that has grown in popularity over the last decade is looking up vehicle information online. Online public record resources allow anyone with an internet connection to lookup North Dakota license plate and VIN information on the fly with any device. This give people the ability find information such as vehicle records, vehicle history reports, vehicle title status, accidents or recalls, and odometer verification, with one simple search. This has become very helpful for a multitude of reasons, including buyers in the used car market in North Dakota. It's also important to note that this service is unofficial and indented for verification purposes only. Additionally, this is not a service offered by any motor vehicle department. The first step is simple, locating the complete ND license plate number to run the search. The second step is verifying your reason for accessing North Dakota vehicle records aligns with the ND privacy laws. Then once you've satisfied those first couple of steps you can access a wealth of vehicle information.
Results of a North Dakota License Plate Search May Include
A Complete Vehicle History Report 

 

Vehicle Options and Manufacturer Specifications 

 

Vehicle Title Verification 

 

Salvage and Junk Records 

 

Vital Statistics of The Vehicle 

 

Accident and Damages Records 

 

Total Loss Records

 

Odometer Verification

 

Why Run a North Dakota License Plate Search?
The most popular reason people in North Dakota use the license plate search tool is to verify the legitimacy of a vehicle. Other people want to find out North Dakota vehicle owner information, vehicle title status, or if a vehicle has been abandoned. There are a multitude of reasons that people run a ND plate search and the convenience of being able to run this search from a smartphone and run unlimited searches are a big benefit of this tool. If you don't have the license plate of the vehicle you want to search, a VIN or vehicle identification number will work too. Both the ND license plate number and 17 digit VIN are both unique numbers to a specific vehicle. Make sure that when running a plate search that you abide by all the state and federal privacy laws as only certain ND license plate searches are allowable for specific reasons. Below are the top reasons people run a plate number look up:
Buying a used car from an unknown seller. By running a quick ND license plate lookup, a potential buyer can uncover any hidden issues or problems with the vehicle and the vehicle's history.

 

Selling a vehicle can offer sellers a more complete history of the vehicle to potential buyers.

 

Law enforcement and private investigators often use this information as part of their investigative process to track down a person by looking up the North Dakota license plate owner information.

 

Insurance companies may use this information to process claims as we as verifying ownership when people are applying for a new policy.

 

Debt collectors may use license plate lookups to locate individuals though their ND vehicle registration information or for skip tracing a person to repossess an unpaid vehicle loan.

 

Individuals can verify if their vehicle has any recalls or major vehicle safety concerns associated with it.

 

A license plate search can assist in accident investigations by identifying the involved vehicles and their owners to assess who might be at fault.

 

If a vehicle is stolen, a license plate number reported to law enforcement can help them track it down.

 

Purely out of curiosity. Sometimes, people just want to know more about a vehicle or its history and plug the plate number or VIN into a vehicle plate decoder.

 
North Dakota License Plate Categories
Standard ND plates
General Motorcycle plates
Standard Trailer plates
Official Sunrise plates
Mobility Impaired license plates
Specialized ND license plates
North Dakota Military License Plate Options
National Guard
Veteran Air Force
Veteran Army
Veteran Coast Guard
Veteran Marine
Veteran Navy
Gold Star Family
Veteran Non-Branch
Veteran Purple Heart
North Dakota Special Interest License Plates
Collector license plates
Firefighters license plates
Future Farmers of America plates
ND Cowboy Hall of Fame plates
Since the beginning of 2023, The North Dakota DOT offers more specialty plate options than ever and has streamlined the process of ordering any of these online. You can visit them online or call them directly @ 1-844-637-5283 to inquire about any of the options available and about their online ordering process. Make sure if you order new specialty plates to surrender your old ones as they will require you to do this.
Fun Facts and the History of North Dakota License Plates
The history of North Dakota plates starts in 1911 when the state began issuing them. Initially, these plates were made of porcelain and later switched to embossed metal, as porcelain was not super durable, and metal ended up being cheaper. The design of the license plates has changed over time, reflecting different themes and elements associated with the state. For instance, the 1989-1993 issue featured the American Bison, a prominent symbol of North Dakota, which you can still see on the sunrise plate today. 
The look and design of the North Dakota license plate is updated every five years. The plates highlight the state's culture, heritage and landscapes.

 

One of the state's most iconic plates in the state's history were the "Discover the Spirit" plates, which were issued from 1993 to 2015.

 

The most popular license plate in North Dakota is the "Buffalo Plate," reflecting the state's affinity for the bison. Today it's showcased on the sunrise plate that you can see on most vehicles today.

 

North Dakota also offers specialized license plates, such as veteran plates, organizational plates, and collegiate plates for an extra fee. Some of the revenue from some of these specialty plates goes to charitable causes.

 
Run a Vehicle Plate Search in Other States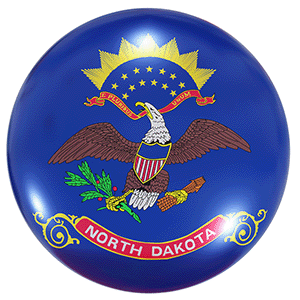 ---
North Dakota License Plate Lookup FAQ
Who can lookup a North Dakota license plate?
The police, the DMV and certain public record websites can lookup a North Dakota license plate number. If you want to find out information about the license plate owner or the vehicle then you must have a valid reason as outlined by the Driver Privacy Protection Act.
What do I need to lookup a North Dakota license plate number?
You just need the full license plate number from the North Dakota vehicle in question and then you can search for information from the North Dakota DOT, police department and certain 3rd party public record websites.
Can I run a free North Dakota license plate search?
The answer is yes, there are many free vehicle record resources available online however you may only uncover basic vehicle details with a free search. To access premium vehicle records you will need to pay for those.
Are North Dakota license plate checks legal?
Most of them are completely legal as long as you are not trying to access personal information for reasons outside of what is allowed by the DPPA and state privacy laws.
Why do people want to run a license plate search in North Dakota?
The majority of the time people are looking for vehicle information on a used car, truck or SUV they want to buy. You can research the history of most any vehicle by it's license plate number or VIN number.
Can a license plate lookup tell me if a vehicle was stolen in North Dakota?
Yes, a plate search or VIN search can tell you if a vehicle has been stolen. Make sure to use a reliable resource and that they offer this type of reporting. Not all online vehicle record resources offer this type of search.
How do I verify a vehicle title in North Dakota?
You can verify a vehicle title by obtaining a vehicle history report. The title status is typically part of this report but make sure that you use a resource that offers this verification, not all of them do.
What information does a vehicle history report provide?
In North Dakota, a vehicle history report provides information accident history, odometer verification, recall information, safety issues, and title status.
How do I perform a VIN check in North Dakota?
You can perform a VIN check using online public record websites that offer this type of service, many of which charge a fee for vehicle history reports but most. However, most of the online public record resources can only run VIN checks on vehicles that have been manufactured in the last 30 years, that have 17 digit VIN numbers.
---