North Dakota License Plate Lookup Options
The North Dakota Department of Transportation (NDDOT) serves customers online as well as it does on field to keep the transportation system organized and functioning smoothly. Regarding vehicle information & registration as well as license plate information, NDDOT provides all the information related to motor vehicle sites, holiday schedules, and the wait time for motor vehicle and driver license issuance. To begin your North Dakota license plate lookup online use the above form and enter any North Dakota License Plate Number.
The online portal has a section on frequently asked questions (FAQs) about vehicles, license plates, and permits as well. There are extensive publications and manuals to guide the users and customers on regulation, procedures, and requirements followed by the department.
Vehicles can be registered through NDDOT and their registration is renewed by the department too. This can be done online. Apart from this, you can also apply for motor vehicle registration as a non-resident on a temporary basis. The website will also provide you guidance about how to change a motor vehicle address.
Additionally, a detailed structure of fee schedules and credit is also published to help the applicants. Users can also check the status of a title through North Dakota's department?s website.
You can apply for license plate registration through North Dakota Department of Transportation. License plates are categorized in various sections. General plates include;
Standard license plates
General Motorcycle license plates
Standard Trailer license plates
Official license plates
Mobility Impaired license plates
North Dakota Military License Plates
Special license plates for military vehicles are also generated by the North Dakota Department of Transportation. These include;
National Guard license plates
Veteran Air Force license plates
Veteran Army license plates
Veteran Coast Guard license plates
Veteran Marine license plates
Veteran Navy license plates
Gold Star Family license plates
Veteran Non-Branch license plates
Veteran Purple Heart license plates
North Dakota Special Interest License Plates
Antique and Special Interest license plates are also issued by the department. These include;
Collector license plates
Firefighters license plates
Future Farmers of America license plates
ND Cowboy Hall of Fame license plates, etc.
However, license plates cannot be ordered online. You will have to download a form from the website, fill it, and bring it to the nearest Motor Vehicle Division office/branch. You can also email them the form to request for a new license plate.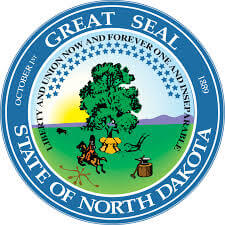 ---
Who can lookup a North Dakota license plate?
The police, the DMV and certain public record websites can lookup a North Dakota license plate number. If you want to find out information about the license plate owner or the vehicle then you must have a valid reason as outlined by the Driver Privacy Protection Act.
What do I need to lookup a North Dakota license plate number?
You just need the full license plate number from the North Dakota vehicle in question and then you can search for information from the North Dakota DOT, police department and certain 3rd party public record websites.
---