How To Run a Georgia License Plate Lookup
The process of running a license plate search in Georgia can be performed online. First you will need the full license plate number of the vehicle in Georgia you'd like to lookup. Then you'll need to have a allowable reason to run this search, as outlined in the terms of this search that you'll be prompted to select. After you've completed those first couple of steps you can view the vehicle information you're after. You may be able to find license plate owner information, vehicle history reports, vehicle title information, vehicle specifications and options, any major safety issues and recalls. This is a service not offered by any motor vehicle department in Georgia. With this simple to use Georgia license plate lookup tool, any person with a smartphone or laptop can access vehicle information on the fly and have the ability to run unlimited searches in the member's area and do so confidentially. Many people use this resource to verify vehicle information on a used vehicle they want to buy, to make sure the vehicle is what the seller says it is. Does the vehicle have a clean or salvaged title? Has the vehicle been in any major accidents? Does the odometer reading accurately reflect what the buyer says it says? There are a many questions that potential used car buyers need to have answered before making a large purchase to validate they are getting a good value. There are also a multitude of other reasons that people use this vehicle record resource such as safety concerns, finding out if a vehicle has been abandoned, verifying their own vehicle, to name a few.
What Can a License Plate Search Reveal About a Vehicle
Vehicle owner information
History of the Vehicle
If the vehicle title is clean
Are there any major safety issues or recalls
Has the vehicle been in any major accidents
Vital statistics of the vehicle
Verify the Odometer is Accurate

A Brief History of Georgia License Plates
Georgia was one of the few east coast states that waited until 1910 to require it's residence to display license plates on the rear of their vehicles. The slogan that Georgia used on those standard issued license plates said "Peach State" and was used until the 1980's. It is still possible to get a license plate that says "Peach State" on it but now it's a customized plate that costs a bit more.
Georgia License Plate Requirements
In Georgia, every vehicle on the road must display a rear license plate  with current tags as well as keeping proof of current auto insurance in the vehicle. There are two categories of plates that can obtained, the standard issue plates or customized GA license plates. The former is required for all passenger vehicles, trailer, motorcycles, and trucks in the state of Georgia. On the other hand, specialty plates are issued for vehicles owned by organizations or groups and these typically cost a bit more.
Run a License Plate Check in Other States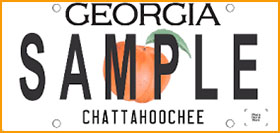 ---
Georgia License Plate Lookup Questions & Answers
Can I choose what my Georgia license plate says?
Yes, you can order customized Georgia license plates as long as you follow the criteria set out by the Dept. of Transportation in Georgia. You will want to start by checking to see if the license plate number or phrase you want is available
---