How To Run a Georgia License Plate Lookup
The process of running a license plate search in Georgia can be performed online. First you will need the full license plate number of the vehicle in Georgia you'd like to lookup. Then you'll need to have a allowable reason to run this search, as outlined in the terms of this search that you'll be prompted to select. After you've completed those first couple of steps you can view the vehicle information you're after. You may be able to find license plate owner information, vehicle history reports, vehicle title information, vehicle specifications and options, any major safety issues and recalls. This is a service not offered by any motor vehicle department in Georgia. With this simple to use Georgia license plate lookup tool, any person with a smartphone or laptop can access vehicle information on the fly.
Reasons People Run a Georgia License Plate Lookup
Many people use this resource to verify vehicle information on a used vehicle they want to buy, to make sure the vehicle is what the seller says it is. Does the vehicle have a clean or salvaged title? Has the vehicle been in any major accidents? Does the odometer reading accurately reflect what the buyer says it says? There are a many questions that potential used car buyers need to have answered before making a large purchase to validate they are getting a good value. There are also a multitude of other reasons that people use this vehicle record resource such as safety concerns, finding out if a vehicle has been abandoned or verifying their own vehicle.
Law Enforcement Agencies

 use license plate lookups to track vehicles involved in criminal activities, ensure the vehicles are properly registered, and follow up on other related leads. If you witness a suspicious vehicle or a hit and run accident then you will want to contact your local police to file a report and have them follow up on the issue.

Insurance Companies

often use these license plate lookup services to verify the information provided by policyholders, calculate insurance premiums, or investigate claims.

They have a legitimate business use for license plate inquiries in Georgia and can access a lot more information than the general public.

Lenders and Debt Collectors

can use the information to

locate

assets or for repossession when loans go unpaid.

For example, if a person stops making payments on their auto loan then the bank has the right to seize the vehicle since they are the technical owner. They can do a skip trace off the license plate number to locate people that have gone delinquent on their auto loans.
What Can a Georgia License Plate Search Reveal?
When you perform a license plate lookup in Georgia, there's quite a bit of information that can be discovered, albeit some of it is strictly restricted due to privacy laws. Here are some of the vehicle records that can be found with a Georgia license plate search: 
Vehicle owner information
History of the Vehicle
If the vehicle title is clean
Are there any major safety issues or recalls
Has the vehicle been in any major accidents
Vital statistics of the vehicle
Verify the odometer is accurate
Accident history of the vehicle
Odometer verification
Safety and emission inspection records

A Brief History of Georgia License Plates
Georgia was one of the few east coast states that waited until 1910 to require it's residence to display license plates on the rear of their vehicles. The slogan that Georgia used on those standard issued license plates said "Peach State" and was used until the 1980's. It is still possible to get a license plate that says "Peach State" on it but now it's a customized plate that costs a bit more.
Georgia License Plate Requirements
In Georgia, every vehicle on the road must display a rear license plate  with current tags as well as keeping proof of current auto insurance in the vehicle. There are two categories of plates that can obtained, the standard issue plates or customized GA license plates. The former is required for all passenger vehicles, trailer, motorcycles, and trucks in the state of Georgia. On the other hand, specialty plates are issued for vehicles owned by organizations or groups and these typically cost a bit more. According to the Georgia Department of Revenue, which manages vehicle registrations, there are hundreds of custom license plate options in the state as of 2022. You can visit the Georgia DOR website to find what options are available.
Privacy Concerns Associated with Georgia License Plate Lookups
While license plate lookup services can be useful, they also raise several privacy issues that should be recognized. Here are some of the top privacy issues to look out for:
Restricted Personal Information:

The Driver's Privacy Protection Act (DPPA), and Georgia privacy laws, in the United States, restricts the disclosure of personal information connected to motor vehicle records. This means that while you can obtain vehicle-related information from a license plate lookup, personal data like the vehicle owner's name, address, phone number, and address is typically not accessible unless it falls under one of the DPPA's permissible uses.

Potential Misuse of Information:

Even with the DPPA's restrictions, there is still potential for misuse of the information that is available. Unscrupulous individuals or companies could use vehicle details for fraudulent purposes, such as odometer fraud or VIN cloning.

Data Breaches:

As with any system that stores data, there's always a risk of data breaches. These breaches can expose the sensitive information that's been stored as a result of license plate lookups, leading to potential privacy violations.

 
Conclusion 
Georgia license plate lookups can provide a wealth of information about a vehicle, serving useful purposes in different scenarios. However, the privacy concerns cannot be ignored. As with any tool that has the potential to invade privacy, these services should be used responsibly and lawfully. Understanding what information can be found and how it can be used, alongside an appreciation of the associated privacy concerns, can help individuals 
Run a License Plate Check in Other States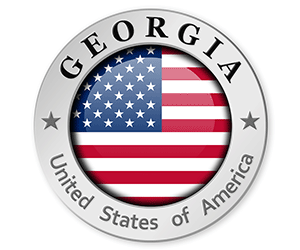 ---
Georgia License Plate Lookup FAQs
Can I choose what my Georgia license plate says?
Yes, you can order customized Georgia license plates as long as you follow the criteria set out by the Dept. of Transportation in Georgia. You will want to start by checking to see if the license plate number or phrase you want is available
What is a Georgia license plate search?
A Georgia license plate search, or lookup, is a service that allows you to enter a license plate number and retrieve data associated with that specific plate, such as vehicle information, vehicle history reports, recalls and accident history, and vehicle owner information for legitimate uses.
Where can I perform a Georgia license plate search?
Georgia license plate searches can often be done online through various websites, including some government, public record, and private databases. Be cautious about which service you use to ensure it's legitimate and secure.
Is it legal to run a Georgia license plate search?
Yes, it is legal to perform a Georgia license plate search as long as it is for a permissible purpose and does not violate privacy laws, such as the DPPA.
Can a Georgia license plate lookup reveal a vehicle's accident history?
It's possible, but not guaranteed. While some license plate lookup services might provide access to accident history reports, the comprehensiveness and availability of this information can vary.
How accurate is the information obtained from a Georgia license plate search?
While accuracy can vary depending on the source of the lookup, the data from reputable sources is usually highly accurate as it is sourced from official records. However, always cross-reference the information if possible, especially if you are making significant decisions based on it.
Can I use a Georgia license plate search to find a stolen vehicle?
While a license plate lookup can provide information about a vehicle, it won't indicate the current location of a vehicle. If a vehicle is stolen, the best course of action is to report it to the police.
Do I need to pay for a Georgia license plate search?
There are both free and paid license plate lookup services available. Free services may provide basic information, while paid services may offer more comprehensive data.
Is it possible to perform a Georgia license plate search anonymously?
Yes, many license plate lookup services allow you to conduct the search anonymously. However, some might keep a record of the search, even if they don't publicly display who conducted it.
Can I perform a Georgia license plate search for any vehicle?
Generally you can perform a license plate lookup for any vehicle registered in Georgia, as long as you have the correct and full license plate number. However, remember that accessibility to certain personal information is restricted.
---