How To Perform a New Hampshire License Plate Search
Running a license plate search in New Hampshire has become a simple online process that can be performed with a smartphone, laptop or tablet. The process starts off by entering the full license plate number into the SearchQuarry.com license plate lookup tool. Then once prompted you'll need to select a valid reason for running this plate search so that it satisfies state and federal privacy laws. Then once you've made it to the next step you'll just need to verify you've got the correct vehicle and then you can gain access to resources such car history reports, vehicle title status, salvage records and more. There are a multitude of reasons people in New Hampshire use this vehicle record resource and one of the top reasons is when they're in the market to purchase a used vehicle. This search tool can help identify problems with a vehicle, finding out if the vehicle title is clean, license plate owner information and fact checking what was advertised for the used car. There are many other reasons that people use this resource as it can be accessed on the fly by anyone in the United States. It is also important to note that this license plate search tool is not a service offered by any motor vehicle department and is intended for unofficial and verification uses only.
What Can Be Found With a New Hampshire License Plate Lookup
A full vehicle history report
Specifications and options of the vehicle
License plate owner information
Vehicle title verification
Salvage and accident records
Odometer verification
Vital vehicle statistics

License Plate Rules of New Hampshire
New Hampshire requires that everyone that drives a vehicle has current registration, proof of auto insurance and a current driver's ID. It is also mandatory that anyone that purchases a new or used vehicle get new plates and documents within 30 days of the purchase. Once you file your paperwork, such as the bill of sale and title transfer form, for the first time you will be sent new license plates and tags. One of the license plates needs to be displayed in the front and one in the rear of the vehicle, the one on the rear of the vehicle must display the vehicle tags. You will also be given a temporary license plate until your new New Hampshire plates arrive in the mail.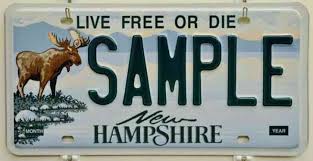 ---
New Hampshire License Plate Lookup FAQs
How do I search a New Hampshire license plate number?
There are a few different options to search a New Hampshire license plate number. First you can visit the DMV and make a request if you have a valid reason to search a license plate number. You can also hire a private investigator to search for you. A third option is to use an online vehicle records website to search license plate and vehicle information if you have a valid reason according to the DPPA in New Hampshire
---