New Hampshire License Plate Lookup Options
There are two primary ways to look up a New Hampshire license plate for information. The state has a website where people can search for available vanity license plate combinations. Secondly, there are third-party online services that provide free license plate lookup for
New Hampshire
vehicles as well. Use the above form to start your New Hampshire License Plate Lookup online.
New Hampshire License Plate Lookup For Vanity Plates
Using a
plate search
feature, operated by the
New Hampshire Division of Motor Vehicles
, individuals can search for the availability of their desired vanity plate – a combination of letters A-Z, numbers 0-9, and the dash, plus sign, and ampersand characters ( – + &). The system will then return whether that particular license plate combination is available. If it is, that person can submit a request for that vanity plate using a separate registration form, which can also be obtained online at the
New Hampshire DMV website
.
New Hampshire License Plate Lookup Online
A third-party license plate lookup service, accessible at this website, allows individuals to search for a particular license plate to discover specific information about the registration. This information includes the following details:
Whether the person has switched the tags from another vehicle
If the vehicle has been stolen
If the vehicle is currently registered
If it has been involved in major accidents in New Hampshire.
If there is a problem with the title.
A second third-party plate lookup service is accessible here at SearchQuarry.com ( use the above form ) and performs the same function – allows people to look up a license plate.
New Hampshire License Plate Lookup Limitations
Although some information is considered private, and not able to be released to the public, individuals can at the very least identify the owner of a suspicious license plate that they might see. Another instance when a lookup service might be useful is if a person is involved in a hit and run situation, and the driver happens to obtain the license plate of the hit and run driver. A
license plate lookup service
is a good first step to identifying the driver so that appropriate steps can be taken with the individual's insurance company if they need to file a claim.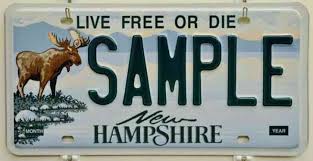 ---
How do I search a New Hampshire license plate number?
There are a few different options to search a New Hampshire license plate number. First you can visit the DMV and make a request if you have a valid reason to search a license plate number. You can also hire a private investigator to search for you. A third option is to use an online vehicle records website to search license plate and vehicle information if you have a valid reason according to the DPPA in New Hampshire
---