Run a Mississippi License Plate Check Online
If you have the Mississippi license plate number for the vehicle you want to research then you're half way there. You start by entering the full plate number into the search form to fun the Mississippi license plate check followed by a selection of allowable reasons that you need to review before obtaining any vehicle information. After you've successfully accomplished that you'll be ready to find the multitude of information available from a MS license plate check including the history of the vehicle, vital statistics, vehicle options, title verification and potentially Mississippi vehicle owner information if you qualify under the state driver privacy laws. This type of vehicle record search tool is powerful however it can only be used for unofficial reasons that is intended for research and verification purposes.
Why Do People Run a Mississippi Vehicle Record Search?
There are many utilities that are offered with a license plate and VIN search that can be a big help to potential used car buyers. It allows people to verify the validity and value of a used car before purchasing it. This can include the history of the used car, odometer verification, if there were any major accidents and if the title is clean. Typically, a vehicle record search allows people in Mississippi to access important vehicle metrics and the history of the vehicle. Other reasons people like to have access to this resource is to find out if a vehicle has been abandoned, if a car was involved in some criminal activity and fraud, to name a few. Below are some of the most common uses for a Mississippi vehicle record search:
Researching a vehicle to find out the make, model, year, engine type, and other manufacturer specifications and options. As well as decoding the license plate number to find the VIN and other important vehicle metrics.

Title information for the vehicle is commonly requested. Many people want to research a used car they want to purchase and a title verification is an important piece of their research. They may want to know if the title is clean, if there are any liens on the car, or if the title has been salvaged or junked.

 

Accident history of the vehicle is another important metric to evaluate when buying a used car as it can greatly depreciate the value if there were any significant issues. You can find the details of any accidents or damage the vehicle has been involved in.

 

Recalls and vehicle safety issues are an important piece of a vehicle's history. Recall notices and safety issues can be a red flag to a potential buyer of a used vehicle.

 

Insurance companies might use the vehicle records to assess insurance policies or claims. An insurance company can use the plate number or VIN to identify the Mississippi vehicle owner, which is important when doing an accident investigation.

 

The police routinely run license plate numbers to find out the registered owner of a vehicle, to perform accident investigations and to file traffic citations.

 

Skip tracing services use vehicle information to find where a vehicle owner lives if they need to reclaim a vehicle for a non payment of a loan or find someone who has fled an ongoing court case in Mississippi.

 
What Can Be Found With a Mississippi Vehicle Record Search
Mississippi Vehicle Owner Information

A Complete Vehicle History Report 

 

Vehicle Options and Manufacturer Specs

Vehicle Title Check

Odometer Verification

 

Salvage and Junk Records 

 

Vital Stats of The Vehicle

 

Accident and Damages Records 

 

Total Loss Records

 

Recalls and Major Vehicle Safety Issues
Some of the vehicle information may be limited depending on what is available, and access to some specific owner details is restricted due to Mississippi driver privacy laws. If you are accessing this information through a third party service, it's important to note that not all these services are the same and may offer more or less information than is listed above. Many people also ask if there is a free plate lookup service and the answer is yes, however, many of the free resources available will only offer limited data. Premium vehicle records, such as history records, will typically not be free.

History of Mississippi License Plates
It was 1912 when Mississippi started to require license plates on automobiles. Every vehicle on the road was required to have a rear plate, which was issued by the state. Since then a lot has changed and now 2 license plates are required as well as current tags and a current auto insurance policy. There are also customizable options and specialty plate that can be obtained if you want to make a statement. These specialized plates can also be for non profit organizations, special interest groups, veterans and much more. There are hundreds of options for specialty and customized license plates as of January 2023, available on the Mississippi DOR website. All specialized plates with custom characters must go through a review process and first be approved and vetted for any offensive language or inference. There is also an additional fee for these specialty tags that must be paid annually when renewing your vehicle registration.
Privacy Considerations When Researching Mississippi Vehicle Records
There are a multitude of utilities when researching MS vehicle records via license plate number or vehicle identification number. While a lot of the accessible vehicle information is publicly available, such as vehicle history reports, some of the information does not fall in the public domain. Personal information may be restricted to certain entities and for certain reasons as determined by the DPPA and state privacy laws. It's important to make sure that your search is compliant with these terms as there are legal consequences for accessing and misusing personal or vehicle owner information. Please use the information obtained as intended and directed and within the guidelines of the law.
Run a License Plate Check By State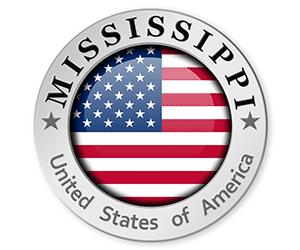 ---
Mississippi License Plate Lookup FAQ
Who can lookup a Mississippi license plate number?
Anyone can lookup a Mississippi license plate number if you have a reason that falls under the DPPA laws of Mississippi. If you are uncertain of the DPPA laws or regulations you can contact the DMV directly to inquire about acceptable reasons to search a license plate number
Can I search a Mississippi license plate number for free?
There are certainly some free resources available online that you can find basic information about a vehicle however, they may be limited on what they offer. More detailed vehicle records will typically cost a few bucks, such as a vehicle history report.
Is it legal to run a Mississippi plate search?
Yes and no, depending on what information you are trying to access. Anyone can run a MS plate search to obtain a vehicle history report or verify the status of a vehicle title however, personal information is not public domain. Only certain entities such as law enforcement and insurance companies can access MS vehicle owner information for specific reasons.
Can a Mississippi license plate lookup tell me if a vehicle title is clean?
Yes, title information, including whether a vehicle has a clean title, should be available in a license plate lookup. Not all online vehicle record resources are the same so make sure you double check that you can access vehicle title information before paying for a vehicle history report.
Can I verify the odometer with a MS license plate search?
It is possible to verify if the odometer reading is accurate with a license plate number or vehicle identification number. The vehicle title will tell you if the odometer reading is accurate or not. This is typically part of a vehicle history report.
Can I find the vehicle owner with a Mississippi license plate search?
You can only access Mississippi vehicle owner information for specific reasons as outlined by state legislation and the DPPA. Typically only law enforcement, insurance companies, and legitimate B2B inquiries can access vehicle owner information.
Can I run a license plate lookup on any vehicle?
As long as the vehicle is registered in Mississippi, you should be able to run a license plate lookup on it. It's also important to note that running a plate search on any government vehicle is not permissible as it is not public domain, only privately owned vehicles are searchable.
Is my personal information protected when I use a vehicle record service?
Most reputable vehicle record service providers should have security measures in place to protect your personal information. However, it's always important to review their privacy policy before using the service and making sure they have an valid and up to date security certificate on their website.
---