Run a Mississippi License Plate Check Online
If you have the Mississippi license plate number for the vehicle you want to research then you're half way there. You start by entering the full plate number into the search form to fun the Mississippi license plate check followed by a selection of allowable reasons that you need to review before obtaining any vehicle information. After you've successfully accomplished that you'll be ready to find the multitude of information available from a MS license plate check including owner information, the history of the vehicle, vital statistics and vehicle options, title verification and more. This search tool is an unofficial resource that is intended for verification purposes only. This is not a service offered by any motor vehicle dept. If you encounter any questions or obstacles with your search, you can reach out to support via blog chat or email. You can also see what other people are asking in our Frequently Asked Questions section at the bottom of this post.
Why Do People Run a Mississippi Vehicle Record Search?
There are many utilities that are offered with a license plate and VIN search that can be a big help to potential used car buyers. It allows people to verify the validity and value of a used car before purchasing it. This can include the history of the used car, odometer verification, if there were any major accidents and if the title is clean. The SearchQuarry.com vehicle search tool allows people to lookup this information on the fly with a smartphone or tablet. Other reasons people like to have access to this resource is to find out if a vehicle has been abandoned, if a car was involved in some criminal activity and fraud, to name a few.
What Can Be Found With a Mississippi Vehicle Record Search
Owner Information

A Complete Vehicle History Report 

 

Vehicle Options and Manufacturer Specs

Vehicle Title Check

Odometer Verification

 

Salvage and Junk Records 

 

Vital Stats of The Vehicle

 

Accident and Damages Records 

 

Total Loss Records

 

History of Mississippi License Plates
It was 1912 when Mississippi started to require license plates on automobiles. Every vehicle on the road was required to have a rear plate, which was issued by the state. Since then a lot has changed and now 2 license plates are required as well as current tags and a current auto insurance policy. There are also customizable options and specialty plate that can be obtained if you want to make a statement. These specialized plates can also be for non profit organizations, special interest groups, veterans and much more.
Run a License Plate Check By State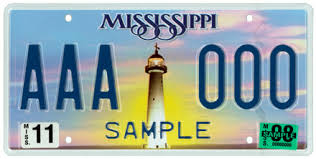 ---
Mississippi Vehicle Record Search FAQs
Who can lookup a Mississippi license plate number?
Anyone can lookup a Mississippi license plate number if you have a reason that falls under the DPPA laws of Mississippi. If you are uncertain of the DPPA laws or regulations you can contact the DMV directly to inquire about acceptable reasons to search a license plate number
---