How To Run a Florida License Plate Lookup
In the state of Florida license plate information can be easily performed with the full license plate number of a vehicle and a valid reason for accessing this information. The Florida license plate number lookup can reveal the vehicle history, owner contact information, if the vehicle title is clean, vehicle specs and much more. Using a public record website, a person can also cross reference the owner information with a criminal record, traffic citations, background records, DUIs, arrests, jail records and active warrants. This gives people the ability to research for motor vehicle and driver safety, theft or civil and criminal processing as outlined in the terms of the license plate search for Florida. The only caveat to running this search is making sure that you abide by all the safety and privacy laws set out by the state of Florida, and the federal government. Once you verify that your reason is valid, you can begin your search can obtain the vehicle information you're interested in. If you are using a public record website to view unofficial Florida vehicle records then it's important to note that these can be used for verification purposes only. Certain plate searches are commonly used for purchasing a used vehicle in Florida and verifying it's title is clean, vehicle owner verification, odometer verification and finding the options and manufacturer specs that the vehicle has to offer. Other plate searches can be used as outlined in the 2023 updated Driver Privacy Protection Act of Florida

The Purpose of a Florida License Plate
Florida license plate are required on every vehicle registered in the state. Vehicle owners are required to have only one license plate, which would be located in the rear of the vehicle. Having a second license plate on the front of the vehicle is recommended but not necessary, as the rear plates have the registration tags on them. Vehicle owners in Florida can apply for several different types of license plates however, the most commonly used license plates in Florida include a license plate that has a combination of numbers and letters and another one that has either "in God we trust" or "Sunshine State" at the bottom. The license plate also serves as a visual registration for law enforcement and can be used as an identifying piece of evidence in a car accident or a moving violation that is caught on camera. The license plate number must be clearly visible without any shielding or tinted glass covering it that may obscure it from being clearly viewed. Many metropolitan traffic cameras and police car cameras are now outfitted with Florida license plate recognition software to quickly read your rear plate and show law enforcement who the vehicle is registered to. At night it's important to have a working license plate light to illuminate the plate numbers. A good rule of thumb is if you can't easily read your own Florida plate number then the police can't read and run a Florida license plate search, you can get pulled over for it being obscured and receive a citation.
How To Get a New Florida License Plate
Getting a new Florida license plate for that car, truck or SUV you just purchased, is a simple process but make sure to order them ASAP as there are time requirements. You will need to apply for a license plate in Florida within thirty days after purchasing a vehicle or run the risk of penalties and if you get pulled over without completing this in the tame frame allowed, you can have your vehicle impounded. If you purchase a new car, truck, SUV or motorcycle in the state, you will be provided with temporary plates until your actual FL license plate arrives in the mail. As of 2022, The FLHSMV allows temporary license plates to be printed on paper by authorized dealerships. These temporary Florida plates will not have registration stickers on them, you will also be provided with a window registration card that has all your relevant registration information visible for law enforcement until you receive your permanent Florida plates.
Different Types of Florida Personalized License Plates
There are a multitude of personalized license plate options in Florida, for an extra fee of course. These are also known as vanity plates and they allow the registered owner of a vehicle to choose specific letters, numbers and special characters on the license plate. You will first need pick what you want your Florida personalized license plates to say with the available characters. Typically there are 7 characters on a car, truck and SUV and only 5 characters on a motorcycle. Your personalized plate must also be unique, which is to say it's not being used on another vehicle. Then the last step is to submit it to go through the editorial process by the FLHSMV before being approved, as they try to eliminate offensive or inappropriate messages on someone's plate. Then after you've received your new Florida personalized license plates in the mail, you'll need to apply the registration tags and then you'll pay that a little bit extra every year to keep that personalized message. As of 2023, there is an additional cost of $15 annually to register a personalized plate in Florida.
History of License Plates In Florida
Florida started issuing license plates later than a lot of east coast states in the US. It was in 1918 that this state started to issue physical license plates to everyone that had a vehicle. Before then, starting in 1905, Florida required anyone with a vehicle to provide their own identification plate for display and it was only required on the rear of the vehicle. Then starting in 1938, the state issued state-manufactured plates and sending them out to every registered vehicle owner in the state. Then in the early 1970's there became more variation on plate options and specialty Florida license plates that could be customized. The last major design changes to the Florida plates were made in 1986 where the state adopted and printed the sunshine state on their plates. This remains the standard issued license plate in 2023 and the FLHSMV still requires just the rear plate with the tags. Moving forward there are plans on adopting a digital Florida license plate that will automatically update the registration tags instead of them being sent out in the mail. Most states in the US are considering switching to a digital plate as it's the way of the future and it can help prevent theft and fraud as the digital plates are dynamic and updated in real time with messages such as "stolen" or "registration expired".
Search License Plate Number In Other States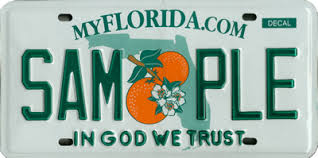 ---
Florida License Plate Lookup - FAQs
Can I lookup a Florida license plate number?
You can lookup a Florida license plate number if you have the full plate number and a valid reason to lookup the Florida license plate according to the rules and regulations of the DMV. It's also possible to look up a license plate using 3rd party search engines as long as you have a valid Florida DPPA reason
Can I lookup someone by their Florida license plate number?
Yes, it is possible to lookup someone by their Florida license plate number if you have the full plate number and have a valid reason via the Florida DPPA. You can also obtain a vehicle history report with a Florida license plate number.
What can I say on a personalized Florida license plate?
You must have something unique to display and it cannot be vulgar or offensive as it will be reviewed before being approved. You must also stick to 7 characters, numbers or special characters depending on what is available
---