How To Run a Florida License Plate Lookup
In the state of Florida license plate information can be easily performed with the full license plate number of a vehicle and a valid reason for accessing this information. The Florida license plate number lookup can reveal the vehicle history, owner contact information, if the vehicle title is clean, vehicle specs and much more. With a Florida license plate search through SearchQuarry.com a person can also cross reference the owner information with a criminal record, traffic citation, background records, DUIs, arrests, jail records and active warrants. This gives people the ability to research for motor vehicle and driver safety, theft or civil and criminal processing as outlined in the terms of the license plate search for Florida. The only caveat to running this search is making sure that you abide by all the safety and privacy laws set out by the state of Florida, which SearchQuarry.com plainly outlines in our terms of search conditions. Once you verify that you've got the green light then you can obtain the vehicle information you're interested in and all searches are confidential. Please make sure to use the information obtained responsibly and in a legal fashion as stated in our terms. Please note that our Florida license plate lookup resources are unofficial and are intended for verification purposes only. In our member's area you can perform as many license plate searches as you like and there may be an additional cost for detailed vehicle history reports. This is a resource not offered by the motor vehicle dept.

History of License Plates In Florida
Florida started issuing license plates later than a lot of east coast states in the US. It was in 1918 that this state started to issue physical license plates to everyone that had a vehicle. Before then, starting in 1905, Florida required anyone with a vehicle to provide their own identification plate for display and it was only required on the rear of the vehicle. That rule still applies today in Florida where a front license plate is not required, just the rear with the tags.
The Purpose of a Florida License Plate
License plates to every vehicle owner in Florida. Vehicle owners in Florida are required to have one license plate, which would be located in the rear of the vehicle. Having a second license plate on the front of the vehicle is recommended. However, only the rear license plate needs to feature stickers. Vehicle owners in Florida an apply for several different types of license plates. However, the most commonly used license plates in Florida include a license plate that has a combination of numbers and letters and another one that has either "in God we trust" or "Sunshine State" at the bottom. Use the above form to begin your Florida license plate lookup online. With this Florida license plate search you can view the vehicle make, model and year for free. Additional vehicle information is available in the member's area.
It is also important to know you need to apply for a license plate in Florida within thirty days after purchasing the car. You can apply for a license plate in Florida in-person, via mail or online. If you get pulled over without completing this in the tame frame allowed, you can have your vehicle impounded if you are pulled over on the road.
Search License Plate Number In Other States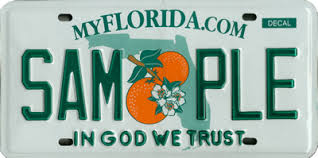 ---
Florida License Plate Lookup - FAQs
Can I lookup a Florida license plate number?
You can lookup a Florida license plate number if you have the full plate number and a valid reason to lookup the Florida license plate according to the rules and regulations of the DMV. It's also possible to look up a license plate using 3rd party search engines as long as you have a valid Florida DPPA reason
Can I lookup someone by their Florida license plate number?
Yes, it is possible to lookup someone by their Florida license plate number if you have the full plate number and have a valid reason via the Florida DPPA. You can also obtain a vehicle history report with a Florida license plate number.
---