Lookup a Colorado License Plate Number
With over 5 million people living in Colorado and as many cars, trucks, SUVs and motorcycles on the road, a Colorado license plate lookup is a common occurrence. Many people want to know more about a vehicle on the road for safety reasons or perhaps there is an abandoned vehicle on their property or maybe they're in the market for a used car and want to know it's history. There are a multitude of reasons to know more about a vehicle and unless you're looking up your own vehicle. This is where SearchQuarry.com has come to the rescue, with the easy to use license plate lookup tool, anyone with a smartphone or computer can lookup vehicle information on the fly, a service not offered by any state run vehicle department. To begin all someone needs to do is enter the full plate number into the search fields and go. Next, the user will need to verify and select a valid reason to lookup this information as framed in the conditions of a vehicle plate search. Then once all the conditions of the search are satisfied, results will be displayed. These may include vehicle owner information, the history of the vehicle, vehicle specs, vehicle vitals and more. It is also recommended to check out the blog below for any questions that may arise as there is a multitude of information available that can help answer any questions.
What Can Be Found With a Colorado License Plate Search
Vehicle Owner Information
Vehicle Specification and Options
The History of the Vehicle
A Title Search to see if the Vehicle Title is Clean
Vital Statistics of the Vehicle
Relevant Photos and Videos of the Vehicle
Vehicle Junk and Salvage Records
Odometer Verification
About Colorado License Plates
In Colorado, license plates are issued to trailers, motor homes, passenger vehicles, commercial vehicle, trucks, SUVs, and motorcycles. There are two basic categories of plates, specialty or custom license plates and  standard license plates. Both standard and specialty plates need to be displayed the same with registration stickers on the rear plate only. If you need to obtain license plate for a new vehicle or replace one's on an existing vehicle or request specialty plates you will need to do so within the first 30 days of your purchase. When doing so you will also need to add new tags to the rear plate. If you choose to go with custom plates, it will typically cost a bit more.
Run a License Plate Search By State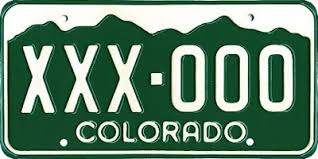 ---
Colorado License Plate FAQs
Can I choose what my Colorado license plate says?
Yes, those are called specialty license plates and you can obtain them for a small fee from the Colorado DOT directly
---