Wisconsin License Plate Lookup Options
The Wisconsin Department of Transportation deals with a number of motor vehicle related matters including issuance and renewal of driver license, title, license plates, road tests, etc. The department is also concerned with managing transportation business and travel formalities of the state. For online Wisconsin License Plate Lookup, use the above form and enter any license plate number.
You can run exclusive searches from their official website or request for legal authorization of driver license, permits, license plate, etc.
It often becomes difficult for the public to check the status of their vehicle if it has been stolen, or in cases where someone is buying a used vehicle, to be able to verify the license plate. Many times due to natural disasters or any other reason, vehicles are misplaced, lost, or stolen. In such events or if you want find information about any particular motor vehicle, you can look up license plate details online search or visit the office in person. The online search option provides convenience to the public without having forcing them to go to the Department?s premises for minute concerns.
You can check registration details of any license plate by providing its number, and possibly its title and owner?s name if available. The online portal is very easy to use. You only have to provide the license plate number but make sure that the number you enter does not contain any spaces or hyphens and if the number 0 is used, do not enter letter O instead.
Once you have entered the number correctly, the search will show results containing a few details of the concerned license plate. The plate number will be displayed along with its expiration date, the year the vehicle was made, as well as its color and make; for instance, a Pontiac. The results also show the RRN of the license plate against which the search was conducted.
The department works in collaboration with other departments as well and has developed many programs that are consistent with federal laws and are helpful to reduce crime rate and keep a check on the legal procedures and registration of license plates, vehicles, etc.
You can contact the department with your requests and concerns online on their official website but if they are unable to respond through that, Wisconsin DOT, which is regulated by Wisconsin State Department of Transportation, can be contacted through various email addresses and phone numbers regarding different matters.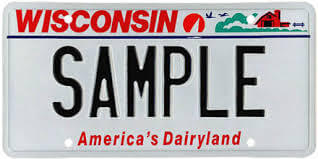 ---
How to lookup a Wisconsin license plate
1. Visit the Wisconsin DMV and make a request in person 2. Hire a private investigator to lookup a license plate number 3. Use the resources of a public records website
---