Wisconsin License Plate Lookup Options
With over 2 million vehicles on the road in Wisconsin there is a high demand for vehicle services. One of these vehicle services is being able to lookup vehicle information online. With the SearchQuarry.com Wisconsin license plate search tool, people can access a multitude of vehicle information on the fly from any device that has an internet connection. Results of a plate search may include the vehicle owner details, the history of the vehicle, specifications and options, title status and more. The begins by entering the full Wisconsin license plate number into the search form, followed by selecting an allowable reason for performing your search. Only certain WI plate searches are allowed via the state and federal privacy laws. Additionally, this search tool is unofficial and intended for verification purposes only. This is not a service offered by any motor vehicle dept in Wisconsin. If you find yourself stuck and need assistance with your search you can reach out to our expert support team through email, our blog or phone.
What You Can Find With a Wisconsin Vehicle Record Search
Vehicle Owner Information
Vehicle History Reports
Vehicle Options and Specifications
Vehicle Title Check
Salvage and Junk Records
Vital Statistics of The Vehicle
Accidents and Major Damages
Why Run a Wisconsin License Plate Lookup?
There are many reasons why people in Wisconsin run a license plate or vehicle record search. It can be for vehicle or driver safety concerns, vehicles that have been involved in criminal activities, abandoned vehicles, theft or fraud relating to the vehicle and many others. People also like to use the vehicle record resources for verifying a used car when they're in the market. It can allow people to verify the validity of a used car such as the history of the car, the options and manufacturer specs, the title status, if the odometer is correct and if the seller is the same person on the title. This vehicle information can be accessed by both a VIN and license plate number.
Fun History Facts About Wisconsin License Plates
Wisconsin was one of the first states in the Nation to start requiring automobiles to have license plates in 1905. They were originally constructed of aluminum and the plates were painted black. Today the license plates come in a range of options, depending on if you have a standard of specialized plate, and are only required to be on the rear of the vehicle
Statewide License Plate Searches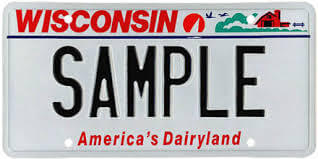 ---
Wisconsin License Plate Lookup FAQs
Does a Wisconsin custom license plate cost more than a standard plate?
Yes, in Wisconsin customized and specialized plates are at a premium to the standard plates and that additional fee must be paid every year
---