Delaware License Plate Lookup Guide
The first step in any license plate search is finding the license plate number. Then using a Delaware license plate lookup resource, such as a public record website, you can simply enter the entire plate number and begin your search. You will be asked to verify the reason for your search as there are some restrictions on what information can be accessed. Then once you've satisficed the requirements and verified the correct vehicle from the results you can decide what other information you might want to research. You may be able to find, vehicle specifications and options, the vehicle history, the vehicle title status, vital statistics, some vehicle owner information depending what is allowed by Delaware state privacy laws..
Why People Run a Delaware License Plate Lookup
There are a multitude of reasons people in Delaware want to lookup vehicle information. Perhaps someone is interested in purchasing a used car, truck or SUV and they want to know the history of the vehicle, if it's been recalled, if the title is clean or if the seller is being honest about everything they say about the vehicle and things that they don't. A popular reason this license plate tool has become a favorite of car shoppers is that this search tool can be used on the fly by a smartphone, tablet or laptop and all searches are confidential. In the member's area, people have the ability to perform unlimited vehicle searches and have access to support in case there are any questions or concerns about their vehicle inquiry. For the most part, the Delaware license plate search tool is intended for verification purposes only as these searches are unofficial public records made available to anyone that meets the search requirements. Official Delaware vehicle record inquiries should be made  to the Delaware DMV directly, or by law enforcement or for official business uses such as insurance claims.
What You Can Find With a Delaware License Plate Lookup
A Delaware license plate lookup, like those in other states, can provide various data about a vehicle and its registered owner. Key pieces of vehicle information that can be found include:
License plate owner info
History of the vehicle
Junk and Salvage Records
Recalls and Defects
Repair and Rebuild Record
Odometer and Sales History
Vital Statistics of the Vehicle
Verify if the Odometer is Accurate
Find the Vehicle Accident History

Delaware Requirements For Vehicle License Plates
Every vehicle in Delaware must display 2 license plates, which connect a vehicle with the driver and auto insurance. Present on the back of your vehicle, the license plate number, state name and registration year. Apart from the regular plates issued by motor vehicle dept., vehicle owners in Delaware can apply for specialty plates. The specialty plates are meant for different causes, activities, professions, and organizations. There is an upcharge for these and the additional fee will be required every year of registration for DE specialty license plates. It is also important to know that for every Delaware vehicle owner to apply for a license plate within thirty days of buying a vehicle. This can typically be requested in-person, through the mail or online. New registration stickers will also be mailed with the new DE license plates. Both plates are required to be on the vehicle, one on the front and one on the rear with the registration stickers.
Privacy Concerns Associated with Delaware License Plate Searches
Despite their utility, license plate searches raise valid concerns about privacy. The ability to access personal information based on a license plate number can be misused in ways that infringe on individuals' privacy rights. Such concerns include: 
Personal Information Misuse: The potential for unauthorized access to personal details like the vehicle owner's name is a significant privacy concern.

 

Stalking and Harassment: Access to this information could facilitate stalking or harassment, as it may allow someone to trace a person's movements or find their residence.

 

Identity Theft: If the information is mishandled, there could be an increased risk of identity theft.

 
It is important to review the Delaware driver privacy laws and the federal DPPA before looking up any personal information regarding Delaware vehicle records. Vehicle owner information may also be limited if you do not have a valid reason according to these laws. If you find a suspicious vehicle that you want to investigate then you should contact you local police to make this type of inquiry. Be respectful and responsible with the information you find online and always verify the source where it came from. Some resources that are not verified and secure may pose a risk and there may be inaccuracies. It's your responsibility to use the information obtained as intended.
Conclusion 
While Delaware license plate lookups can provide valuable information about a vehicle, it's crucial to remember the balance between the pursuit of knowledge and respect for privacy rights. Existing laws offer some protections, but it's essential for individuals to be informed about what data they could potentially expose and the associated risks. Looking up public records in the United States is a provide provided by the Freedom of Information Act. Please search responsibly.
Search a License Plate in Another State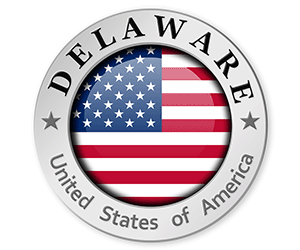 ---
Delaware License Plate Lookup FAQs
When did Delaware first start issuing license plates?
The early 1900's is when license plates and vehicle registrations were required by the state of Delaware. In 1909 Delaware started to issues license plates directly, before then people had to provide their own
What kind of information can I get from a Delaware license plate lookup?
You can get information about the vehicle itself, such as its make, model, year, engine type, vehicle history, vehicle title status, odometer verification, recalls and accidents, and some limited vehicle owner information depending on what is allowable by state and federal privacy laws
Why would someone want to do a Delaware license plate lookup?
People might want to conduct a license plate lookup for various reasons, including checking the history of a used vehicle before purchase, investigating an accident, or for law enforcement or insurance purposes.
Is it legal for anyone to conduct a Delaware license plate lookup?
Yes, it's legal to conduct a license plate lookup. However, access to personal information is restricted under the DPPA to those with a legitimate reason, such as law enforcement or insurance companies.
Can a Delaware license plate lookup help in case of a hit-and-run accident?
Potentially, yes. If you have the license plate number of the vehicle involved, law enforcement could use this to identify the registered owner of the vehicle.
Are there any privacy risks related to Delaware license plate lookup?
Yes, privacy concerns exist. Misuse of the information obtained, especially personal details, could lead to harassment, stalking, or identity theft.
Can I run a free Delaware license plate search?
Some online public record services offer free license plate lookups, which provide basic information about a vehicle. However, comprehensive reports that include detailed vehicle history might require payment.
Where can I conduct a Delaware license plate lookup?
There are various online services that provide license plate lookup services. It's important to choose a reputable service to ensure the accuracy of the information and your safety as a user on their website.
Are the results of a Delaware license plate lookup always accurate?
While these tools strive for accuracy, there may be occasional errors or omissions. The data is only as accurate as the records they are based on. It's always a good idea to verify information from multiple sources when possible.
---