Running an Alaska License Plate Lookup
You can start you Alaska license plate lookup by entering the entire plate number into the search field and selecting Alaska as the state you'd like to search. You will also need to comply with state and federal privacy laws so make sure you understand these and select a valid reason for running your AK license plate search. Next, you'll verify the vehicle and get a read out of all the specs  of the car, truck, SUV or motorcycle. You will also have the option to run an Alaska vehicle history report, run an vehicle title check, find owner information and quite a bit more information depending on what you are looking for. If you decide to search the premium AK license plate information you. This is a service intended for reference only and unofficial purposes.
What You Might Find With an Alaska License Plate Search
Owner Information For That Car

 

A Complete Vehicle History Report

 

Vehicle Options and Manufacturer Specifications

 

Vehicle Title Verification

 

Salvage and Junk Records

Vital Statistics of The Vehicle

 

Accident and Damages Records

 

Total Loss Records
Odometer Verification
An Alaska license plate lookup is an online tool that allows users to learn more about vehicles registered in Alaska. By entering a valid license plate number, users can access data such as vehicle history reports, VIN information, vehicle make, model, and year, registration details, and sometimes even accident history and recall information. It is also possible to obtain some Alaska vehicle owner information depending on the reason for the search, according to the DPPA and Alaska privacy laws. 
How Does an Alaska License Plate Number Lookup Work?
The process is very straightforward. The user simply inputs the vehicle's license plate number into the license plate lookup tool. The system then cross-references the given number with a database of registered vehicles in Alaska and what vehicle information is available. Please note, however, that the depth of the information you receive is heavily dependent on the database's scope and the state and federal privacy laws in place. 
Alaska's Division of Motor Vehicles maintains records of all registered vehicles in the state, and these records form the foundational database for the license plate lookup service. Other information may be obtained from insurance companies, vehicle repair services, and law enforcement agencies. Online public record websites also have access to publicly available vehicle information that can be used for various reasons such as looking up the vehicle history of a used car or identifying recalls and safety issues. According to a NHTSA report, there were over 30 million vehicles recalled in 2022
Some Alaska vehicle information may be limited depending on what is available, who is doing the research and what the intent of the usage of the information is. It's important to verify the intent and usage of the vehicle information obtained.
Potential Uses For An Alaska License Plate Lookup
There are a multitude of reasons for using an Alaska license plate lookup service, which can vary greatly. Here are a few common uses: 
Purchasing a Used Vehicle: Before purchasing a used vehicle, an AK license plate lookup can provide the potential buyer with important information about the car's history, accidents, vehicle title status and accidents and recalls. This can also include any significant safety issues with the vehicles, or potential liens against the vehicle.
Accident Involvement: In the unfortunate event of a hit-and-run accident, witnesses can record the offender's license plate number. Law enforcement or victims can use this information to identify the vehicle and potentially track down the driver. 
Vehicle Verification: If you have suspicions about a vehicle in your neighborhood or need to verify a vehicle's information for legal or personal reasons, a license plate lookup can be an efficient way to gather more information. There are limitations to what information can be accessed for personal reasons. It's important to review the federal and state privacy laws and guidelines before running a search for any personal reason.
Alaska License Plate Requirements
An Alaska license plate is used to pair a driver to a vehicle and proof of auto insurance coverage to a vehicle. Vehicle owners in Alaska are required to have two license plates: one on the front and another on the rear. However, only the rear license plate needs to feature  the registration stickers. Residents of Alaska can apply for several different types of license plates. However, the most commonly used license plates in Alaska include a yellow license plate that has Alaska written in bold letters on it and a yellow background or a mountain plate that features white mountains and a blue sky. It's important to note that custom Alaska plates will cost more as well.

Alaska License Plate Number Lookup Privacy Considerations
It's important to make sure that while AK license plate lookup tools can provide valuable information, their usage is also governed by strict privacy laws. The Driver's Privacy Protection Act (DPPA), for instance, protects the personal information of vehicle owners. This means that while you can access details about the vehicle itself, personal details like the owner's name, address, and contact information aren't accessible unless you have strict permission or for specific reasons outlined by the DPPA and state privacy laws.

Access to comprehensive owner information is typically restricted to law enforcement officers, insurance companies, and other entities that have a legal right to the information. In addition, misuse of these services can result in significant legal consequences. It is also important to mention that it is illegal to harrass or intimidate anyone with the information obtained with this type of search.
License Plate Information For The Other 49 States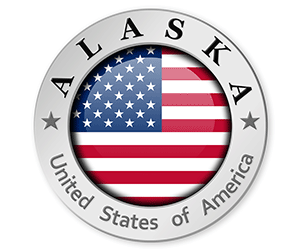 ---
Alaska License Plate Lookup - FAQs
Can I Lookup Someone's License Plate in Alaska?
You can lookup an Alaska license plate number with the assistance of certain online public record websites, like SearchQuarry.com. You will need the full plate number and have a valid DPPA reason to perform this Alaska plate search.
How Do I Get a Personalized Alaska License Plate?
You can visit an Alaska DMV office in person, or visit the Alaska DMV website, to order your personalized license plate. The fees range on Alaska personlized license plates depending on what type of license plate you're interested in.
Who can run an Alaska License Plate Lookup?
Anyone can use the tool to obtain vehicle information. However, some of the personal detailed information is typically restricted to those who have a legal right to this information, such as law enforcement officers or insurance companies.
Can I use the Alaska License Plate Lookup tool for vehicles registered in other states?
Yes if the service you're using has the ability to run a license plate search in other states. Some resources may have limited information in other states and may charge a premium for other services such as vehicle history reports.
How accurate is the Alaska License Plate Lookup tool?
It depends on the website or service you are using. Some of the information provided by the lookup tool may have occasional discrepancies or errors. It's a good idea to use the information as a starting point for further research.
How much does an Alaska license plate search cost?
It really depends on the service you are using. Some websites offer free limited information where they will charge for premium information such as a vehicle history report, which can cost $20 to $30
Can I run an Alaska License Plate Lookup For Free?
Yes, there are free online resources available to obtain limited information for free but most websites will charge you to get premium information
---