Running an Alaska License Plate Lookup
You can start you Alaska license plate lookup by entering the entire plate number into the search field and selecting Alaska as the state you'd like to search. You will also need to comply with state and federal privacy laws so make sure you understand these and select a valid reason for running your AK license plate search. Next, you'll verify the vehicle and get a read out of all the specs  of the car, truck, SUV or motorcycle. You will also have the option to run an Alaska vehicle history report, run an AK vehicle title check, find owner information and quite a bit more information depending on what you are looking for. If you decide to search the premium AK license plate information you. This is a service intended for reference only and unofficial purposes. This service is not offered by the motor vehicle department.
What Is An Alaska License Plate?
An Alaska license plate is used to pair a driver to a vehicle and proof of auto insurance coverage to a vehicle. Vehicle owners in Alaska are required to have two license plates: one on the front and another on the rear. However, only the rear license plate needs to feature  the registration stickers. Residents of Alaska can apply for several different types of license plates. However, the most commonly used license plates in Alaska include a yellow license plate that has Alaska written in bold letters on it and a mountain plate that features white mountains and a blue sky. It's important to note that custom Alaska plates will cost more as well.

What You Might Find With an Alaska License Plate Search
Owner Information For That Car

 

A Complete Vehicle History Report

 

Vehicle Options and Manufacturer Specifications

 

Vehicle Title Verification

 

Salvage and Junk Records

 

Vital Statistics of The Vehicle

 

Accident and Damages Records

 

Total Loss Records
Odometer Verification
License Plate Information For The Other 49 States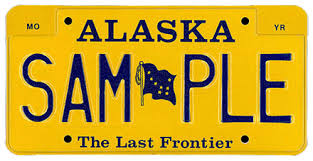 ---
Alaska License Plate Lookup - FAQs
Can I Lookup Someone's License Plate in Alaska?
You can lookup an Alaska license plate number with the assistance of certain online public record websites, like SearchQuarry.com. You will need the full plate number and have a valid DPPA reason to perform this Alaska plate search.
How Do I Get a Personalized Alaska License Plate?
You can visit an Alaska DMV office in person, or visit the Alaska DMV website, to order your personalized license plate. The fees range on Alaska personlized license plates depending on what type of license plate you're interested in.
---