Can I Run a Kansas License Plate Lookup?
The answer is yes, since most vehicle information is public record you can run a Kansas license plate lookup online as long as you have the full plate number and a valid reason for running this search. Online public record websites make this process a breeze with the license plate lookup tool, simply put the full license plate number into the search form and begin. You'll be prompted to verify the vehicle and the reason for your search and then you'll have access to a multitude of information. You can find owner information, the history of a vehicle, verify the title is clean, check for major accidents or junk or salvage records and much more. Many people use this resource for it's convenience because it can be used on the fly on a smartphone, tablet or laptop. This is a vehicle record service which is not offered by any motor vehicle dept. in Kansas. This search is intended for unofficial verification purposes only.

Why Run a Kansas License Plate Lookup?
Many people use this online Kansas license plate search tool to find out more about a used car, truck or SUV they want to buy to verify the vehicle and owner information to make sure of the value and legitimacy of the deal. This plate search can be performed with a license plate or VIN as they are both unique identifications of a specific vehicle. Does the owner on the title match the person selling the vehicle? Is the title clean? What is the history of this vehicle? These are all questions people look to answer before purchasing a used vehicle. Other reasons people use this search tool is for driver safety reasons or if a check if a vehicle has been abandoned. There are a multitude of acceptable reasons people perform this search and it's now accessible online from anywhere you can get an internet connection. Below are some of the most common reasons people run a Kansas license plate number lookup.
People wanting to verify a used car purchase with a vehicle history report.
Accident reporting such as a hit and run, which can be reported to the relevant law enforcement agency
Auto Insurance investigations into an accident where a license plate number might help them track down the information about the incident
Private Investigations, such as skip tracing where someone has fled or has an unpaid financial debt.
Debt collection for an automobile, banks and financial institutions might use a license plate to locate a person's residence to follow up or reposes a vehicle that is delinquent on payments.
Official law enforcement reasons for them to track someone down by their registered vehicle address.
Other official business to business verification purposes.
What Can Be Found With a Kansas License Plate Lookup?
Owner Information 

Vehicle History Report

 

Vehicle Options and Specs.

Salvage and Junk Records 

 

Vehicle Vital Statistics

Accident and Damage Records

 

Total Loss Records

 

Odometer Verification

 
A Kansas license plate search can be an essential resource for individuals needing to identify information about a vehicle, such as vehicle history. In the state of Kansas, like in many other states, this process can be performed by anyone however there are limitations on what personal information is available. You must first read through the Kansas DPPA privacy laws in order to determine if your search is allowable under the guidelines. You must also use the information as intended and within the legal parameters set by state and federal laws. There is a lot of information available with a Kansas license plate number search, it is your responsibility to  use it as intended.
About Kansas License Plates
Tow types of license plates are available in Kansas, standard license plate and specialty plates. Standard plates are required for all passenger vehicles, trailer, motorcycles, and trucks in the state of Kansas. On the other hand, specialty plates are issued at a premium for customized plates, non-profit organizations, veteran plates and special interest plates. No matter what your preference is of KS license plates, it is required that you have 2 license plates. The rear plate of course having current tags. It is also important to note that all other verifiable vehicle documents be in the vehicle while being driven, including proof of auto insurance. According to the Kansas Department of Revenue, there were over 2.5 million total registered license plates in the state as of 2022, but only 856,989 publicly registered vehicles. Kansas is one of the smaller states as far as publicly registered vehicles in the United States, ranked number 33 out of all states, according to the Federal Highway Administration.
Privacy Concerns
While Running a Kansas License Plate Number Lookup
While license plate lookups can be beneficial, they also raise significant privacy concerns. The Driver's Privacy Protection Act (DPPA) of 1994 is a federal law that restricts access to personal information collected by state Departments of Motor Vehicles except for specific reason and entities. The law was enacted in response to concerns about stalkers and other criminals using DMVs to locate their victims. It's important to review what laws pertain to your search before accessing Kansas vehicle records. 
Additionally, Kansas also has strict privacy rules on who can access personal information via a license plate lookup. The information obtained from a license plate search cannot be used for illicit purposes. Violating these laws can lead to severe penalties, including hefty fines and imprisonment. 
Nationwide License Plate Searches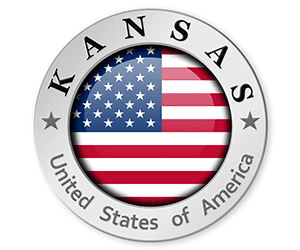 ---
Kansas License Plate Lookup - FAQs
What is a Kansas license plate search?
It's the process of looking up vehicle information in Kansas which can include a vehicle history report, title verification, researching accidents and recalls, and searching for Kansas vehicle owner information as long as you have a valid reason according to the DPPA
Can I run a Free Kansas license plate lookup?
Yes, there are many online resources where you can find free vehicle information with a Kansas plate search however, free information may be somewhat limited. You will most likely need to pay for premium reports such as a vehicle history report.
Is a Kansas license plate search legal?
Yes, there are certain circumstances that are completely legal to run a Kansas license plate number search however you will want to read through the Kansas DPPA privacy laws to verify your reason for doing so. Personal information is limited for privacy reasons.
Why run a Kansas license plate number lookup?
There are many reasons to run a vehicle search in Kansas such as people wanting to research a used car they want to buy, or reporting a license plate number to the Kansas police for a hit-and-run incident, or for fraudulent investigation reasons, or skip tracing.
---