How To Run a New Jersey License Plate Lookup
There is no learning curve to running a NJ license plate lookup. The process is straight forward and all you need to begin is the full NJ plate number and a valid reason for running this search. Information you might find include the vehicle history, vehicle title status, owner information, vehicle specs to name a few. To start, enter the full plate number above and select the state of the license plate and hit enter. Once you've read through the terms of the search and selected a valid reason for your research, you can proceed to finding out about the vehicle information attached to that license plate number. One of most popular reasons people use this NJ license plate lookup resource is when purchasing a used vehicle, someone can run a plate or VIN search and find out all the vehicle specifications and options, run vehicle history and find out if the vehicle was in a major accident or had some major mechanical issues that rendered the title to be salvaged. Not every person or dealership selling a used vehicle is upfront or may not even know certain things about the vehicle they're selling and this gives the buyer more objectivity and the ability to more accurately value their future vehicle purchases. There are also a multitude of other reasons people use this resource, as outlined in the . It is also important to note that this public information is a service not provided by the NJ MVC but rather other online public record resources. With a simple online search, anyone can access millions of vehicle records in New Jersey in moments. Make sure to comply with all NJ state driver privacy laws, as NJ vehicle owner information is restricted, and can only be accessed for specific reasons.
What Information Can Be Found With a NJ License Plate Search
A license plate search can yield various details about the vehicle and its history. You can search via the plate number or VIN in New Jersey, some information may be limited due to availability and privacy restrictions. Here are some of the top bullet points of what vehicle data can be found:
Vehicle's make, model, and year

 

VIN number

 

Vehicle's title information

 

Complete vehicle history

Recall and safety notices

 

Vehicle title status, if it's clean, junked or salvaged
If the odometer reading is accurate

Accident history

 

Previous NJ vehicle owner information (limited due to privacy laws)

 

Safety and emission records if available
Top Reasons to Run a New Jersey License Plate Search
Pre-Purchase Vehicle Research is at the top of the list. Prior to buying a used vehicle, a NJ license plate search can offer crucial insights about the vehicle's history, helping you avoid a potential lemon.

 

Car Accident Reporting is a close second. As reported from the NJ DOT, in 2022 there were 279,861 reported car accidents in the state. Police reporting is key in these auto accident investigations and NJ police use the plate numbers of the

vehicles involved to find the

New Jersey registered vehicle owners involved.

Hit and Run Accident Reporting. This is yet another specific type of car accident reporting where if you were involved in a hit and run car crash then you would report the vehicle make and model and plate number for NJ law enforcement to follow up with.

Finding missing persons and those that fled the law for various reasons. Law enforcement officers and investigators often use license plate lookups as part of their investigations to find suspects or missing persons through skip tracing and researching the NJ registered vehicle owner information.

 

Car insurance companies may use license plate searches to verify the information provided in a claim or to investigate a suspicious claim.

 

Road rage incidents have been on the rise and reporting these can assist police in finding the culprits. If you are a victim of a road rage incident, a plate number look up could help you identify the offending vehicle's owner.

 

Repossessing vehicles that have been delinquent on payments. Banks or loan companies may use the license plate number of the registered vehicle to find vehicles that need to be repossessed due to non-payment.

 

Recalls and safety issues listed by the NHTSA are easily researched by their plate number or VIN number. This search can reveal if a specific vehicle has been recalled or has a vehicle safety issue that can be problematic.

 

Determining the value of a used vehicle. When selling a vehicle, a license plate search or VIN check can help you validate your vehicle's value by providing detailed history information.

 

Decoding the plate number or VIN is common amongst hobbyists and vehicle enthusiast. A quick search can give you all the metrics and original specifications of a vehicle from the manufacturer.
It's important to remember, these searches should be conducted within the bounds of the law and with respect for individual privacy rights. Misusing the information obtained from a license plate lookup can lead to legal penalties. Some information may be limited to what is available and it's each person's responsibility that run a vehicle record search in NJ to follow the guidelines of the state's DPPA.

About New Jersey License Plates
When it comes to NJ license plates, the department offers a great variety and choices to select from. Though the size and format of plates is standardized, people can still have customized plates, which is subject to the rules and regulations set by the law. These plates range from military veteran license plates to special interest plates. Some can have spaces or special characters that are not used on standard NJ license plates. Specialty plates include wheelchair symbol plates and placards, sports plates, and dedicated plates, to name a few. They can be symbolic of organizations, volunteer workers, particular professions, military personnel, and special vehicles.
Lost or Stolen New Jersey License Plates
In New Jersey there has been an increasing number of thefts of stolen license plates. Plates are often stolen and used on other vehicles for fraudulent or criminal activities. There is a procedure to handle this and it's relatively simple by contacting the NJ Motor Vehicle Commission directly.  If you want to replace a lost license plate or the one stolen with a new set of New Jersey license plates having the new plate number, you will need to fulfill some legal formalities, including filing an official police report with the municipality and keeping a copy of the filed report as evidence. Once you have filed the report, you can obtain your new plates. If your NJ license plates are damaged then you can obtain a duplicate license plate by mail. As of June 2023, the fee for replacing a stolen or lost NJ license plate is $6 for regular plates and $11 for specialty plates. If you own a digital license plate, once they are available, then you're probably not going to have to worry about this, they offer real time reporting for stolen vehicles and plates. Only select states have these currently but it's expected for all states to adopt these in the near future.
License Plate Number Checks By State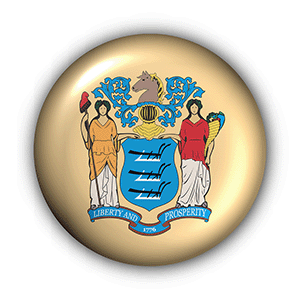 ---
NJ License Plate Lookup Q&A
Can I lookup the owner of a New Jersey license plate?
It is possible to lookup the owner of a New Jersey license plate if you have a valid reason according to the New Jersey DPPA regulations, and you are one of the entities listed as allowed to do so. It's possible to perform a New Jersey plate search from the MVC, by hiring a private investigator or by using the resources of a public records website.
Is the vehicle's insurance information included in a NJ license plate search?
Auto insurance information is typically not included due to privacy laws.
Can I run a New Jersey license plate search for free?
You can however the free resources might only give you basic vehicle information and specs. More detailed vehicle information such as car history reports, or title verification will cost you a few dollars.
Do all vehicles in New Jersey have a VIN?
Yes, all legal motor vehicles have a VIN. It's a unique 17-character code that identifies and provides information about the vehicle and placed there by the manufacturer.
Can I use the license plate or VIN check to find stolen vehicles in Jew Jersey?
You can potentially find if a vehicle has been reported stolen, but the accurate and most reliable source would be local law enforcement agencies.
Can I find a vehicle's accident history in NJ?
Yes, a license plate number or VIN check can provide information about a vehicle's accident history.
Is it legal to perform a license plate or VIN check in New Jersey?
Yes, it's totally legal unless you are attempting to access restricted personal information. The use of vehicle information you obtain must comply with the law, particularly the Driver's Privacy Protection Act (DPPA)
How much does a New Jersey license plate search cost?
Some resources offer limited NJ vehicle information for free but for a detailed vehicle history report you may pay between $20 and $30
---