How To Run a Rhode Island License Plate Search
Rhode Island has nearly half a million vehicles on the road which means that there are a lot of vehicle related services need by automobile owners in the state. One of these services, that can be accessed by anyone is the Rhode Island license plate search tool. This tool allows anyone with an internet connection to access the multitude of information available about vehicles on the fly from any device. It's a become a very popular resources for people researching used vehicles. The first step is to input the entire RI license plate number into the search form followed by a verification of the search so that it satisfies both state and federal privacy laws. Then once you've completed those first two steps you are ready to view the information that is available for that particular vehicle. Results may include license plate owner details, history of the vehicle, vital statistics, salvaged or junk title records, manufacturer specifications and options, to name a few. This RI license plate lookup tool is unofficial and intended for verification purposes. Additionally, this is a service not offered by any motor vehicle dept. in Rhode Island. Please search responsibly and in accordance with the relevant privacy laws.
Vehicle Record Information Available in Rhode Island
Owner Information For That Vehicle

Vehicle Options and Specifications

 

A Complete Vehicle History Report 

 

Vehicle Title Status Check

Salvage and Junk Records 

 

 

Accident and

Total Loss Records

 

Verification of Odometer Accuracy
Vehicle Lien or Title Holder
It's important to note that there are various online platforms that offer Rhode Island vehicle services. However, these services may vary on what is available and accessible. You may also need to have the VIN to access certain vehicle records, depending on what resource you are using. Additionally, all searches with the Driver's Privacy Protection Act (DPPA), ensuring the privacy of personal information. Some information may be restricted for certain authorized uses only.

Verifying Vehicle Information With a Rhode Island Plate Search
One of the most popular utilities for a vehicle record search in Rhode Island is to verify the value and validity of a used car someone wants to buy. This verification can be done with either the RI license plate number or 17 digit vehicle identification number. People using this search tool can find out of the person selling the vehicle actually owns the vehicle, the entire history of the vehicle, if the vehicle has been in a major accident and has a salvaged or junk title and verify if all the options and specs match what the seller is saying about the vehicle. One of the benefits of using the Rhode Island license plate search tool is that vehicle information can be accessed on the fly anywhere there is an internet connection. Here are the top 10 uses for vehicle information in Rhode Island.
Verify a used vehicle's history before purchase to avoid any potential issues with the vehicle title, vehicle safety and to find the true value of the vehicle.

Confirm a vehicle's lien status, and to make sure there are no lien holders still on the vehicle.

Investigate a vehicle's involvement in criminal activities. This can be used by both law enforcement and auto insurance companies.  

Aid in vehicle-related legal court cases where a vehicle might have been involved in a dispute or criminal activity.

 

Establish a vehicle's true value for sale by the seller, or insurance valuations when getting a new policy.

Check for any safety recalls or NHTSA reported issues.

 

Confirm compliance with emissions standards, and finding emission and safety records.

 

Verify if a vehicle has been reported stolen, which can be researched with a VIN check or plate number look up.

Aid in debt recovery processes by banks or repossession companies.

Decoding the license plate or VIN for vehicle enthusiasts.
The Quick History of Rhode Island License Plates
Rhode Island was one of the first states in the nation to require license plates, starting in 1904. For the first few years after this, motor vehicle owners provided their own license plates, which usually showed the owner's initials. In 1908, the state introduced state-issued plates, with plate numbers corresponding to a state-issued registration number. As the number of Rhode Island vehicle owners increased, the system evolved, introducing more complex and secure plate designs and more efficient record-keeping practices. Then fast forward a few decades, and Rhode Island began to standardize their license plates according to a new national plate standard which began in 1956.
Ten Fun Facts About Rhode Island License Plates
The earliest Rhode Island plates, issued between 1904 and 1907, were made by the vehicle owners and usually showed the vehicle owner initials.

 

The state of Rhode Island started issuing and distributing their own plates in 1908.

 

From 1997 to 2015, Rhode Island plates had the phrase "Ocean State" printed on them.

 

The very first graphic on a Rhode Island license plate was introduced in 1972, the graphic was an anchor.

 

Rhode Island is one of the few states that only require a rear license plate.

 

In 2015, a new design was introduced which was a wave graphic, a symbol for the state's maritime history. As of January 2023, the Ocean plate is the standard state license plate.

 

Rhode Island's smallest plate number, '1,' has traditionally been reserved for the governor.

 

RI vanity plates can contain up to six characters.

 

Rhode Island offers a multitude of specialized plate options for charity, special organizations, veteran, and awareness plates.

 

Antique car plates are also available in Rhode Island, which are blue and gold, on the standard plate design.

 
Vehicle Information By State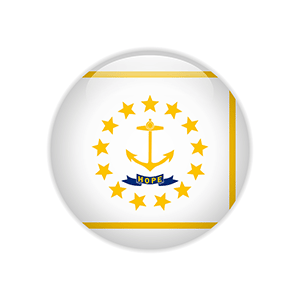 ---
Rhode Island License Plate Search FAQs
Can I search a Rhode Island license plate number?
In order to run a Rhode Island license plate number you will need the full plate number and a valid reason to run the plate search. If you've satisfied those two items you can view a bounty of vehicle record information
Is there a free Rhode Island license plate search?
Sure, there are many free online vehicle record resources however you might not find very much with free resources, just the make and model of the vehicle as well as the manufacturer specs and options. You can however lookup recalls and safety issues for free with the VIN number.
Can a Rhode Island license plate search tell me if a vehicle has liens?
Yes, information about liens or loans on the vehicle can be found from a license plate or VIN search, depending on what is available and what online resource you are using.
How many characters are allowed on Rhode Island vanity plates?
Rhode Island vanity plates can contain up to six characters.
Can I find a Rhode Island license plate owner?
Most personal information is restricted under state and federal privacy laws. However, there are certain allowable reasons to research the RI vehicle owner, such as for law enforcement, auto insurance companies or business to business inquiries.
---