How To Run a Rhode Island License Plate Search
Rhode Island has nearly half a million vehicles on the road which means that there are a lot of vehicle related services need by automobile owners in the state. One of these services, that can be accessed by anyone is the Rhode Island license plate search tool. This tool allows anyone with an internet connection to access the multitude of information available about vehicles on the fly from any device. It's a become a very popular resources for people researching used vehicles. The first step is to input the entire RI license plate number into the search form followed by a verification of the search so that it satisfies both state and federal privacy laws. Then once you've completed those first two steps you are ready to view the information that is available for that particular vehicle. Results may include license plate owner details, history of the vehicle, vital statistics, salvaged or junk title records, manufacturer specifications and options, to name a few. This RI license plate lookup tool is unofficial and intended for verification purposes. Additionally, this is a service not offered by any motor vehicle dept. in Rhode Island. Please use this tool responsibly and in accordance with the relevant privacy laws. If you have any questions or need help with your search you can reach out to support via the blog on this page or email or phone.
Vehicle Record Information Available in Rhode Island
Owner Information For That Vehicle

Vehicle Options and Specifications

 

A Complete Vehicle History Report 

 

Vehicle Title Check

Salvage and Junk Records 

 

 

Accident and

Total Loss Records

 

Verification of Odometer
Verifying Vehicle Information With a Rhode Island Plate Search
One of the most popular utilities for a vehicle record search in Rhode Island is to verify the value and validity of a used car someone wants to buy. This verification can be done with either the RI license plate number or 17 digit vehicle identification number. People using this search tool can find out of the person selling the vehicle actually owns the vehicle, the entire history of the vehicle, if the vehicle has been in a major accident and has a salvaged or junk title and verify if all the options and specs match what the seller is saying about the vehicle. One of the benefits of using the Rhode Island license plate search tool is that vehicle information can be accessed on the fly anywhere there is an internet connection. Users also have the ability to run unlimited vehicle record searches in the member's area
Fun Facts about Rhode Island License Plates
Rhode Island was one of the first states in the nation to require license plates, starting in 1904. Back then the license plates were only required on the back of the automobiles but today they're required on both the front and back with the exception going to motorcycles and trailers, they only need a plate in the rear. Rhode Island was also the first state to standardize their license plates according to a new national plate standard which began in 1956.
Vehicle Information By State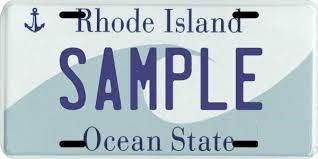 ---
Rhode Island License Plate Search FAQs
Can I search a Rhode Island License Plate Number?
In order to run a Rhode Island license plate number you will need the full plate number and a valid reason to run the plate search. If you've satisfied those two items you can view a bounty of vehicle record information
---