Michigan License Plate Lookup Tool
With over 8 millions vehicles on the road in Michigan, there is a lot of need for vehicle related services. One of these vehicle services is an online Michigan license plate lookup tool. The process is simple, you input the full MI license plate lookup number, determine if your search is valid and select a reason for running your vehicle search. Next you'll be able to find information such as the vehicle owner, vehicle history reports, vital statistics and vehicle options, verify the title is clean and much more. This search tool can be accessed anywhere you have an internet connection and a smartphone. This service is not offered by any motor vehicle department and is to be used for verification and unofficial purposes only. If you need help with your search you can reach out through our blog chat on this page, via email or phone.
Michigan License Plate Search Can Include
Vehicle Owner Information

Vehicle History Reports

Vehicle Specs and Options

Salvaged and Junk Records

 

Vital Statistics of The Vehicle 

 

Accident and Damages

 

Total Loss Records

 

Odometer Verification

 
Why Run a Michigan Vehicle Record Search?
The used car market is huge in Michigan and with over 8 million cars on the road, vehicle records are an important part of the used car buying process. The Michigan license plate search tool gives people the ability to verify a vehicle's information such as it's history, owner information, manufacturer specs and options, if the title is clean or if there are any manor safety issues. Other popular uses are to check for stolen vehicles, fraud, abandoned vehicles and driver safety related issues. One of the big benefits of using this search tool from SearchQuarry.com is being able to run unlimited searches on the fly with a smartphone, laptop or tablet.
More About Michigan License Plates
Michigan was one of the first states in the nation that started requiring license plates on all automobiles in 1905. It wasn't until 1910 that the state actually provided the porcelain pates for auto owners, until then people had to supply their own. Today the state issues 2 aluminum plates to every vehicle owner, the one on the rear requiring tags and expiration date. There are two general types of license plates: standard Michigan license plate and specialty plates. Most vehicle owners in the state use the former. On the other hand, specialty plates are issued for vehicles owned by organizations or groups. You can apply for the Michigan license plate you need in-person, via mail or online. Michigan License Plate Lookup can be performed in the same manner too. You can access the license plate or vehicle information you need in person, via mail or online.
License Plate Checks By State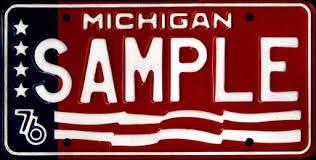 ---
Michigan License Plate Search - FAQs
Am I allowed to lookup a Michigan license plate number?
To find out if you are allowed to lookup Michigan license plate numbers you will need to either contact the Michigan DMV directly or follow the guidelines set by the Michigan DPPA rules and regulations.
---