How To Run an Illinois License Plate Lookup
Illinois, one of the most populated states in the US, also has one of the largest vehicle markets. With over 10 million cars, trucks and SUVs on the road. vehicle resources are at an all time high. One of the most popular resources has been an Illinois license plate lookup. With lightning fast wireless broad band and ubiquitous smartphones, accessing vehicle information is faster and more convenient than ever. Using online public record websites offer people the ability to run a license plate lookup in Illinois on the fly. Whether they're looking up a vehicle's history or license plate owner information, they can securely reach these resources from anywhere in the United States. The first step to running a plate search is knowing the full Illinois license plate number and then entering into the search fields. Next, there will be a few small steps to verify the usage of the plate search to make sure it complies with the relevant privacy laws and then results will be made available. This is a public record search service not offered by any motor vehicle departments or government agencies. It is intended for unofficial uses such as verification or research uses. It is also important to verify the information and double check your plate numbers and that the vehicle description matches what you find in your results.
Popular Uses For an Illinois License Plate Search
There are a multitude of popular uses for Illinois vehicle records. In order to locate an Illinois vehicle record you will need to know either the full license plate number or the 17 digit vehicle identification number. Here are some of the popular utilities for this type of search:
People wanting to research a used car before purchasing it. It is prudent to conduct a license plate lookup to obtain a vehicle's history, check the vehicle title status and verify the odometer. This can also help you verify important details, such as whether the car has been involved in any major accidents, if there are any liens against it, or if it has a salvage or junked title. Such information can significantly impact your decision to proceed with the purchase of the used vehicle as well as the actual value. Some issues go un noticed or are not disclosed so a quick plate search can help to uncover any potential pitfalls in this process.
Accident investigation is a very common use for an Illinois license plate search. If you were involved in a hit-and-run incident or witnessed an accident and noted down the license plate number, the license plate number can aid in identifying the vehicle owner when shared with law enforcement authorities to assist in their investigation. This information is also used by auto insurance companies that will do their own accident investigations. They will typically need a statement from those involved in an accident and a copy of the police report if one is available.
Fraud prevention reasons are another common use of a plate search in Illinois. In some cases, people may use false license plates or engage in fraudulent activities, such as vehicle cloning or insurance scams. Other scams might include someone trying to sell a stolen vehicle. An Illinois license plate number search can help law enforcement or  any inconsistencies or discrepancies, allowing you to take appropriate action to protect yourself from potential fraud. You can also use the NCIB, free online government resource, to find out if a vehicle has been stolen. You will need the complete 17-dgit VIN to do this.
Privacy concerns are an important aspect to consider when conducting a license plate lookup. Make sure that if you are performing a license plate number lookup in Illinois that you abide by state and federal privacy laws. It is your responsibility to use the vehicle related information you obtain as intended.

The History of License Plate in Illinois
As many states in the US, Illinois started issuing license plates in the early 1900's. Beginning in 1907, Illinois began making it mandatory that people register their vehicles with the state and place a license plate on their vehicle however the state did not issue the plates themselves. People were required to provide their own license plates until 1911 when the state finally issued them to registered car, truck and motorcycle owners. In the early days the state also required people to carry an registered aluminum disc on their front dashboard which was their vehicle registration. It was supposed to match the license plate they had on the back of the vehicle. The aluminum registration disc were discontinued in 1917. Today, each Illinois registered driver must have 2 license plates, registration stickers on the rear plate and a registration card, valid driver's license and current auto insurance all in the vehicle when it's being driven. According to the Illinois Secretary of State, there were over 4.6 million vehicle registered in the state in 2022. With that many vehicle on the road, there are a lot of license plate options available.
License Plate Requirements in Illinois
License plates are issued to all vehicle owners in the state of Illinois. The state law requires vehicle owners to have two license plates: one on the front and another on the rear. Apart from the standard plates, you can also apply for specialty plates and plates for disabled people. There is an added fee for the customized plates. Every vehicle owner in Illinois is required to apply for a license plate within 30 days after buying the vehicle. Vehicle owners in Illinois can apply for license plates in person, via mail or online.
Illinois License Plate Lookup Privacy Concerns
Privacy concerns are an important aspect to consider when conducting an Illinois license plate number lookup. Here are a few key points to keep in mind: 
Some license plate information falls under personal data protection regulations, and in many jurisdictions, access to personal information is restricted to authorized entities, such as law enforcement agencies or licensed investigators. It is crucial to ensure that the license plate lookup service you use operates within the boundaries of applicable laws and regulations.

 

Obtaining certain personal information about someone without their consent is considered a breach of privacy. Ensure that you have a legitimate reason for accessing the information and that it aligns with state and federal laws and regulations.

 

Make sure that the information obtained through a license plate lookup is used responsibly and ethically. Sharing or misusing personal information can have serious legal consequences and may harm an individuals' privacy.

 

While license plate lookup services strive to provide accurate information, errors can still occur. It's important to cross-reference any information obtained from an license plate lookup with other reliable sources before making any conclusions or taking action.

 
Conducting an Illinois license plate lookup should be done within the guidelines of the state and federal privacy laws, and the intention of legitimate use. It is illegal to misuse the information you obtain and it is also illegal to harass or intimidate anyone with the information you obtain.
License Plate Searches In Other States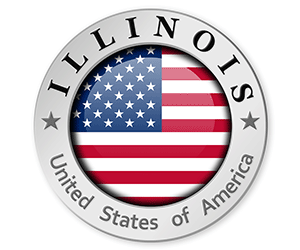 ---
Illinois License Plate FAQs
What is an Illinois license plate number search?
An Illinois license plate number search is a process of searching a database obtain information about a vehicle registered in the state of Illinois. This search can provide details such as the vehicle's make, model, year, color, vehicle history, accidents and limited owner information
Can anyone run an Illinois license plate search?
Yes, anyone can run a license plate search in Illinois however, some owner information may be restricted and limited depending on who is performing the search and for what reasons.
What can I find with an Illinois license plate lookup?
Depending on what service you use, there is a lot of information available from a plate search. You can find the vehicle history, accidents and recalls, the vehicle title status, if the vehicle has been stolen, odometer verification, and possible owner information depending on what is allowed by state privacy laws.
Why run an Illinois license plate search?
Researching a used vehicle to buy, accident situations, obtaining a vehicle history report, looking up recalls and safety issues, liens or who owns the vehicle, as well as the breakdown of all the vehicle components and options. Personal information may be limited for privacy reasons.
Can I run a free license plate lookup in Illinois?
Yes, but some resources will only give you very basic information for free. You will most likely need to pay for a vehicle history report or more detailed vehicle ifnormation.
Is it legal to run an Illinois license plate number lookup?
Yes, it is totally legal to run a license plate lookup in Illinois as long as you obey the strict privacy laws set by the state and federal government.
Can I find the owner of a vehicle in Illinois?
You can run a license plate search or VIN search for a vehicle in Illinois however the vehicle owner information may be limited to only specific reasons allowed by the state and the DPPA. You should first review what information is allowable for the reasons you are searching.
Can I report an Illinois license plate number to the police?
Absolutely, if you feel like a vehicle is suspicious or you witnessed a hit-and-run accident, for example, you can report the vehicle to the police.
---