Run an Idaho License Plate Lookup Online
Vehicle records in Idaho are as easy as having an internet connection and using and online license plate lookup tool. All you need to begin is have the full Idaho license plate number and a valid reason for running this type of search. Depending on what type of vehicle records you want to obtain you must find out what is necessary to get the information you're looking for. An example would be if you need a vehicle history report on a used car you want to buy. Then you can easily verify all the details of the used car with a simple VIN or plate search using the form above. You can also find owner information, run a vehicle title search, find out vital statistics of your vehicle and much more with an Idaho license plate lookup. This is a resource not offered by any motor vehicle department in Idaho, personal information may be limited because of Idaho driver privacy laws.
What Can Be Found With an Idaho License Plate Search
Owner Information For That Car 

 

A Complete Vehicle History Report 

 

Vehicle Options and Manufacturer Specifications 

 

Vehicle Title Verification 

 

Salvage and Junk Records 

 

Vital Statistics of The Vehicle 

 

Accident and Damages Records 

 

Total Loss Records

 

Odometer Verification

 
Depending on what your reason for obtaining Idaho license plate information, your results may vary. There is a lot of vehicle information available with a plate and VIN search. Make sure to review all the requirements for running this type of search. It is your responsibility to use the vehicle information you obtain as intended and allowed by the state of Idaho.
Reasons For Running an Idaho License Plate Search
There are a multitude of reasons people run an Idaho license plate search. The following are some of the most popular reasons: 
Verifying a used car for potential buyers is one of the most popular reasons people use this type of search. You can find out about a vehicle's history, accidents and recalls, manufacturing specs and options, verifying the vehicle title status, and odometer verification.

 

Reporting a suspicious vehicle or reporting a crime to law enforcement. They can follow up with the vehicle owner for situations like this if you give them the Idaho license plate number.

 

Accident Investigations by police and insurance companies commonly run a license plate search to find who owns that car. If you witness a hit-and-run accident or any other type of vehicle incident, reporting this to the appropriate authorities will allow them to follow up on the situation

 

If a vehicle has multiple unpaid parking violations or traffic citations, the city or county might run an Idaho license plate search to locate the vehicle owner to recover the unpaid fines and fees or impound the vehicle.

 

Personal safety concerns are a common place for this type of resource. If you feel like there is an unsafe vehicle on the road, a drunk driver, or someone that is behaving badly with road rage then you might want to report the license plate number to the police.

 

Private investigators often run license plate searches as part of their research on an individual. They may use this resource for locating a missing person, uncovering potential criminal activity, or conducting background checks, or skip tracing.

 

If you suspect that a vehicle may be stolen, an Idaho license plate search can help confirm your suspicions by reporting this to the proper authorities.

 
It is important to remember that conducting an Idaho license plate search may be subject to certain federal and state privacy restrictions. Access to personal information, including details about the registered owner, is typically protected by Idaho privacy laws. Make sure to use the vehicle information you obtain in a responsible manner. It is illegal to intimidate or harass anyone with the information you obtain. 

A Little About The History of Idaho License Plates
Idaho wasn't one of the first states to issue license plates, the state first issued license plates in 1913 and before then local city government was responsible for managing vehicle ownership. Idaho's first issued license plates were made of porcelain, brass and steel. Today those are collectors items. Idaho is well known for potato farming and some of the early plates that were issued by the state displayed the potato on them. Today, ID license plates are made of aluminum and come in a variety of options, including customizable plates and phrases.
Customized Idaho License Plates
Idaho License plates are issued to Trailers, Motor homes, Passenger vehicles and trucks and motorcycles. There are two basic types of plates, standard and specialty plates. There are several types of customized plates including special organizational plates, personalized plates and veteran plates. Some customized plates, where you pick what your plate says can also include special characters. It's also important to note that you cannot pick anything offensive to be displayed on your ID license plate, which also goes for every state in the US. According to the Idaho Transportation Department, there are over 100 combinations of specialty plates available as of 2022.
Lookup License Plates in Other States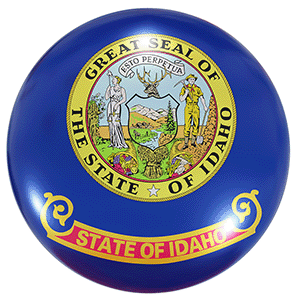 ---
Idaho License Plate Lookup FAQs
How can I perform an Idaho license plate search?
There are multiple online vehicle record and public record websites that offer Idaho license plate searches. Make sure to use a reliable vehicle record resource as not all offer the same results.
What information is available with an Idaho license plate search?
You can obtain vehicle records such as the vehicle history, vehicle title status, odometer verification, accidents and recalls, and some limited vehicle owner information depending on the nature of your search.
Can I run a free Idaho license plate search?
Yes, there are some online services that may offer basic information for free if you want more detailed information you may have to pay.
Can anyone perform an Idaho license plate search?
Yes, anyone can run an Idaho license plate number search however personal information is limited depending on what is allowed by state and federal privacy laws.
Will the vehicle owner know when someone runs an Idaho license plate search?
Most online public record websites that offer this type of search offer anonymous searching which means no one will know that you are looking up their vehicle.
Can I get a vehicle history report from an Idaho license plate lookup?
Yes, you can get a vehicle history report by running a search by VIN or license plate number in Idaho.
Are Idaho license plate number searches reliable?
Some are and others are not. Make sure to verify the resource you are using and that they update their databases regularly. You can also verify the website by looking for reviews about their service.
---