South Dakota License Plate Lookup Options
All South Dakota vehicles, motorcycles, vans and trucks have a license plate for identification. License plates are fixed on the rear and front of a vehicle. These vehicle license plates identification numbers must be visible, by law. Each South Dakota vehicle has a unique license plate number that is alpha-numeric that is tied to the vehicle's registration. From that someone can find information about the vehicle, registration and owner. To begin a South Dakota license plate lookup online, use the above form to begin.
Application of a license plate in South Dakota
In South Dakota, the County treasurer's Motor Vehicle Division is in charge of vehicle registration. The license plates are renewed annually. According to South Dakota laws, a new vehicle has to be registered within 30 days while visitors who relocate to South Dakota are given 90 days to register their vehicles.
Some of the requirements needed to process the application for a vehicle brought from another State to South Dakota are a registration form, salvage and title certificate. The documents are sent to the Motor Vehicle Division for registration.
In case the vehicle is bought from a private party or a licensed dealer, you will be required to fill and submit a request for motor vehicle registration form, alongside other documents that will be used as proof of ownership, salvage, odometer disclosure and a sale agreement.The application process for a vehicle purchased from a licensed dealer is simple since the auto dealer will help you process the application.
South Dakota License Plate Types
After completion of the registration process, you will receive a license plate that uniquely identifies your vehicle. License plates are of different types. Those for organizations are given to colleges, charity organizations and special interest groups.Special military licenses are offered to security officers in the state. Military plates also vary depending on honors like the bronze star and the congressional medal. The plates are available for veterans and active army officers.
Historical License plates are given to old vehicles used for exhibits. The plate is issued to a vehicle that is more than thirty years old. There are other special plates designed for people living with disabilities and low-speed license plates.
South Dakota License Plate Registration
The S
outh Dakota license registration
fee varies depending on the model, weight, and age of the vehicle. South Dakota standard prices fall within $12.90 for motorcycles and $75.60 for non-commercial vehicles.The registration fee will be inclusive of the title fees, patrol fees, notation fee and the mailing fee in case the vehicle is mailed to you.
South Dakota License Plate Renewal
License plates are renewed annually. To renew a South Dakota license plate, a vehicle owner has to present the renewal notice sent by the Motor Vehicle Division, and government issued identity card. The application can be done in person, by mail or online. After renewal, you will be issued a sticker that will be attached to the license plate.
A license plate provides information like vehicle owner, model, and date manufactured, fuel used, engine size and other information. A vehicle can only operate legally with a valid license plate fixed in the required places. You may be charged for a crime if you are pulled over for an invalid license plate or lack of one.
Click here to find North Dakota vehicle safety and recall information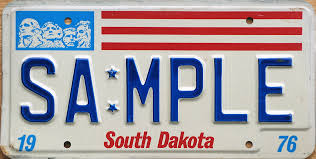 ---
Who can lookup a South Dakota license plate number?
It's possible for both law enforcement and civilians to lookup a South Dakota license plate number. Civilians will need a proper reason that falls under the South Dakota DPPA regulations in order to perform a license plate search
---