How To Perform an Arizona License Plate Lookup
The process of running an Arizona license plate lookup is very simple as long as you know the entire Arizona license plate number and adhere to the state's privacy laws that frame the allowable reasons to run this search. The next step is to enter the plate number into the license plate search form and select the appropriate reason for running the search and the process begins. Once the search results populate you should double check that you've located the correct vehicle before reviewing the information available. The results can include owner information, the history of the vehicle, the specs of the vehicle, if the vehicle title is clean or salvaged. Many people use this resource when purchasing a new vehicle to verify the vehicle's status and make sure that if you're buying a used car from a private party that everything is as described by the seller and if the vehicle history checks out. There are a multitude of other reasons a person wants to verify a vehicle with a Arizona license plate number search which can include criminal involvement with the vehicle, driver and vehicle safety reasons and other unofficial verification purposes.
What You Can Find With an Arizona License Plate Lookup
Why People Search for this Information
There are several reasons why someone might want to look up an Arizona license plate: 
Vehicle Purchase

: Potential buyers may want to ensure the vehicle's history, recalls, and title status before making a purchase.

 

Law Enforcement

: Police or other law enforcement officers may need to identify a vehicle involved in a crime or verify registration status.

 

Insurance Purposes

: Insurance companies may use this information to validate claims or investigate fraud.

 

Private Investigators or Legal Purposes

: PI's and lawyers may need this information for a variety of legal cases, from finding assets to investigating accidents.

 
You can find a lot of information from an Arizona license plate number. The most convenient way of performing Arizona License Plate Lookup is using online public databases. Run by private companies, these public databases allow you to lookup the license plate and vehicle information you need easily and quickly. This a resource not offered by any Arizona Motor Vehicle Division (MVD) and these services are intended for unofficial verification uses. Not much effort is required to perform AZ license plate search using an online public website. All you have to do is start your preliminary search and obtain basic vehicle information, options and specifications. You can also sign up for the premium service and get much more detailed vehicle reports, find owner limited information and have the ability to run multiple searches in Arizona or any other state in the nation. You can find a list of all the different state license plate searches at the bottom of this post.

Arizona License Plate Lookup Privacy Concerns
As with any information lookup, there are crucial privacy concerns to consider when searching an Arizona license plate. 
Personal Information Protection

: The Driver's Privacy Protection Act (DPPA) is a federal law that restricts access to personal information unless allowed for specific reasons according to the DPPA and state privacy laws. This means the owner's personal information should not be accessible to everyone, protecting individuals from potential stalking or harassment.

 

Legitimate Use

: Information obtained should be used for a legitimate purpose. Misuse can lead to legal penalties.

 

Consent

: If a person consents, their personal information can be accessed. However, getting consent is not always easy or practical.

 
In conclusion, while an Arizona license plate lookup can provide important information, it's vital to understand and respect the privacy laws surrounding this process. Always ensure the purpose is legitimate and respect the privacy 
What Is The Purpose of an Arizona License Plate?
An Arizona license plate is used to connect a driver to a vehicle as well as their auto insurance. It must be easily observable in designated locations. There are two basic types of  AZ license plates: standard Arizona license plates and specialty plates. The former has the state name, a setting sun, a background of mountains, and the phrase "Grand Canyon State" on it. On the other hand, specialty plates are issued for vehicles owned by organizations or groups. These custom Arizona plates will cost a bit more each year.
Conclusion
According to the Arizona DOT in 2023, there are over 10 billion miles travelled annually by vehicles, which means there are a lot of reasons to run an AZ license plate search. So whether you're an investigator, a car buyer, or an individual who had a hit and run incident, looking up license plate information can prove quite handy. For Arizona, like most states in the U.S., specific processes are required to do a license plate search. However, privacy laws and restrictions ensure the protection of the individual's personal information. Make sure to read through all the privacy restrictions before running an Arizona license plate number lookup, and make sure if you are in compliance of performing this search that you use the information you obtain as intended.
Search License Plate Number In Other States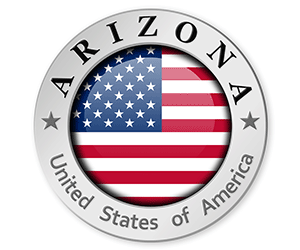 ---
Arizona License Plate Lookup FAQs
How do I run an Arizona license plate number search?
Running an Arizona license plate number is relatively simple using the resources of specific online public record websites, such as SearchQuarry.com. If you know the full license plate number and agree to the DPPA rules and regulations, you can find out a lot from an Arizona plate search.
Can I obtain the owner's name and address with an Arizona license plate search?
Limited owner information is sometimes available as long as it's allowed by state and federal privacy laws and for specific purposes only. Make sure to adhere to the allowable reasons for running an Arizona license plate search.
How can I use the information obtained from a license plate lookup?
Information from a license plate lookup can be used for lawful purposes like purchasing a vehicle, law enforcement investigations, insurance validation, or legal cases.
Can I find out if there's a lien on a vehicle with a license plate lookup?
Yes, title information, which includes whether there's a lien against the vehicle, can be obtained from a license plate lookup.
Can I verify a vehicle's recall status using the Arizona license plate number?
Yes, a license plate lookup can provide recall information, revealing if the vehicle has any outstanding safety recalls.
Can I report a suspicious vehicle to the police using its Arizona license plate number?
Yes, if you observe suspicious activity or are involved in a hit-and-run situation, it's recommended to report the license plate number to the police.
Can I look up an Arizona license plate number through the MVD?
Arizona does not have a public online database for license plate lookups due to privacy laws. However, there are private database services that can provide some vehicle-related information
---