How To Lookup an Indiana License Plate Number
There are a couple of things to know about an Indiana license plate lookup. First, why you want to run the license plate search and second, do you have the license plate number of the vehicle in question? Once you've answered these simple questions you're ready to go. Start by entering the full Indiana license plate number into the search fields and begin. Then you'll need to select a valid reason, from the list, of what your intentions for the plate search. Then once you've satisfied these elements of the search you can view the history of the vehicle, owner information, vehicle title verification, vehicle specification and options, to name a few. The process is confidential and you'll have access to support if you run into any issues or have questions. Just reach out via phone, email or through our blog. You can also see what other people are asking on the blog, at the bottom of the page. This license plate lookup service is not available from any motor vehicle dept. and is intended for verification and unofficial uses.
What You Can Find With an Indiana License Plate Lookup
History of the Vehicle
If the Vehicle Title is Clean
Vehicle Specifications
Odometer Verification
Vital Statistics
Manufacturer Specifications and Options
Vehicle History
Title Status
Recalls and Accidents
It is important to point out that sensitive personal information about the vehicle owner, such as their name, address, and contact details, is not typically accessible due to privacy laws. Typically, Indiana vehicle owner information is only available to law enforcement, insurance companies, skip tracing and fraudulent activities and other business to business verification as permitted by state law.
Reasons For Running an Indiana License Plate Lookup
There are multiple reasons why individuals or organizations might want to run an Indiana license plate number search. Here are a few common ones: 
Used car buyers can use this service to verify the value and integrity of a used vehicle, get a vehicle history report, find the title status and verify the odometer reading.

If someone's involved in, or witnesses, a hit-and-run incident, an Indiana license plate number search could help identify the vehicle involved, which can then be reported to the police.

Auto insurance companies might conduct a license plate search to verify a vehicle's information and history before underwriting a policy, or during an accident investigation.

Some legal situations, such as lawsuits or disputes, a license plate search may be necessary to obtain relevant vehicle information, by court order.

Legitimate business to business reasons as allowed by the state and federal privacy laws
The History of License Plates in Indiana
As most states in the United States, Indiana started issuing license plates in the beginning of the 1900's which also meant they required vehicles that were to be registered with the state. The first Indiana registration plates only had 5 numeric digits and today they have 6 digits that are alpha-numeric and some with special characters or designations. One difference that Indiana still has with how they regulate license plates is they only require a rear license plate where most states require 2, one in the front and one in the rear. As of 2022, there are over 3.3 million registered license plates in the state, according to the Indiana BMV
Indiana Vehicle Registration Requirements
Two Indiana license plates to every registered vehicle driver in the state. The plate should be present on the back of the vehicle, the license plate exhibits serial number, state name and registration year. The plate on the front does not need a registration sticker, just the rear license plate. Apart from the regular plates issued, vehicle owners in Indiana can apply for Specialty plates. The specialty plates are meant for different causes, activities, professions, and organizations.
It is also important to note that it's mandatory for every Indiana vehicle owner to apply for a license plate within thirty days of buying a vehicle. The plates can be obtained in-person, via mail or ordered online. When you order new plates you will also receive new registration tags that also need to be applied to the rear plate only. If you fail to apply for your new plates within the first 30 days you can have your vehicle impounded if pulled on the road.
Indiana License Plate Search Privacy Concerns
While license plate searches can yield a plethora of useful information, they also raise valid privacy concerns. Although personal data is typically protected by the Indiana Driver's Privacy Protection Act, there have been instances of misuse and unauthorized access. To mitigate such issues, stringent measures have been implemented, such as limiting access to certain data and penalizing violations. 
In Indiana, private individuals cannot access personal information unless they meet DPPA permissible use cases, such as government agencies for official business, businesses to verify accuracy of personal information, insurance companies for claims investigation, and others. 
To conclude, Indiana license plate searches are valuable tools that provide important information about vehicles. However, their use should be balanced with privacy rights and the ethical handling of the information obtained. As technology evolves, so too will the ways in which we maintain this balance, ensuring that these tools continue to serve their purpose without infringing upon individual rights. 
Run License Plate Searches Nationwide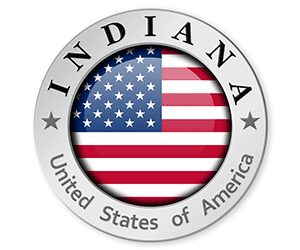 ---
Indiana License Plate FAQs
Can I lookup someone's Indiana license plate number?
Yes, it is possible to lookup an Indiana license plate number as long as you have a valid reason according to the Indiana DPPA regulations. Some information may be limited depending on your reasons for looking up someone's license plate number.
What is an Indiana license plate number lookup?
This lookup is the process of finding information about a specific vehicle for various reasons. Many people want to verify a used car before they purchase it, while others have reasons to lookup owner information or find out if the vehicle has been involved in an accident or been recalled.
Can I run an Indiana vehicle owner search?
There are only specific reasons that a vehicle owner search can be accessed in Indiana because of privacy concerns. Personal information may be limited from state and federal privacy laws and can only be accessed by reasons outlined in the Indiana DPPA.
Can I run a free Indiana license plate search?
Yes, some online public record websites will offer you basic vehicle information for free, but premium vehicle records may cost you a few bucks.
Is it legal to run an Indiana license plate lookup?
Yes, there are certain reasons you can run a license plate number search in Indiana, such as for a vehicle history report or finding recalls or accidents. Personal information may be restricted for specific reasons and entities only, as protected by state privacy laws.
---