Vermont License Plate Lookup Options
License plate lookup services are useful tools for drivers for a few reasons. If they are interested in registering their vehicle with a vanity plate, it can be helpful to know which combinations are available and not already taken by other drivers. Many states have lookup tools, where drivers can search for a possible combination and check its availability. Unfortunately, Vermont does not have a lookup service. For Vermont drivers, they can register their vanity plate and hope for the best. If it turns out that someone else has already registered that license plate, they can choose a different combination at the DMV.
Another reason a driver in Vermont might use a plate lookup service is if they are involved in a hit-and-run accident. If the driver is lucky enough to catch the hit-and-run driver's license plate, they can then give that information to the police, their insurance company, or look up the plate themselves to try and find information about that person.
Vermont Vanity License Plate Lookup

As mentioned above, Vermont does not have a vanity plate lookup service. They do have a
website with information
on what characters are acceptable for a vanity plate and links to the
appropriate forms
to fill out when registering a vanity plate.
The Vermont DMV website also includes a
list of state license plates available
, including specialized plates corresponding to different charities, such as conservation and Building Bright Futures.
Vermont License Plate Lookup Online
This third-party license plate search site maintains that it will return information about the vehicle that the license plate is registered to, as well as the owner of the vehicle. Specific information includes:
The status of the vehicle registration
The name of the vehicle's owner
The last odometer reading
The approximate value of the vehicle the last time it was sold
Any major accidents associated with the vehicle
This information seems most helpful for someone considering whether or not to buy a used car that they see available for a private sale.
A second third party site, available at everify.com, allows the driver to enter the license plate number, specify the state, and then it will return information about the vehicle and its owner. Specifically, it includes:
Name, Address, and any phone number of the owner
Vehicle's VIN number
Vehicle registration information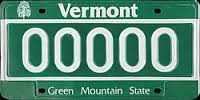 ---
Can I run a search on a Vermont license plate number?
It is possible to run a Vermont license plate search if you contact the DMV directly and have an appropriate reason to do so. Other options to run a Vermont license plate search is hiring a private detective or using an online vehicle records website that offers license plate and VIN information.
---