How To Search License Plates in Hawaii
Hawaii, one of the smallest states by population, under 2 million people, has a very large car ownership population by percentage. This means there are a lot of people in Hawaii that need car related services such as vehicle record resources. Our Hawaii license plate lookup tool offers those resources to anyone living in Hawaii that can be accessed from a smartphone or computer. Many people that use this resource are trying to find out vehicle owner information, car history reports, vehicle specifications and if the vehicle has a clean title, to name a few. This tool offers a resource not offered by any motor vehicle department in Hawaii and is intended for unofficial, verification purposes. The first step in using the Hawaii license plate search tool is entering the full HI plate number into the search for and hitting enter. Then you will go through the terms of the search and make sure to select a acceptable reason for your plate search as only certain searches are allowed via state and federal privacy laws. Once you've satisfied those elements of the search you can proceed to the results. It's also important to note that in the member's area you can gain access to unlimited Hawaii license plate lookups and if you have an questions about your search you can reach out to support over the phone, email or blog. This is a powerful public record search tool that yields a lot of information, please search responsibly and review your Hawaii license plate search results to make sure you've found the right record for the correct vehicle. One digit or letter off can produce results for a completely different vehicle.
What Can Be Found With a Hawaii License Plate Lookup
License plate owner information
Complete history of the vehicle
Vehicle options and specifications
Vehicle title search
Accidents and Recalls
Odometer verification
Sales history of the vehicle
Vital statistics of the vehicle
The History of License Plates in Hawaii
Once Hawaii became a US territory in 1898, vehicles were shipped to the Island the next year. Then until 1906, each island in the Hawaiian Island Chain independently registered and governed those vehicles separately. Then it wasn't until the 1920's when Hawaii standardized this process and began to issue license plates to all the islands and managing the vehicles and driver registrations from a central department. Until this time most of the islands did not issue license plates, it was up to the vehicle owner to provide their own. Then once Hawaii became an official state in 1959, the registration laws mirrored what other states did in the US.
Hawaii License Plate Requirements
Hawaii issues license plates to everyone in the state and only rear plates are required to be displayed. License plates are issued to all passenger cars, trucks, commercial trucks, RVs, SUVs and motorcycles. All vehicles in Hawaii need to have at least a license plate on the rear but it's not necessary on the front of the vehicle. The rear plate must also display the registration stickers.
It is also important to note then when purchasing a new vehicle, there is a 30 day period in which the paperwork must be filed to obtain new plates. If you fail to do so then your vehicle may be impounded if you're caught driving it on the road without current tags in your name. There are three ways of applying for a license plate: in-person, via mail and online. When you receive your new Hawaii license plates you will also receive new tags that must be displayed with the plate on the rear of the vehicle.
Nationwide License Plate Searches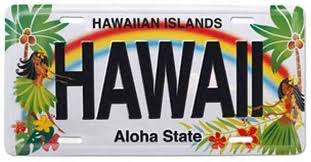 ---
Hawaii License Plate Search FAQs
Can I search other state license plate numbers if I live in Hawaii?
Yes, since most vehicle information is public record, you can search any license plate in the United States. You will need to know the full plate number and state of registration and you can plug those into the SearchQuarry.com license plate search tool
---