The Utah License Plate Lookup Tool
The Utah License Plate Lookup Tool is a vehicle record resources that can be accessed on the fly to find valuable information about a car, truck or SUV or motorcycle. This plate search tool can be used by anyone with any device and an internet connection. With this search, people of Utah can find vehicle owner details, vehicle history reports, check on the status of a vehicle title, accidents and salvage records, vehicle options and specifications and much more. In order to access Utah vehicle owner information you must first read through the Utah driver privacy laws to make sure your search is compliant as personal information is restricted to only certain entities.
Benefits of Running a Utah Vehicle Record Search
One of the most popular reasons, and top benefits, of running a Utah vehicle record search is for researching used vehicles that people want to buy. A quick search via license plate number or VIN check can reveal the history of the vehicle, owner information, title verification, vehicle specs and more. A Utah vehicle record search can access a multitude of information on the fly that can help people make more educated purchasing decisions and verify and validate the worth and safety of a vehicle they are interested in buying. Other reasons people use this resource is to report an abandoned vehicle or a vehicle that was involved in criminal activity or fraud. Below are some of the most popular reasons Utah vehicle records are used:
Vehicle buyers researching a used car: By running a Utah license plate check, potential car buyers can gain insights into the vehicle's past, including accidents or recalls and safety issues.

 

Utah law enforcement applications. The police and other law enforcement agencies use this information in their investigations or to identify vehicles involved in crimes or follow-up with accident reporting.

 

Insurance companies resource vehicle records for many reasons, including conducting vehicle record searches to verify vehicle information when processing claims or issuing new policies.

 

Private investigators may use a license plate or VIN as part of an investigation involving a vehicle or trying to locate a person via skip tracing.

 

Car dealerships routinely use the VIN or plate number to verify the history of a used car they intend to purchase or sell.

 

Vehicle fraud prevention is another utility of a plate or VIN search.  It helps to

identify

cases of odometer fraud or forged vehicle documentation, or if the vehicle was stolen.
What Information Can Be Found With a Utah License Plate Search?
A typical Utah license plate number search can provide the following details: 
Vehicle Identification Number (VIN)

 

Make, model, and year of the vehicle

 

Registered owner of the vehicle

 

Vehicle registration status and expiration date

 

Vehicle title status

 

Accident history, if any

 

Recalls and safety issues

 

Odometer and title verification
Safety and emission records if available
It's important to point out that some information may vary depending on what website you are using to access these vehicle records, some offer more information than others. There is some free Utah license plate search resources available but those resources often just offer very basic information. You will typically need to pay for a vehicle history report or a vehicle title check. Also, if you are attempting to access Utah license plate owner information you must make sure that your search is allowable within the guidelines of the DPPA and state privacy law. Personal information is highly restricted in the state of Utah.
Types of Utah License Plates
Utah has a large variety of license plate options, from personalized vanity plates to special organization, collegiate plates, and veteran plates. As of June 2023, Utah DMV offers over 60 different specialty plates. All the non-standard Utah license plates will cost a bit extra, but the fee is usually nominal.
Antique plates
Collection plates
Disabled plates
Color of Utah plates
Historical license plates
Personalized plates
Special group plates
Veteran and Military plates
Wildlife Resource plates
Firefighter plates
Support our Troops plates
Boy Scouts of America plates
Amateur Radio plates
Collegiate plates
Exempt plates
Digital plates (possibly coming soon)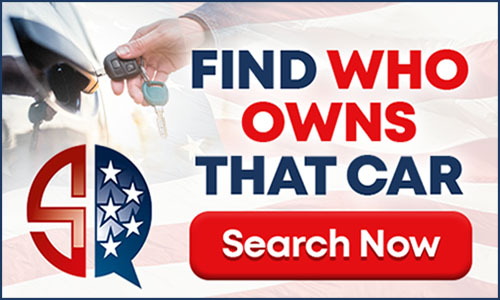 Fun History Facts About Utah License Plates
Utah automobile owners started being required to display vehicle registration plates on cars and trucks in 1909 but it wasn't until 1915 when the state started to issue them to automobile owners. The first Utah license plates were white with embossed green numbers. Below are some more fun facts about Utah license plates:
The "Life Elevated" plate series, which promotes Utah's national parks and ski culture, was first offered  in 2007.

 

Early Utah plates had the shape of the state embossed onto them which made it easy for onlookers to know where that vehicle was from.

 

Utah's centennial plate, which was released in 1996, features the Delicate Arch, an iconic Utah landmark.

 

Utah has special license plates dedicated to supporting local universities.

 

The state offers a "Blackout" license plate, with black design elements on a black background.

 

"In God We Trust" became an optional slogan on Utah license plates in 2016, which were offered on standard plates.

 

Some of the special plate series contribute funds to specific causes, like wildlife conservation or cancer research.

 

Utah issued its first graphic license plate, the "Ski Utah!" plate, in 1985.

 

Utah offers a multitude of plates specifically for vintage and classic vehicles.

 

The state also has a multitude of plates for veterans, featuring various service medals and honors.

 
Perform a License Plate Check in Other States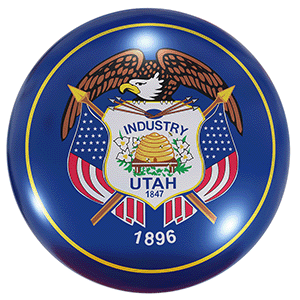 ---
Utah License Plate Lookup FAQ
Can I search a license plate number in Utah?
You can search a Utah license plate number if you have the full plate number and have verified your reason for searching the license plate number falls under the DPPA regulations.
Can a Utah license plate lookup show if a vehicle has a lien?
A comprehensive vehicle history report should indicate if there's a lien holder on the vehicle.
Can I find the vehicle's service history through a Utah license plate search?
Not all license plate searches provide service history. However, a comprehensive vehicle history report might include this information, depending on the resource and if this information is available.
Can I find out about vehicle recalls through a Utah license plate search?
Yes, a license plate search can reveal if the vehicle has any recalls, NHTSA safety issue, and accidents. These are usually included on a vehicle history report.
Why would insurance companies in Utah use a license plate lookup?
Auto insurance companies might research a vehicle with a license plate number or VIN to verify vehicle information when issuing new policies or processing claims.
Is a Utah license plate lookup legal?
Yes, as long as it's done for a legal purpose, such as buying a vehicle, police that are conducting investigations, or processing insurance claims.
Can I find vehicle owner information with a Utah license plate lookup?
There are only certain allowable entities that are allowed to access personal information from a Utah license plate number, and they must comply with state privacy laws s well as the DPPA.
---