North Carolina License Plate Lookup Online
The process of performing a North Carolina license plate search has become a simple online task. To begin all someone needs to know is the full NC license plate number to begin. Then, assuming there is a valid reason for running this plate search, the user will be directed to comply with state and federal privacy policies before obtaining the vehicle information they're after. The final step is determining what information to access, maybe it's the owner details, a vehicle history report, finding the status of the title, learning if the vehicle has been in a major accident or salvaged, the vehicle specifications or finding out if the odometer is accurate. There are a multitude of reasons that people want to research vehicle records and it's easy to do with online public record resources.
North Carolina Vehicle Records Might Include
License Plate Owner Information

 

Vehicle History Report

s

Options and Manufacturer Specifications

 

Vehicle Title Checks

Salvage and Junk Records

 

Vital Statistics on the Vehicle

Accident and

Total Loss Records

 

Odometer Verification

 
The North Carolina license plate lookup is a tool that can help you gain crucial information about a vehicle registered in the state of North Carolina. This service is typically utilized to find out details related to researching used vehicles that people are interested in buying. Other entities use vehicle information to locate information about the North Carolina vehicle owner such as law enforcement, insurance companies and business to business inquiries.
Why Run a North Carolina Vehicle Record Search
Verifying the history and value of a used car, it's vehicle history and vehicle options and specs
Motor vehicle safety and driver safety related circumstances
Theft or vehicle fraud which can be researched by both the plate number or the VIN
Civil or criminal related processing by law enforcement or by an ongoing court case
Insurance purposes for a vehicle, typically used for auto insurance claims and investigation
Statistical reporting for a vehicle
Another specific allowed by North Carolina privacy laws
Car enthusiasts might want to decode a license plate or VIN

to verify the authenticity of classic or vintage cars

Private investigators often use this tool as part of their work, especially in cases involving surveillance, tracking, or skip-tracing

Reporting accidents, such as a hit and run collision, to the police or relevant law enforcement
One of the most popular reasons that people run a NC vehicle record search via license plate search or VIN check is to verify a used car, truck, SUV, van, RV or motorcycle someone wants to buy. A quick North Carolina vehicle record search can offer a lot of insights into a used vehicle such as the history of a vehicle, if the title is clean or if it's ever been in a major accident, or if the seller information matches the name on the vehicle documents. There are a multitude of reasons people use a vehicle plate number lookup tool, including being able to resource information on the fly from any device and being able to perform unlimited vehicle record searches in the member's area.

Historical Information About North Carolina License Plates
North Carolina, like many east coast states, started issuing license plates in the early 1900's. Starting in 1907 NC license plates were required on all automobiles but they were not provided by the state. Each automobile owner was required to supply their own. It wasn't until 1915 that North Carolina started issuing these plates and the first one's were made of porcelain with the numbers painted on. As of January 2023, the NC DMV, the state issues 2 license plates, made of aluminum that are required only on the rear of the vehicle with current tags. Below are some more fun facts about NC License Plates:
The popular "First in Flight" license plate, referencing the Wright Brothers' flight at Kitty Hawk, was first introduced in 1982.

 

North Carolina offers more than 200 specialty plates, supporting various organizations, causes, military veterans, and professions.

 

The state allows license plates to be passed down from generation to generation, making it possible to see very old plate numbers on the roads.

 
Privacy Concerns Related to NC License Plate Records
While the North Carolina license plate lookup offer up a lot of useful vehicle related information, there are also some privacy concerns to be aware of. To protect an individuals' privacy, certain information is restricted from these searches, including personal data like names and exact addresses of vehicle owners. Additionally, NC privacy laws and the federal DPPA set further limits on the disclosure of personal information. It's essential to use these online vehicle record resources responsibly and within the bounds of the law. Misuse of NC vehicle records is strictly prohibited and punishable by law.
State By State License Plate Check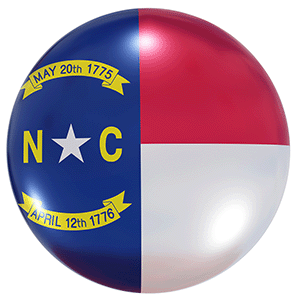 ---
North Carolina License Plate FAQs
Is there a free North Carolina license plate check?
Yes there are multiple online vehicle and public record websites that offer some free vehicle information however, most of what you will find for free will be limited. Premium reports will cost a few bucks, such as car history reports or title checks.
Can I find the status of a vehicle title with a NC license plate search?
Yes, the title status is typically included with premium vehicle history reports that can be found with a license plate search. You should check the resource you are using to make sure that this is an option with your report before paying for it.
Can I find accident history with a North Carolina license plate check?
Yes, a comprehensive license plate check can provide details of any reported accident as well as recalls and reported safety issues.
Is it legal to run a North Carolina license plate check?
Yes, it is legal, as long as the information is used responsibly and within the confines of the law, such as verifying a vehicle's history before purchase. However, personal information is heavily restricted to state privacy laws and the federal DPPA
Can I use a North Carolina license plate check for legal proceedings?
Yes, license plate lookups can provide crucial details for legal disputes involving a vehicle. You must make sure though that your search complies with state and federal privacy laws and it is admissible in a legal circumstance.
What can I find with a North Carolina license plate search?
You can find vehicle information such as the vehicle's make, model, year, VIN, title status, odometer verification, and in some cases, accident history.
Is a North Carolina license plate lookup legal?
Yes, as long as you are using it for researching a vehicle for non-personal information. North Carolina vehicle owner information is not publicly available unless you are permitted within the guidelines of the law. Most people use a license plate lookup to research a used car they want to buy
---