How To Run Nevada License Plate Lookup
With over 2.5 million vehicles on the road in Nevada, vehicle related services are in high demand. One of these services is a Nevada license plate lookup tool, which allows people to find out vehicle information on the fly from anywhere there is an internet connection. The process of running a plate search in Nevada is simple, start by entering the full NV license plate number into the search form and begin. You'll be prompted to acknowledge that only certain reasons to run a plate searches are allowed by state and federal privacy laws, and then select your reason for running this search. Then you'll be able to access a multitude of vehicle information such as the history of the vehicle, owner information, title status, junk and salvage records, vehicle specs and options and more. This service is intended to be used for unofficial verification purposes only. This service is not offered by any motor vehicle dept. and is exclusive to SearchQuarry.com. If you have any questions or trouble finding what you're looking for you can reach out to support via the blog chat on the page or call us or email us your inquiry.
What Can I Find With a Nevada License Plate Search?
Vehicle Title Checks

Vehicle Specifications

Junk and Salvage Records

 

Vital Vehicle Stats

Major Accidents

Odometer Verification

 
Why Run a Nevada License Plate Check?
Nevada has a very hot used car market and using the SearchQuarry.com license plate lookup tool is a great way for people to verify vehicle information before purchasing a used car, truck, SUV or motorcycle. People can verify the VIN, the owner of the vehicle, run a vehicle history report, verify the title is clean or find out if there are any junk or salvage records. This information can be obtained from both the VIN and license plate number  of the vehicle. This search can be performed on the fly from a smartphone or tablet and people can run unlimited searches in the member's area. This is a great way for people to find out if there are hidden issues, or if the seller has not been upfront about everything. Other people use this resource for driver safety related issues, fraud, vehicles involved in criminal activities and seeing if a vehicle has been abandoned, to name a few.
The Modern History of Nevada License Plates
Nevada started requiring all automobiles to carry a license plate starting in 1913, later than most states in the US. In the beginning of the requirement, vehicle owners were required to provide their own NV plates and then in 1916 the state started issuing painted porcelain license plates. Today every vehicle is given 2 license plate by the state of Nevada however only the rear license plate is required, along with current tags and a current auto insurance. If you purchase a used or new vehicle you have 30 days to file your paperwork and get license plate for your vehicle. You can get a temporary plate or decal until the actual plate arrive, sometimes it takes a while for them to be mailed to you. You also have the option to pay more and obtain specialty NV plates that can represent special interest groups, non profit organizations, military and veteran plates and customizable plates that can really make a statement on the road.
Statewide License Plate Searches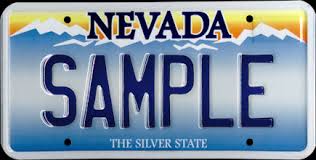 ---
Nevada License Plate Check FAQs
How do I lookup a Nevada license plate number?
You can lookup a Nevada license plate number with the DMV, though various public record websites or by hiring a private investigator. You must have the full license plate number and a valid reason to run a license plate search according to the Nevada DMV and the DPPA regulations.
---