How To Perform a Wyoming License Plate Lookup
If you want to run a Wyoming license plate lookup for another vehicle the process is relatively simple. As long as you have an internet connection and a smartphone, tablet or computer, you can access vehicle information from anywhere in the United States. The WY license plate search is very helpful to many people for a multitude of reasons because of it's accessibility. People can research owner information, the history of a car, if the title has a junk or salvaged status, if the odometer is correct and the specifications and options of a car. There is also live support available to assist anyone with questions or direction in their vehicle inquiry via blog chat, email or phone. The SearchQuarry.com license plate search tool is intended for unofficial uses and verification purposes only. This is not a service provided by an motor vehicle dept in Wyoming.
A Wyoming License Plate Check May Reveal
Owner Information For That Car
The Entire Car History
Vehicle Specs and Options
Vehicle Title Check
Wyoming Salvage and Junk Records
Vital Statistics and Information
Accident and Damages Records
Verification of the Odometer
Why Do People Run a Wyoming License Plate Search?
People run a license plate search in Wyoming for many reasons including verifying the validity of a used car, finding out owner information, looking up a vehicle that might be abandoned, driver safety related reasons, fraud and theft checks, to name a few. All the vehicle information that is available to the general public in Wyoming is dependent upon what is allowed by state and federal privacy laws. The benefit of using a service like SearchQuarry.com, to find vehicle information, is it can be accessed by anyone and from anywhere with any device. This service also offers unlimited vehicle record searches via plate or VIN and all searches are confidential.
Fun Facts About Wyoming License Plates
Wyoming was a little late to the party when requiring license plates on automobiles in 1913. Many states started adopting registration plates starting in 1905 . The first Wyoming plates were simple embossed aluminum plates that had red numbers on a white background. Today, Wyoming plates come in a variety of flavors and customizable options that are called specialized plates as well as the standard issue plates. Additionally WY license plates are only required on the rear of the vehicle.
Statewide License Plate Searches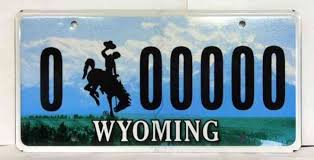 ---
Wyoming License Plate Check FAQs
How can I find the owner of Wyoming license plate?
There are a few ways to lookup a Wyoming license plate number. You can have the police run a license plate search, visit the DMV or use a public record website. You need to make sure you have an acceptable reason, according to the Wyoming DPPA, to find out any owner information from a license plate search.
---