Texas License Plate Lookup Options
License plates are the unique numbers used to identify different
vehicles
. Every state in US has various types of plates for its vehicles. When you buy a new car, you have to register it and that is when you will be given a license plate number. License plates can be registered to anybody or any organization. When registering a license plate in
Texas
, you have to provide specific information like your address and what kind of insurance you have for your vehicle. To begin your Texas license plate lookup, enter a first & last name in the form above.
This license registration is usually aimed at keeping track of that car. They record that information so that in case the car is involved in some criminal activities the owner can be traced. License plates need to be regularly updated and this is done by ensuring your vehicle's registration is always renewed.
There are some different types of plates in Texas depending on your needs. For example, if you own a vehicle your plates will be different from those of a motorcycle or truck. If the plates are for a particular organization, they can decide to apply for plates that are a bit customized.
People with disabilities can also apply and get special plates. These types of plates are known as the disability parking plates.
Through the Texas Public Information Act, you have the right to access accurate information from government records. If a car is involved in criminal activity or for some reasons you need to identify the owner, you can visit the Texas Department of Motor Vehicles (Texas DMV). When you place a request at the Texas DMV, they will provide you with all the information that the law allows them to give to the public.
Although some information cannot be disclosed due to the law prohibiting it, you can still access information like the name of whoever that plate belongs to. You can decide to pay Texas DMV, a visit in person. You can find them at 4000 Jackson Avenue, Building 1 Austin, Texas, at the office of General Counsel. You can also send them a mail to the same address.
Apart from visiting Texas DMV, you can also look up a plate online. This process is known as the reverse license plate search. Using this method you can access online databases that have records of all plate. These databases will usually give you an address of the owner and even his/her mobile phone number. If the owner is also registered in any social media platforms, you can access his profile information like his email.
The online platform also allows access to different records on Texas criminal charges that are associated with different license plates. If you do a reverse search and get the owners name, you can also see if he/she has a criminal record.
After you do a search and get a matching hit, you should proceed with caution since the results aren?t always right. Most of the time, cars that are stolen are usually the ones involved in criminal activities. As a result, you should do a thorough follow up before jumping into a conclusion. Texas license plate lookup data is available via the FOIA.gov.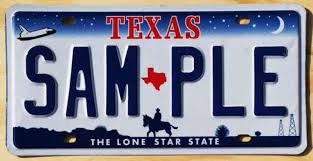 ---
Texas License Plate FAQs
Who can lookup Texas license plate information
Technically anyone can lookup license plate information in Texas as long as you have a proper reason outlined by the Texas DPPA regulations as well as the Texas NHTSA
Can I find the owner of a Texas license plate?
It is possible to find the owner of a vehicle by the Texas license plate number. The police and Texas DMV have this ability as well as some online vehicle record resources as long as you have a valid and verifiable reason that follows the Texas DPPA laws
How do I get a specialized Texas license plate?
To get a specialized or vanity license plate in Texas you need to reach out to the Texas DMV directly. You can go to TXDMV.gov to select what type of license plate you would like. Prices vary depending on what type of license plate you choose
---