Texas License Plate Lookup Instructions
A license plate search in Texas is a straight forward process using this simple license plate lookup tool. To begin your Texas license plate lookup, enter the full TX plate number into the search field. Next you'll be queued to read and verify your search reasons are approved by the state and federal privacy laws. Once you've satisfied this requirement then you'll have access to a multitude of information such as owner information and vehicle history reports. This license plate search tool is not offered by any motor vehicle dept. in Texas and is intended for verification and unofficial purposes only. 
Through the Texas Public Information Act, you have the right to access accurate information from government collected information. If a car is involved in criminal activity that complies with state and federal privacy laws, you can use the resources set out by SearchQuarry.com. You will need to read through the available options for your research and make sure you are in compliance with these privacy laws and then you can access the information you're looking for which may contain the owner contact information, vehicle history and Texas vehicle title information for that car, truck or SUV. If you have any questions or concerns about your plate search you can reach out to our support via email, phone or blog.
What Can Be Found With a Texas License Plate Search
Car Owner Information
Vehicle History Reports
Vehicle Options and Specifications
Vehicle Title Check
Salvaged and Junk Records
Vital Statistics of The Car
Accident and Damages Records
About Texas License Plates
Texas license plates contain the unique numbers used to identify vehicles and the owner's of those vehicles. Every state in US has various types of plates for its vehicles. When you buy a new car, you have to register it and that is when you will be given a license plate number. License plates can be registered to anybody or any organization. When registering a license plate in Texas, you have to provide specific information like your Texas driver's license, proof of residence and auto insurance you have for your vehicle.

What Texas License Plates Are Used For
A Texas license plates are aimed at keeping track of that car and who it belongs to. This record of information is so that in case the car is involved in an accident, criminal activities, trespassing or abandoned, the car owner can be traced. License plates need to be regularly updated and this is done by ensuring your vehicle's tags are always renewed, regular smog checks and keeping your auto insurance current.
There are some different types of license plates in Texas depending on your needs. For example, if you own a vehicle your plates will be different from those of a motorcycle or truck. If the plates are for a particular organization, they can decide to apply for plates that are a bit customized. People with disabilities can also apply and get special plates. These types of plates are known as the disability parking plates.
Additional Statewide License Plate Resources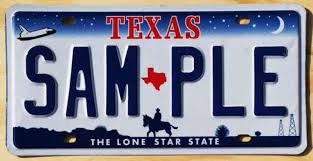 ---
Texas License Plate FAQs
Who can lookup Texas license plate information
Technically anyone can lookup license plate information in Texas as long as you have a proper reason outlined by the Texas DPPA regulations as well as the Texas NHTSA
Can I find the owner of a Texas license plate?
It is possible to find the owner of a vehicle by the Texas license plate number. The police and Texas DMV have this ability as well as some online vehicle record resources as long as you have a valid and verifiable reason that follows the Texas DPPA laws
How do I get a specialized Texas license plate?
To get a specialized or vanity license plate in Texas you need to reach out to the Texas DMV directly. You can go to TXDMV.gov to select what type of license plate you would like. Prices vary depending on what type of license plate you choose
---