Tennessee License Plate Lookup Options
Motor vehicle registration, title, issuance of license, and registration of license plates in Tennessee State is managed by the Tennessee Department of Revenue. The department offers a range of services, both on field and online. If you're interested in a Tennessee License Plate Lookup online, use the above form.
Their online services include renewal of vehicle registration, ordering sports plates, personalized plates, and dedicated plates, changes in addresses, and payment of parking tickets. However, on field services offered by the Tennessee Department of Revenue include title issuance and registration, transfer of vehicle ownership, cancellation of new car title, new and pre-owned vehicle registration or replacement of a lost one, and access to registration records. It also deals with the issuance of different kinds of license plates and insurances.
If you want to order a new license plate, you can do that in person by submitting an application and form at the Tennessee Department of Revenue ( DOR )office. A number of options are given for license plate selection including:
Antique Auto License Plates
Clubs/Organizations License Plates
Collegiate License Plates
Current Tennessee License Plates
Emergency/Safety License Plates
Environmental/Conservation License Plates
For Children License Plates
Fraternity/Sorority License Plates
Hospitals License Plates
Military/Memorial License Plates
Sports License Plates
Tennessee Arts Commission License Plates
Wildlife/Animal License Plates
From all these categories, a total of 100 different types of license plates are offered to residents to choose from in order to register their vehicles. License plates can be received from the county clerk?s office. Extra charges of $1 will be applicable for the issuance of specialty plates. Make sure you check with your county clerk regarding the availability of specialty plates as not all types of plates are available at each location.
Additionally, if you want to establish a new specialty plate in the name of your organization, it can be done by introducing a bill for the particular plate through your state legislator. Following the acceptance of the bill, the Department of Revenue would need to be contacted to proceed with the remaining process. You will need to provide details including the plate name, organization name, contact name and number, mailing address, and email address. This correspondence will be continued between the contact person and representative of the department and would follow through with the exchange of samples, test plates, and payments.
If you want to look up information regarding any license plate, you will need to contact the Tennessee DOR in person for this matter.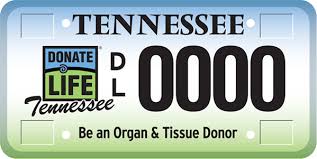 ---
Can I run a Tennessee license plate search?
You sure can, with 3rd party public record websites, like SearchQuarry.com, you can lookup vehicle information with a Tennessee license plate number as well limited owner information as long as you have a valid reason.
---