Missouri License Plate Lookup Tool
With millions of vehicle on the road in Missouri, the demand for vehicle related services are at an all time high. The Missouri license plate lookup tool is one of those resources that allow people to lookup vehicle records on the fly from any device that has an internet connection. Anyone can verify a vehicle on the fly, whether it's for buying a used car or a driver safety related issue, there are a multitude of allowable reasons for someone to run a license plate search in Missouri. This tool is intended for verification purposes only and unofficial uses. This service is exclusive to SearchQuarry.com and not available through any motor vehicle dept. If you hit a road bump on your journey to finding the vehicle information you're looking for, you can reach out to support through email, blog or phone. Please search responsibly responsibly.
What You Might Find With a Missouri Vehicle Plate Search
Owner Information For That Vehicle

Complete Vehicle History Report

 s

Vehicle Title Lookup

Vehicle Options and Manufacturer Specs

 

Salvage and Junk Records 

 

Vehicle Vital Stats

 

Accident and

Total Loss Records

 

Odometer Verification

 
Why Run a Missouri Vehicle Record Search?
There are a multitude of reasons why people in Missouri want to find out more about a vehicle. A vehicle record search via license plate number or VIN is a quick process with the search tool provided by SearchQuarry.com. One of the most popular reasons people us this tool is to verify a used car that they want to buy. A MO license plate search can reveal owner details, the history of the vehicle, savaged or junk title records, major accidents, vital vehicle statistics and more. The Missouri license plate search tool allows users to run unlimited searches on the fly from any device. Other reasons people run a MO vehicle plate search is for driver safety reasons, criminal activity or suspected vehicle theft, to find out if the vehicle has been abandoned and more.
State License Plate Searches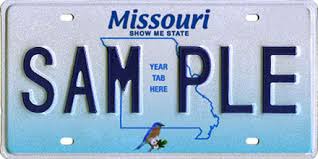 ---
Missouri Vehicle Record FAQs
How do I run a Missouri license plate search?
You can contact the Missouri license plate search a few ways. You can contact the DMV and run a license plate search if you have an acceptable reason. You can also hire a private investigator to find license plate information and lastly, you can use an online vehicle record website to search Missouri license plate numbers.
---