How To Run an Oklahoma License Plate Lookup
The process is simple, start by entering the full Oklahoma license plate number into the search field followed by selecting a reason for running your plate search. Then once you've satisfied those first steps you'll be eligible to view a multitude of vehicle information. What information you find will depend on the nature of your search. Results may include owner information, vehicle history, title status, accidents, vehicle specs and options. There is a multitude of information that can be accessed by a vehicle's VIN or license plate number. The Oklahoma license plate lookup tool is for verification and unofficial purposes only. This is not a service offered by any Oklahoma motor vehicle dept. With this plate tool search there is also a support team ready to answer any questions.
Why Run an Oklahoma Vehicle Record Search?
There are many reasons people want to run an Oklahoma license plate search or VIN check. A very common reason for obtaining vehicle records is for people wanting to buy a used car, truck, SUV or motorcycle. The Oklahoma license plate search tool allows users to verify a vehicle's history, find out if the odometer is accurate, if the title is clean or salvaged, if there are any major accidents or junk records attached to the vehicle. A quick plate search can give a lot of information that can help to value a vehicle's worth and find out if the seller is being up front about everything they disclosed about the vehicle they're selling. Other reasons people run a vehicle record search is to find license plate owner information or if the vehicle was abandoned on their property. Once you begin your OK license plate search you'll be directed to select a reason for running your search, there is specific criteria that needs to be followed to comply with state and federal privacy laws.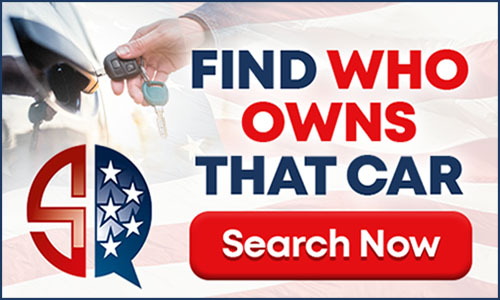 What Can Be Found With an Oklahoma Vehicle Search
Vehicle Owner Information
A Vehicle History Report

Vehicle Options and Manufacturer Specs

Salvage and Junk Records 

 

Vital Stats of The Vehicle

 

Accident and

Loss Records

 

Odometer Verification

 
Fun Fact About Oklahoma License Plates
The first Oklahoma automobile plates were issued in 1910 and were made of porcelain. Then in 1915, all license plates that were issued were made of steel. Today all Oklahoma license plates are made of embossed aluminum and are only required on the rear of a vehicle.
Check a License Plate Number in Any State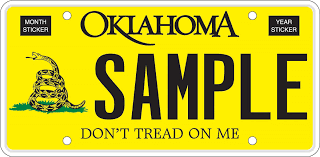 ---
Oklahoma License Plate Check FAQs
How can I lookup an Oklahoma license plate number?
Using the resources of an online vehicle records website, like SearchQuarry.com, you can lookup an Oklahoma license plate number online. Certian information might be limited depending on the Oklahoma DPPA regulations. Another option is to contact the Oklahoma DMV directly and inquire about a license plate search, given that you have a valid reason.
---