How To Run an Oklahoma License Plate Lookup
The process is simple, start by entering the full Oklahoma license plate number into the search field followed by selecting a reason for running your plate search. Then once you've satisfied those first steps you'll be eligible to view a multitude of vehicle information. What information you find will depend on the nature of your search. Results may include owner information, vehicle history, title status, accidents, vehicle specs and options. There is a multitude of information that can be accessed by a vehicle's VIN or license plate number. The Oklahoma license plate lookup tool is for verification and unofficial purposes only. If you are uncertain if your reasons for performing an OK license plate search is allowed, you can find out how personal information is collected and stored through the Oklahoma DPS and what searches are allowable through the DPPA.
Why Run an Oklahoma Vehicle Record Search?
There are many reasons people want to run an Oklahoma license plate search or VIN check. A very common reason for obtaining vehicle records is for people wanting to buy a used car, truck, SUV or motorcycle. The Oklahoma license plate search tool allows users to verify a vehicle's history, find out if the odometer is accurate, if the title is clean or salvaged, if there are any major accidents or junk records attached to the vehicle. A quick plate search can give a lot of information that can help to value a vehicle's worth and find out if the seller is being up front about everything they disclosed about the vehicle they're selling. Other reasons people run a vehicle record search is to find license plate owner information, or to report an abandoned vehicle to the police that is on your property. Once you begin your OK license plate search you'll be directed to select a reason for running your search, there is specific criteria that needs to be followed to comply with state and federal privacy laws. Below are some of the common reasons people research Oklahoma vehicle records:
Buying a Used Car: This can help potential buyers ensure the vehicle has a clean history and there are no hidden issues, accidents or recalls, title and odometer verification.

Insurance Claims and Investigation Purposes: These resources help to verify vehicle details when filing a claim by insurance companies, as well as their internal accident investigations to determine who was at fault.

 

Oklahoma Law Enforcement Investigation: A license plate search can aide police when they investigate criminal activities or locate vehicles involved in crimes, and the owner of a vehicle that may be involved in a crime or accident.

 

Oklahoma Repossession Companies: Ohio vehicle records can help banks and repo companies locate vehicles that need to be repossessed for non payment of their auto loans.

 

Private Investigation: Vehicle information is helpful for various types of investigations, including tracking down an Oklahoma vehicle owner for a suspected crime.

 

Legal Proceedings: For legal matters that involve ongoing court cases, gathering evidence can greatly assist in discovering who might have been involved in a crime such as a hit and run accident where someone was injured.

Safety Concerns: People often check if a vehicle has any outstanding safety recalls or reported safety issues before purchasing a used vehicle in Oklahoma. This can be done with a plate number search or a VIN check.

 

Stolen Vehicle Verification: If someone suspects a used car scam where someone is trying to sell a stolen vehicle, they can quick verify if the vehicle is stolen by their license plate number or vehicle identification number.

 

Parking Management: Checking the license plates of vehicles parked in a secure paid parking area is routine for parking management companies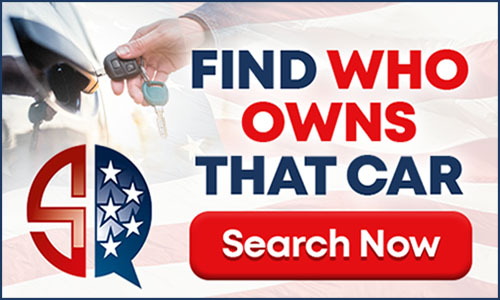 What Can Be Found With an Oklahoma Vehicle Search
Below are some of the details that can be found with an Oklahoma license plate search or VIN search. Please note that personal information about the vehicle owner, such as their name, address, or other personally identifiable information, is generally not available due to privacy laws. 
Car Owner Details
A Vehicle History Report

Vehicle Options and Manufacturer Specs

Salvage and Junk Records 

 

Vital Stats of The Vehicle

 

Accident and

Loss Records

 

Odometer Verification

 
Fun Facts You May Not Know About Oklahoma License Plates
The first Oklahoma automobile plates were issued in 1910

and were made of porcelain. Then in 1915, all license plates that were issued were made of steel. Today all Oklahoma license plates are made of embossed aluminum and are only required on the rear of a vehicle.

Oklahoma was also one of the last states to standardize the size of its license plates, starting in 1957.

 

In 1929, Oklahoma issued license plates with a Native American in a headdress design.

 

Oklahoma is known for its specialty plates, with over 200 plate options available as of 2023, including special causes, colleges, military service, civil plates and much more.

 

The state's nickname "Oklahoma is OK!" was added to license plates starting in 1968.

 

In 2013, Oklahoma introduced a QR code on the license plate to provide more information about the state that people can research with their smartphones.

 

The 2009 "Pioneer Woman" plate won the Best Plate Award from the Automobile License Plate Collectors Association.

 

Oklahoma began offering personalized license plates since 1970.

 

In 2023, Oklahoma introduced a digital license plate option, allowing real-time updates and messaging.
Check a License Plate Number in Any State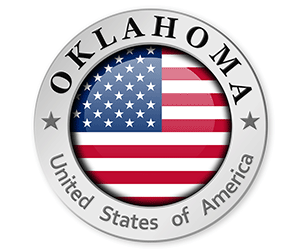 ---
Oklahoma License Plate Check FAQs
How can I lookup an Oklahoma license plate number?
Using the resources of an online vehicle records website, like SearchQuarry.com, you can lookup an Oklahoma license plate number online. Certian information might be limited depending on the Oklahoma DPPA regulations. Another option is to contact the Oklahoma DMV directly and inquire about a license plate search, given that you have a valid reason.
Can I run an Oklahoma license plate search on a motorcycle?
Yes, in fact you can run a license plate search on any non-government registered vehicle in Oklahoma including motorcycles, cars, trucks, SUVs and motorhomes.
Is there a free license plate check available in Oklahoma?
Many online vehicle record websites and public record websites claim to offer free vehicle information however what is offer for free is often limited. If you want to obtain a vehicle history report than you can expect to pay a few bucks.
Can I find out if a vehicle was recalled in Oklahoma?
Yes, you can research recalls with either the license plate number or the vehicle identification number. You can also find accident history and if the vehicle was ever salvaged or junked.
Can I find an Oklahoma vehicle owner with a license plate lookup?
Typically Oklahoma vehicle owner information is restricted by the state DPPA laws however, certain entities can access this information for specific reasons. You must make sure your reason is compliant with the driver privacy laws to obtain any personal information.
How can I perform a VIN check in Oklahoma?
You can run a VIN check though the NHTSA, the Oklahoma DPS, or third party public record websites. Most people run a VIN check to find the history of a used car, truck of SUV before they purchase it.
Can I find out if a vehicle has been in an accident with a license plate lookup or VIN check?
Yes, In Oklahoma you can run both license plate lookups and VIN checks to find out information about a vehicle's accident history.
---