Performing an Iowa License Plate Lookup
An Iowa license plate lookup has become a streamlined process with online public record repositories. To run this lookup you will need the full plate number and then you can begin. The next step is reading through the conditions of running an Iowa license plate number search and the state and federal privacy laws that say what is an acceptable reason to perform this search. The following step, after acknowledging your search is legitimate, is verifying the vehicle make and model to make sure the information you can find out the vehicle specs, obtain a vehicle history report, find owner information and find out if the vehicle title is clean. These are all resources that anyone can access and is intended for verification uses as these are not official documents. With some online resources, you can perform unlimited license plate searches nationwide. Many people use these resources when shopping for a used car which can help the buyer determine if the seller is telling the truth about the vehicle and if the vehicle title is clean or salvaged, meaning it could have been in a major accident which could lead to vehicle safety issues. There are a multitude of other reasons outlined in the terms of search that you can view to determine if this resource is the right resource for you. Start by entering an Iowa license plate number in the search fields above and please remember to search responsibly.
Why People Run a License Plate Lookup in Iowa
License plate lookups are commonly used for various reasons. Some are intended for official uses and others can be used for personal uses such as vehicle verification uses. Here are some of the more common uses for a license plate number search in Iowa: 
A quick plate search can offer a lot of insights to a used vehicle someone wants to purchase. When buying a used car, it is important to verify the vehicle's history. Checking the Iowa license plate number can reveal if the car has been involved in any accidents, if there are any liens against it, or if there are discrepancies with its odometer.

If a vehicle appears to be involved in suspicious activity, a hit and run accident or in some type of crime, running a license plate lookup can provide information that may be useful to law enforcement.

 

Lawyers and insurance companies may run an Iowa license plate number lookup to validate claims or to gather information related to a case.

Private investigators can use use the vehicle information to perform a skip trace of someone that is unreachable or fled because of a criminal investigation or unpaid financial debt.
People that are historical vehicle enthusiast
An Iowa license plate lookup can provide a multitude of information about the vehicle that has different utilities depending on who is searching and why. It is also important to note that due to Iowa Privacy Laws, personal information about the owner cannot be disclosed unless the request falls under a permissible use.
What You Can Find With an Iowa License Plate Number Lookup
You can find all the vehicle details and manufacturer options and specifications. This includes the make, model, year, and color of the vehicle. The vehicle's VIN (Vehicle Identification Number) and all the options that are installed by the manufacturer

 

Vehicle history reports are

available with a plate search, which give potential used car buyers the full breakdown of the history of the vehicle

Vehicle title status is another item that can be found with an Iowa plate lookup. This might include details about the vehicle's title and if it's clean, salvaged or junked. This can also show if there are any liens against the vehicle. This is particularly useful when buying a used vehicle, as it's important to ensure that the title is clear.

 

You can find if the vehicle has been involved in any accidents, those might be listed in the report. They are especially important if any accidents have led to a change in the title status.

 

Recalls can be listed as well and if there are any known safety issues that potential used vehicle buyers should be aware of.
Odometer verification is another important item that people want to know about. A plate search can reveal if the odometer reading is accurate or not.
Limited Iowa vehicle owner information can also be found if the person or entity is allowed to do so by state and federal privacy laws.
These are some of the details you might be able to find in an Iowa license plate number lookup. However,  the type and depth of information can vary based on the source of the lookup, and some details might not be publicly available because of privacy restrictions. However, all the data provided should be in compliance with the DPPA.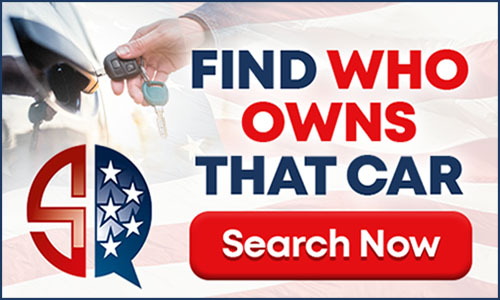 The History of License Plates In Iowa
Iowa license plates are more than a hundred years old now, starting back in 1904 when people were required to register their vehicles with the state. The state however, did not provide Iowa registration plates, or license plates in Iowa until 1911. Since then a lot has evolved in registration requirements where vehicles now must display license plates on both the front and the back of the vehicle and have a registration card and registration stickers. The early registration plates only had 4 digits on them, compared with the 6 you find on vehicles in Iowa today. One day there might be more numbers since there might be that many more vehicles on the road. As of 2022 there were over 4.5 million registered vehicle in Iowa, according to the Iowa Department of Transportation, a steady increase over the last few decades.
Iowa Vehicle Registration and Vehicle Titling Services
Vehicle owners in Iowa are required to have two license plates: one on the front and another on the rear, which should display the vehicle's registration stickers. Vehicle owners in Iowa can apply for several different types of license plates and two most commonly used license plates in Iowa include a standard and specialty plates, of which there are a lot of. Iowa, as do many states, have a 30 day period where a person can register their new or used vehicle after the purchase to obtain new license plates and documentation.
State By State Plate Search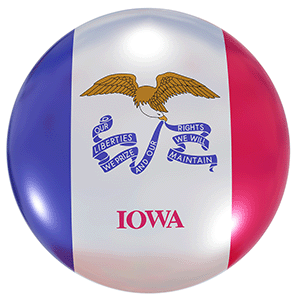 ---
Iowa License Plate Lookup Q&A
Can I Perform A License Plate Search By Person?
That can be difficult to do, most online public record resources allow certain states to lookup owner information by license plate but not necessarily the other way around
What is an Iowa License Plate Search?
An Iowa license plate number search is the process of researching vehicle information in the state of Iowa. You can find out information about the vehicle, the vehicle history, title status, vehicle specs and options, and some Iowa vehicle owner information if your reason is allowed by state privacy laws.
Why Run an Iowa License Plate Search?
Many people run a license plate number search in Iowa to uncover important vehicle information when researching a used car they want to buy. There are also other official reasons that this type of search can be used for such as locating Iowa car owner information, as long as the reasons are in compliance with state and federal laws.
Is it legal to run an Iowa license plate lookup?
Yes, it is legal to run this type of search but there are some restrictions on what personal information is available from the DPPA and state privacy legislation. You should first confirm your reason and intent for running this type of Iowa vehicle record search to make sure you are eligible.
Can I run a free Iowa license plate search?
Yes, there are free resources for an Iowa vehicle record search online however, most of the free resources will only give you very basic information. You will typically need to pay extra for vehicle history reports or other more detailed vehicle records.
Can anyone run an Iowa license plate number lookup?
Yes, as long as that person complies with the DPPA and state regulations. There is a lot of vehicle information available with this type of search.
---