Run a Maryland License Plate Lookup Online
With all the powerful search tools online it's possible to lookup most anything. An online license plate search in Maryland is no different. Since most vehicle information is public domain it's possible to resource information about a vehicle, it's owner, history, specifications, odometer verification and more in just a couple of moments. SearchQuarry.com has built a powerful Maryland vehicle record search tool that can be used to find a multitude of information for unofficial verification purposes. This resource is not something offered by any motor vehicle department in Maryland. With the license plate search tool, anyone can uncover important information about a vehicle that can be used for a multitude of purposes, as defined by the terms of this search. You can start your search by entering the full MD license plate number and selecting the reason you would like to run your search and that's it. This search tool will allow you to select what information you'd like to view and in the member's area you can perform unlimited searches with confidence. If you stumble into any difficulties finding what you're after or have a question, you can chat with us on our live blog or email us your inquiry.
Why Run a Maryland License Plate Search?
Many people want to know more about a vehicle that's on the road or abandoned or perhaps a used car they want to buy. The utility in using a resource like SearchQuarry.com is giving people the ability to resource information on the fly and have the ability to run unlimited searches. Perhaps there is a used car that someone wants to know more about such as the vehicle history or an odometer verification or if the title on the car has been salvaged. This information can be obtained in real time and from any smartphone, laptop or tablet.
What You Can Find With an Maryland License Plate Search
Owner Information For That Vehicle

 

Vehicle History Report

s

Vehicle Options and Specifications

 

Salvage and Junk Records 

 

Vital Statistics of The Vehicle 

 

Accident and Damages Records 

 

Odometer Verification

 
More About Maryland License Plates
Maryland was one of the first states in the Nation to start requiring license plates on automobiles, starting in 1904. It wasn't however until 1910 when the state issued their own license plate to every automobile owner. Until that time it was up to the owner of a vehicle to display the proper documentation. Today, everyone in Maryland that own's a vehicle is issued 2 license plates, the rear one requiring the tags and expiration month and year. There are two different types of plates available in Maryland, the standard issue or a specialty license plate. The specialty plates are meant for different causes, activities, professions, and organizations. You can also customize what you want your MD plate to say and make a statement everyone on the road will see.
State By State License Plate Search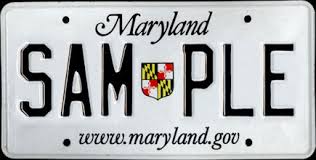 ---
Maryland License Plate Search FAQs
Can I customize a Maryland license plate number however I want?
Possibly as long as you follow the limitations of characters, have a unique phrase, and do not have anything offensive then you'll most likely be approved for a customized Maryland license plate
---