How To Run an Arkansas License Plate Lookup
Running an Arkansas license plate number lookup is quick and easy using online vehicle record resources like SearchQuarry.com. You'll start by entering the full AK plate number into the search fields and searching. You'll also be required to read through the acceptable reasons for running an Arkansas license plate lookup and making sure you're in compliance. Then once you view the search results you should verify that the vehicle description is accurate before moving to the next step. Then you'll have the option to run a vehicle history report, find vehicle owner information, if the title is clean or salvaged and find out the vehicle specs and manufacturing details. In the member's area, if you decide to sign up, you'll have access to unlimited Arkansas license plate searches. This vehicle record resource is not offered by any Arkansas motor vehicle departments and is intended for unofficial verification purposes.
Reasons For Running an Arkansas License Plate Search
One of the most popular reasons for people to run an Arkansas license plate search is when purchasing a new vehicle. Both the AK license plate number and vehicle identification number can be use to run a vehicle history report. A popular reason people use this resources is to verify used cars before purchasing them. This report will give important insights into the history of the vehicle, if the vehicle title is clean, if there are any major safety concerns as well as verifying if vehicle is what the seller says it is. This report will list all the vehicle specification and options, this way you won't just have to rely on someone's word, you can verify first. Other allowable reasons to run an AK plate search is if the vehicle was involved in certain criminal activities, driver safety reasons, abandoned and junked cars and other reasons that are outlined in the conditions for a vehicle plate search in Arkansas. It's important to make sure your AK plate search is in compliance and also note that it is illegal to intimidate or harass anyone with information you find.

About Arkansas License Plates
In Arkansas, license plates are issued to motorcycles, all-terrain vehicles, passenger cars, trucks, SUVs and motor homes and trailers. All vehicles in Arkansas need to have a license plate on the rear. Having a license plate on the rear of the vehicle is mandatory as these plates show if the tags are current. In addition to the standard plates, specialty plates are also offered. There are a multitude of custom AK license plate options and they all cost a bit more than a standard plate.
It is also important to note when you purchase a new vehicle in Arkansas, it's required apply for a license plate within a month after purchasing the vehicle.
License Plate Information By State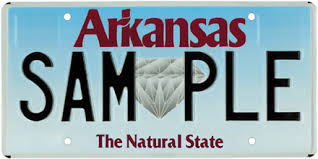 ---
Arkansas License Plate Frequently Asked Questions
How many digits are in an Arkansas license plate number?
The typical Arkansas license plate has 7 digits in the plate number. With specialty Arkansas license plates that number can vary and there can also be special symbols depending on the specialty plate.
---