Run an Ohio License Plate Lookup
With millions of vehicles on the road in Ohio, there is a large demand for vehicle related services. These can range from automotive repair and auto insurance to looking up vehicle information and running vehicle history reports. One of these services is looking up vehicle information by a license plate or VIN, both of which are unique to every vehicle on the road. Depending on the acceptable reasons for running an OH plate search, results may include owner details, detailed vehicle history report, title check and vehicle specifications and options. Most online Ohio license plate lookups are unofficial and intended for verification and research purposes. The first step is to obtain the complete Ohio license plate number, then you'll need to enter it into an Ohio license plate lookup form. You will then be directed to verify your reasons for your search and then if all items are satisfied, you can proceed to accessing the Ohio vehicle records you are after.
What Can Be Found With an Ohio Vehicle Plate Search
In Ohio, you can request license plate or vehicle information from the Bureau of Motor Vehicles (BMV) as long as it's for your vehicle. Typically, you'd need to fill out a request form with the BMV and pay a nominal fee. If you are interested in obtaining a vehicle history report or Ohio vehicle title information on a used vehicle you want to purchase, you can access through third party online public record websites. Personal information such as Ohio vehicle owner information is restricted to only certain entities and for specific reasons. You should review the Ohio driver privacy protection act for more information about what is allowable.
Why Run an Ohio License Plate Search?
The most common reason for running an Ohio license plate search is to verify a vehicle, it's title, it's owner and it's legitimacy. There are specific reasons that are allowable to run a license plate search in Ohio. The process is simple, start by entering the full OH plate number into an online Ohio license plate search form and verify your reason for performing this search to find out what information is available. This can be accessed through a multitude of online public record resources, but it's important to first verify the online resource you are using as not all are the same. Some website offer much more detailed vehicle records than others. Here are some of the top reasons people use license plate data in the state of Ohio:
Buying a Used Car: It helps to verify the vehicle's history before making a purchase and uncovering any major accidents and to research the safety of the vehicle they want to purchase.

 

Law Enforcement: Officers use it to identify vehicle owners in the event of crimes or accidents, including hit and run incidents.

 

Insurance Claims: It is useful in processing claims and identifying parties involved in accidents. Auto insurance companies do their own internal accident investigations.

 

Vehicle Verification: It helps to ensure a vehicle hasn't been stolen or involved in any illegal activities.

This can be performed with a VIN check or plate number look up.

Lien Holder Verification: Prospective buyers can check if there are any liens on the vehicle before purchasing it to avoid any potential title transfer issues.

 

Investigative Reporting: Journalists might use it to gather information for a story.

 

Legal Proceedings: Lawyers can use it as evidence in ongoing court cases.

 

Collectors: Car collectors may use it to learn more about the vehicle's history.

Decoding the license plate digits or VIN is a great way to find more about a vehicle.

Roadside Assistance Services: Companies use it to identify and assist their clients by referencing their license plate numbers for road side assistance.

Neighborhood Watch Groups: They may use it to report suspicious vehicles in their area to the police.

Ohio License Plate Lookup via Private Detective
Buying a car with a false title can leave you without a vehicle when the real owner tracks it down. Those who steal cars will often issue false titles that have another owner listed on the paperwork. While hiring a private investigator may cost more than you would like, it's an option if you feel suspicious about a vehicle you really want to buy. They generally have proprietary resources and an elevated skill sets for researching information.
History of Ohio License Plates and Registration
Ohio started issuing state license plates back in early 1908. Initially, these plates were fairly simple, with just the state abbreviation and some number. Moving forward through the decades, the designs and materials used have evolved, with different color combinations and slogans appearing on the OH plates over the years. One of the most popular OH plate designs was the 1969 "Heart of It All" design, followed by the "Beautiful Ohio" plate that was released in 2010. Currently there are a large number of options available by the state, according to the Ohio BMV in 2023, there are over 150 different specialty plates available ranging from military plates to collegiate and organizational plates. 
Some Fun Facts About Ohio Plates
In Ohio, the BMV offers over 150 different types of license plates, from personalized plates, military plates, historical plates, company logo plates, and special interest plates that support various causes.

 

The "Birthplace of Aviation" plate, which is a tribute to the Wright Brothers from Dayton, Ohio, is one of the most popular OH plates of all time.

 

Ohio was one of the first states to introduce a multi-year plate system, which has reduced the need for people to replace their tags on an annual basis.

 
Ohio Driver Protection Privacy Concerns
To protect individual driver privacy, Ohio has implemented strict regulations limiting access to certain information like personal addresses and sensitive Ohio vehicle owner information. Misuse of this information can lead to significant penalties and legal consequences. It is your responsibility to review the state's privacy laws in order to maintain compliance. Only specific reasons are allowable to research Ohio vehicle owner data such as law enforcement purposes, insurance purposes, and allowable business to business inquiries.
Run a Plate in Another State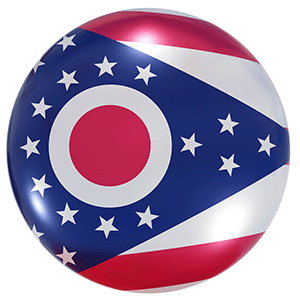 ---
Ohio License Plate Lookup FAQs
Can anyone run an Ohio license plate search?
Yes, anyone can run an Ohio license plate search to verify vehicle information. However, personal information is restricted for only specific reasons according to the state driver privacy laws.
What can I find from an Ohio license plate check?
You can research vehicle details, including the vehicle's make, model, year, VIN, vehicle history, title status, accident history and recalls. Owner information is generally not accessible unless your reasons for researching this falls under the state's driver privacy guidelines.
Is there a free Ohio license plate search?
While there are many free online vehicle record resources, most of the information you'll find is limited. Premium information such as title reports or car history reports will not be for free.
Can I find out if a vehicle in Ohio has been in a car accident?
Yes, by running the license plate number or vehicle identification number you can uncover the accident history of the car as well as if it has any recalls or safety issues.
Can I use a license plate search to find information about my own vehicle?
Yes, though the Ohio BMV you can access your own vehicle records, registration and title information.
Can I find a vehicle's mileage with an Ohio license plate lookup?
You can verify if the odometer reading is accurate which is typically part of the vehicle history report however to find out exact mileage would be nearly impossible unless you inquired with the vehicle owner directly.
---