How To Perform an Oregon License Plate Lookup
Performing a license plate lookup in Oregon has become a simple online process. To begin you'll need the full Oregon license plate number of the vehicle in question. Then you'll need to find out if you have a valid reason for performing this search via the state and federal privacy laws which you will be directed towards during the search process. Then once you've satisfied those first few items you're ready to view the vehicle information you're looking for. Results can include the history of the vehicle, license plate owner details, vehicle vital statistics, title verification and more. The Oregon license plate lookup tool is unofficial and intended for verification purposes only. This is not a service offered by the Oregon motor vehicle dept. Please search responsibly and abide the relevant privacy laws. If you have any difficulties with your plate search you can reach out for help with our expert support team through the blog, email or phone.
Why Run an Oregon Vehicle Record Search?
Oregonians run a vehicle record search for a multitude of reasons including researching a used car they're in the market to buy. A quick vehicle record search online via the OR license plate number or VIN can offer up valuable details to the health and value of a used car and offers the buyer some objectivity they might not get from the seller. Used cars can come with problems and that might not be disclosed or know about by the seller. These may include major accidents, salvaged or junk titles, incorrect odometer reading, the seller isn't the owner of the vehicle, to name a few. One of the great benefits of using the SearchQuarry.com vehicle record tool is anyone can use it on the fly from any device that has an internet connection and in the member's area, people will have access to unlimited Oregon vehicle record searches.
What You Might Find With an Oregon Vehicle Record Search
Oregon License Plate Owner Information

Vehicle Options and Specs

Oregon Vehicle History Report

 

Salvage and Junk Records 

 

Vehicle Vital Statistics

 

Loss and Accident Records
Verify The Odometer is Accurate

Types of Oregon License Plates
Custom Tree License Plate
Custom Salmon Plate
Custom Crater Lake License Plate
Custom Cultural Plate
Custom Wine Country Plate
Custom Trail Blazers Plate
Custom Motorcycle/Moped License Plate
Custom Motor Home/Camper/Travel
Specialized Oregon Plates
A Brief History of Oregon License Plates
Oregon automobile owners were required to first start displaying license plates on their vehicles in 1905 however, they had to provide their own license plates for the rear of the vehicle only. In 1911 the state started to issue license plates to automobile owners and are today required on both the front and rear of the car, truck, van or SUV. Motorcycles are the exception where plates are only required on the rear of the vehicle
License Plate Information For Every State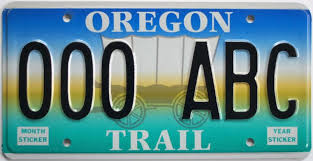 ---
Oregon License Plate Search Q&A
Can I lookp someone's Oregon license plate number?
You can lookup someone's Oregon license plate number if you have a valid reason according the the Oregon DMV. You can also lookup Oregon license plate information through certain websites if you agree to the terms and conditions of the Oregon DPPA.
---