Oregon License Plate Lookup Options
The Oregon Department of Motor Vehicles is a sub-branch of the Oregon Department of Transportation. It serves various functions related to legal and official matters concerning motor vehicles. To begin an Oregon License Plate Lookup fill out the form above.
Oregon License Plate Lookup Information
The Oregon Department of Motor Vehicles manages the titling, registration, ownership, and safety of motor vehicles. It is also concerned with maintaining a record of all vehicle license plates. This includes not only keeping tabs on historical license plates or formulating a license plates manual, it also entails updating the public of any changes to the Oregon license plating system.
Oregon License Plate Types
Different kinds of license plates are available with the Oregon Department of Motor Vehicles. Ranging from general passenger vehicle license plates to custom (personalized) plates, you will have many options to choose from. Special license plates for particular drivers and driving purposes are also available which include Amateur Radio Operator, Antique, and Disabled Veteran, to name a few. License plates with a special background are also on the list. Custom plates include;
Custom Tree License Plate
Custom Salmon Plate
Custom Crater Lake License Plate
Custom Cultural Plate
Custom Wine Country Plate
Custom Trail Blazers Plate
Custom Motorcycle/Moped License Plate
Custom Motor Home/Camper/Travel
Trailer Plate
Oregon License Plate Information Privacy
The department does not reveal certain personal information of any license plate holder or vehicle owner. Only qualifying entities are allowed to access any private information upon request. These entities are mostly agencies or businesses including attorneys, insurance companies, or law enforcement agencies. Apart from these, the general public is not informed about the name, address, or phone number of the license plate holder. Their driver license, identification, or permit number is also not revealed. This respect for privacy is due to the Oregon Record Privacy Law followed by the department.
Oregon License Plate Inquiry Account
Due to subjection of Oregon?s Record Privacy Law, only a few entities have access to information regarding license plates and vehicle registration. However, there is formal process to be granted this access. This requires them to have a DMV Record Inquiry Account. This account is established by filing an application which would ascertain whether one is qualified to receive personal information or not. A $70 non-refundable charge is also applicable. After payment of this amount, the application would need to be submitted at Oregon DMV along with a proper and complete set of required documents.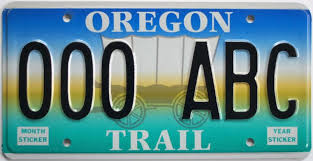 ---
Can I lookp someone's Oregon license plate number?
You can lookup someone's Oregon license plate number if you have a valid reason according the the Oregon DMV. You can also lookup Oregon license plate information through certain websites if you agree to the terms and conditions of the Oregon DPPA.
---