How To Perform an Oregon License Plate Lookup
Performing a license plate lookup in Oregon has become a simple online process. To begin you'll need the full Oregon license plate number of the vehicle in question. Then you'll need to find out if you have a valid reason for performing this search via the state and federal privacy laws which you will be directed towards during the search process. Then once you've satisfied those first few items you're ready to view the vehicle information you're looking for. Results can include the history of the vehicle, license plate owner details ( if allowable ), vehicle vital statistics, title verification and more. The Oregon license plate lookup tool is unofficial and intended for verification purposes only. This is not a service offered by the Oregon motor vehicle dept. Please search responsibly and abide the relevant Oregon driver privacy laws.
Why Run an Oregon Vehicle Record Search?
Oregonians run a vehicle record search for a multitude of reasons including researching a used car they're in the market to buy. A quick vehicle record search online via the OR license plate number or VIN can offer up valuable details to the health and value of a used car and offers the buyer some objectivity they might not get from the seller. Used cars can come with problems and that might not be disclosed or know about by the seller. These may include major accidents, salvaged or junk titles, incorrect odometer reading, the seller isn't the owner of the vehicle, to name a few. One of the great benefits of using the SearchQuarry.com vehicle record tool is anyone can use it on the fly from any device that has an internet connection and in the member's area, people will have access to unlimited Oregon vehicle record searches.
What You Might Find With an Oregon Vehicle Record Search
Oregon License Plate Owner Information

Vehicle Options and Specs

Oregon Vehicle History Report

 

Salvage and Junk Records 

 

Vehicle Vital Statistics

 

Loss and Accident Records
Verify The Odometer is Accurate
An Oregon license plate lookup is a way of accessing the public records associated with a specific license plate registered in Oregon. This process allows you to find information about the vehicle and its history, as well as the owner's details in some cases, depending on the privacy laws and regulations.
Top 10 Reasons People Lookup Vehicle Records in Oregon
Oregon residents or out of state used car buyers can learn more about a vehicle's history, which is crucial for informed decision-making, and finding out the accident history which can help with determining the value and if it's a safe vehicle.

 

Assisting in an accident investigation by the police or auto insurance companies. Such as after a hit-and-run incident, an Oregon license plate number lookup can assist in identifying the responsible party and the Oregon vehicle owners involved.

 

Oregon police use this service in their daily duties, from tracking stolen vehicles to conducting criminal investigations and accident reporting.

 

Looking up a recall on a car, truck or SUV can provide helpful safety information for a vehicle.

 

In legal proceedings and ongoing Oregon court cases involving property disputes, divorce, or repossession, an Oregon vehicle record search may be necessary.

 

Vehicle lien holders or debt collectors may use this service to track a debtor's assets or repossess a vehicle that has missed too many payments.

 

Oregon insurance companies may run a lookup to verify a vehicle's information before issuing or renewing a policy or paying out a claim for an accident.

 

Charitable organizations may run a lookup to verify the state of a donated vehicle as well as the history of the vehicle and if it is safe to sell or give away.

 

Towing companies use this information to contact Oregon vehicle owners or verify ownership as well as document the vehicle so it can be found at the impound yard.

 

Private investigators frequently use license plate owner information to track down people in various investigations, as well as for skip tracing when someone is hard to locate or fled an ongoing court case.

 

Most Popular Oregon Specialty License Plates
As of June 2023, the Oregon DMV offers a variety of specialty license plates that allow drivers to show support for various causes, organizations, and interests. Below are some of the most popular plate types offered. It's important to note that if you are interested in obtaining a personalized OR plate then you must first submit your request to be reviewed. You will be asked to describe what your personalized message means, there is nothing offensive allowed to be displayed.
Cultural Trust Plates: These plates support the Oregon Cultural Trust, which funds the arts, heritage, and humanities programs across the state.

 

Crater Lake Plates: Featuring the iconic image of Crater Lake, these plates support the preservation of this national park and part of the proceeded go to this cause.

Pacific Wonderland Plates: These plates feature the historic "Pacific Wonderland" design from 1960, a retro throwback that was super popular.

 

Wine Country Plates: Proceeds from these plates go towards supporting Oregon's wine-producing industry.

 

Salmon Plates: The funds from these plates support salmon habitats and restoration in the state.

 

Oregon Ducks and Beavers Plates: These plates allow fans to show their support for the University of Oregon Ducks or the Oregon State University Beavers, with funds going towards scholarships at each university.

 

Share The Road Plates: The funds from these plates go towards the Bicycle Transportation Alliance and Cycle Oregon to help make Oregon a safer place for cyclists.

 

Trail Blazers Plates: This was first launched in 2020, these plates celebrate the state's NBA team, the Portland Trail Blazers. Funds support the Trail Blazers Foundation, that helps local underprivileged communities.

 

Veterans Plates: These plates are available for U.S. veterans, with different designs for different branches of the military and conflicts.

They also offer a gold star plate for veterans and families that have lost a loved one in the military.

Keep Kids Safe Plates: Funds from these plates go towards child abuse prevention programs.

This is one of the most popular specialty plates among parents.

Endangered Wildlife Plates: These plates feature images of Gray Whales or Northern Spotted Owls, with funds going to support wildlife conservation in Oregon.

 

Personalized Oregon Plates: These include custom messages that can be displayed within the character limits allowable.
A Brief History of Oregon License Plates
Oregon automobile owners were required to first start displaying license plates on their vehicles in 1905 however, they had to provide their own license plates for the rear of the vehicle only. In 1911 the state started to issue license plates to automobile owners directly. Then in 1956 issued the first standardized plates, the size was not standardized before then, and Oregon plates varied in size and shape. These standardized plates began a new color scheme in 1960, featuring blue text on a yellow background, which has been the consistent standard since then, with minor modifications. Then fast forward to today, there are several dozen specialty plate options, and license plates are now required on both the front and rear of the car, truck, van or SUV. Motorcycles are the exception where plates are only required on the rear of the vehicle
License Plate Information For Every State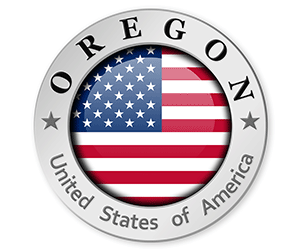 ---
Oregon License Plate Search FAQ
Can I lookp someone's Oregon license plate number?
You can lookup someone's Oregon license plate number if you have a valid reason according the the Oregon DMV. You can also lookup Oregon license plate information through certain websites if you agree to the terms and conditions of the Oregon DPPA.
How can I perform an Oregon license plate search?
You can perform a search through the Oregon DMV's license plate lookup service or use a credible online public record website that provides this service.
How can I get a copy of my Oregon vehicle's records?
You can request a copy of your vehicle's records from the Oregon DMV. You'll need to provide proof of ownership and may need to pay a fee.
Can I find the owner's name through an Oregon license plate lookup?
Oregon's privacy laws generally protect personal information like the owner's name, home address, and contact details. There are only certain allowable reasons to access personal information from an Oregon vehicle owner search.
Why would I need to perform an Oregon license plate lookup?
The most common reasons include verifying a used vehicle's history before purchase, assisting in an accident investigation, verifying a vehicle's information for insurance purposes, tracking a debtor's assets, or for legal proceedings.
Is it legal to run an Oregon license plate search?
Yes, as long as the information obtained is used in accordance with the Oregon state privacy laws. Most people run a plate search to find out more about a vehicle's history before buying it.
---