How To Run a Minnesota License Plate Check
Our Minnesota license plate lookup tool allows you to search and find valuable information about vehicles, this is especially useful when purchasing a used vehicle.. The process of running this Minnesota plate search is simple. Start by entering the full plate number into the search field and then you'll be directed to validate your search by selecting your requested information and an acceptable reason, if needed, according to state and federal privacy regulations. Once you've satisfied the Minnesota license plate check requirements you'll be able to access information such as title verification checks, vehicle history reports, vital vehicle statistics, license plate owner information and more. This search is unofficial, intended for verification purposes only and is not offered by motor vehicle departments. It's important to make sure that you are compliant with the latest Minnesota driver privacy laws as they are updated regularly. Only certain allowable reasons and entities may access Minnesota vehicle owner information, and some information may be limited depending on what is available. Use the information obtained as directed and in a responsible fashion, it's your responsibility to comply with the guidelines of this search.
What You Might Find With a Minnesota Plate Check
Car Owner Information

Vehicle Specifications

Vehicle History Report

 

 

 

Vehicle Title Check

 

Salvage and Junk Records 

 

Vital Vehicle Statistics

Accident and Damages

Odometer Verification

 

Recalls and Vehicle Safety Concerns
There are a multitude of online public record websites that offer access to vehicle records. These third-party companies access various databases to gather information, but the accuracy and comprehensiveness of data can vary. You may want to reference multiple resources to find exactly what you are looking for. It's also important to make sure you are in compliance with state privacy laws when performing this type of search, which means you may not necessarily be able to access any sensitive personal information or Minnesota vehicle owner information unless allowable by the driver privacy laws.
Why Run a Minnesota License Plate Lookup?
There are many utilities for running a Minnesota license plate search and one of the top reasons is for people verifying vehicle information on a used car, truck, SUV, van or motorcycle they're looking to buy. A license plate search tool can offer people the ability to lookup a vehicle history reports, verify vehicle title information, find out if the odometer reading is correct, all the options and specifications of the vehicle, recalls and vehicle safety issues. The ability to run this search on the fly from a smartphone or laptop makes this very convenient for used car hunting. Other reasons include finding out if a vehicle has been abandoned, if a car has been involved in some criminal activity or if there is suspected fraud. You can lookup this information with both the Minnesota license plate and the vehicle identification number. Here are some of the most common reasons people run a plate or VIN search in Minnesota:
Researching a used car to purchase. If you are considering buying a used car, a Minnesota license plate search or VIN check can provide invaluable information about the vehicle's history, including any accidents, recalls, or title issues.

 

Automobile insurance companies often conduct a license plate lookup to verify vehicle details when providing quotes or processing claims and to verify vehicle ownership in Minnesota.

 

Police officers use license plate information to verify vehicle registration, check for outstanding warrants or tickets, and track stolen vehicles, and investigate hit and run accidents.

 

Legal matters that include lawsuits, attorneys might run a Minnesota license plate check to gather evidence or verify details about a vehicle and the vehicle owner involved in a case.

 

Private detectives might use a vehicle's plate number or VIN to skip trace someone that they are trying to track down or has fled from a financial obligation or ongoing court case.

 

Decoding a plate is another reason people may want to research a vehicle. Since the VIN is linked to the license plate number, a person can find the history of the vehicle as well as all the specifications and options it was built with.

Fun Facts About The History of Minnesota License Plates
The state of Minnesota was one of the first states in the US to require automobile owners to present a license plate on their vehicle, starting in 1903. Automobile owners at that time, until 1909, were required to provide their own license plates. Then after 1909 the state provided porcelain plates with the plate number painted on it. Today the state of Minnesota requires only the rear license plate on a vehicle and they're made of of embossed aluminum these days. Every vehicles in Minnesota needs to have a license plate on the rear. with current tags as well as an up today auto insurance policy. There are 2 different types of plates that are available, the standard issued plates and specialty plates which represent non profit organizations, veteran plates, special interests and customizable plates. As of January 2023, the Minnesota Driver and Vehicle Services Department allows up to seven characters on their personalized license plates which can include a space, hyphen or number.
Privacy Restrictions When Searching Minnesota Vehicle Records
While Minnesota vehicle records can provide a lot of useful information, there are restrictions to what information is available. Minnesota Driver Privacy Laws restrict access to personal information in connection with motor vehicle records to the general public. Only certain reasons are permissible to access this type of motor vehicle records and only by certain entities. It's important to review the updated privacy rules of the federal DPPA and the Minnesota DVS privacy laws before accessing any sensitive information. It is also illegal to use any of the vehicle information that is accessed for any unlawful reasons. 
Statewide License Plate Searches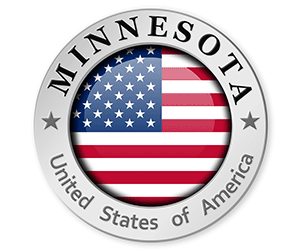 ---
Minnesota License Plate FAQ
Can a civilian lookup a Minnesota license plate?
Yes, it's possible for civilians to lookup license plate numbers in Minnesota. You will need to make sure you follow the DPPA rules and regulations in the state of Minnesota to run a plate search.
Who can run a Minnesota license plate check?
Anyone can run a Minnesota plate or VIN check for obtaining vehicle records, vehicle history reports, verifying the status of the vehicle title, finding recalls and accidents and odometer verification. The only caveat is there are restrictions to accessing personal information unless allowed by state and federal privacy laws.
What can I find from a Minnesota license plate number?
You can find the history of the vehicle, if the vehicle was involved in any accidents, any recalls or safety issues and all the features and options installed by the manufacturer.
Can I find if a used car in Minnesota has any accidents?
Yes, by running a license plate number or vehicle identification number through a public record website you can access a multitude of publicly available information such as accidents and recalls,
Is there a free Minnesota license plate check?
There are some free resources that you can use to find basic information about a vehicle. However, most premium vehicle records, such as vehicle history reports, will cost a bit more.
How much does a Minnesota license plate search cost?
If you are wanting to obtain a vehicle history report and detailed vehicle records you might pay around $20 for a single report. Some online resources offer you unlimited searches for a monthly fee which might cost a bit more but can be a good value if you want to research more than one vehicle.
Can I find Minnesota vehicle owner information?
It is possible to find some vehicle owner information in Minnesota if you are in compliance with the DPPA and state privacy regulations. There are strict privacy laws that limit access to this data unless specified by these regulations and are typically only accessible by certain entities such as law enforcement, insurance companies and legitimate business to business enterprises.
Why would someone run a Minnesota license plate lookup?
Most people run this type of vehicle search to research a used car, truck or SUV they want to buy. A plate or VIN lookup can allow people to access vehicle history reports, accident and recall information as well as other important vehicle specifications.
---