How To Run a Minnesota License Plate Check
The Minnesota license plate lookup tool allows anyone in the state to find valuable information about vehicles that can be used for a multitude of purposes. The process of running this Minnesota plate search is simple. Start by entering the full plate number into the search field and then you'll be directed to validate your search by selecting an acceptable reason according to state and federal privacy regulations. Once you've satisfied the Minnesota license plate check requirements you'll be able to access information such as license plate owner information, title verification checks, vehicle history reports, vital vehicle statistics and more. This search is unofficial and intended for verification purposes only and not offered by any motor vehicle department. If you encounter any questions or difficulties with your search you can reach out via blog chat, phone or email.
What You Might Find With a Minnesota Plate Check
Car Owner Information

Vehicle Specifications

Vehicle History Report

 

 

 

Vehicle Title Check

 

Salvage and Junk Records 

 

Vital Vehicle Statistics

Accident and Damages

Odometer Verification

 
Why Run a Minnesota License Plate Lookup?
There are many utilities for running a Minnesota license plate search and one of the top reasons is for people verifying vehicle information on a used car, truck, SUV, van or motorcycle they're looking to buy. The license plate search tool, provided by SearchQuarry.com, allows people to lookup a vehicle history report, verify that the seller is the owner of the vehicle, the options and specs of the vehicle, salvage or damaged records and much more. The ability to run this search on the fly from a smartphone or laptop makes this very convenient for used car hunting. Other reasons include finding out if a vehicle has been abandoned, if a car has been involved in some criminal activity or if there is suspected fraud. You can lookup this information with both the Minnesota license plate and the vehicle identification number.
About Minnesota License Plates
The state of Minnesota was one of the first states in the US to require automobile owners to present a license plate on their vehicle, starting in 1903. Automobile owners at that time, until 1909, were required to provide their own license plates. Then after 1909 the state provided porcelain plates with the plate number painted on it. Today the state of Minnesota requires only the rear license plate on a vehicle and they're made of of embossed aluminum these days. Every vehicles in Minnesota needs to have a license plate on the rear. with current tags as well as an up today auto insurance policy. There are 2 different types of plates that are available, the standard issued plates and specialty plates which represent non profit organizations, veteran plates, special interests and customizable plates.
Statewide License Plate Searches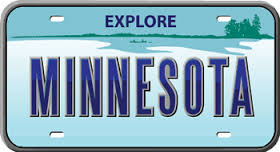 ---
Minnesota License Plate FAQs
Can a civilian lookup a Minnesota license plate?
Yes, it's possible for civilians to lookup license plate numbers in Minnesota. You will need to make sure you follow the DPPA rules and regulations in the state of Minnesota to run a plate search.
---