How to Lookup California License Plate Numbers
A California resident may have a number of reasons for requesting information on another person's license plate. The person may want to obtain some information about a driver who performed a hit-and-run incident. The person may also have some inquiries about a vehicle's history, VIN number information, recalls or safety notices. An online California license plate number lookup can reveal information like this and more. This is because most public information can now be found online with public record websites that  can access billions of records with a simple search. If you have a smartphone or computer or tablet that has internet access, you can access perform a California license plate number lookup. With this type of CA vehicle record search you can find car owner information as long as you have a valid reason to obtain this information according to the CPPA, which is a set of rules that regulate what information is allowed for privacy reasons. Most online vehicle record resources for California will ask you to select a valid reason for running a CA license plate lookup as part of the process. Once you've verified your search is legitimate then you can proceed with your vehicle research. The next step in this lookup is to enter the complete CA plate number, or the 17 digit VIN, into the search fields. Once the vehicle search results are available, you will want to verify the make and model of the vehicle is accurate, as there are occasional inaccuracies in reporting. Lastly, you will have the option to obtain a vehicle history report, view vehicle title information, find vehicle owner information and get a breakdown all the options and specifications of the vehicle you're researching.

Reasons For Running a California License Plate Lookup
Verifying Vehicle Ownership: When a person is in the market to buy a used car, truck, SUV or motorcycle, they might want to verify the owner is selling the vehicle to avoid any complications, fraud or buying a stolen vehicle.

 

Running Vehicle History Reports: A California license plate number lookup can give an accurate account of a vehicle's past, odometer reading, any major accidents, if the title is clean, or if there are any safety issues or recalls on that used vehicle. This type of search can help a buyer make an informed buying decision and determine the real value of the used vehicle they want to purchase.

 

Motor Vehicle Safety Reasons: A vehicle record inquiry can be made for matters that concern the safety and emissions of a vehicle that also include parts that may have been replaced or altered, that can affect the performance and safe operation of a vehicle.

Accident Insurance Purposes: If a vehicle has been involved in an accident, then an insurance company and law enforcement have the right to research the license plate number and VIN with their investigation.

 

Stolen Vehicles and Fraud: A vehicle plate search can be run to find out if it has been stolen or if there is fraud suspected. Law enforcement can follow up to track down the real owner of a vehicle if this is the situation.

 

Legitimate Business Reasons: Business can verify the accuracy of personal information, as approved an employee or contractor, for liability reasons and to prevent fraud, or recovering a debt

 

Statistical Analysis & Reporting: If there is permission by the vehicle owner, and the information is only to be used as disclosed, a person's vehicle information may be used for analysis or reporting purposes.

 
It's important to note that this type of vehicle record search can be resourced from a multitude of online public record websites and is heavily monitored by state and federal regulatory agencies. These type of vehicle related searches are intended for people looking for specific information that is made available via the FOIA and allowed by the state and federal laws, as long as the search intent and usage of the information received falls within those state and federal guidelines. If you fulfill the criteria then you'll be able to access all the vehicle information that is available with your California reverse license plate search. It is also important to note that with some online resources, as of January 2023,  you may be required to register your name or business before receiving any sensitive vehicle related or vehicle owner information for liability reasons. It is ultimately your responsibility to use the CA license plate information for the reasons you complied with.
Another important piece of information is that in California, a vehicle record search number through a vehicle record database, meaning you cannot find someone's CA plate number or VIN by searching their name. There is a good reason for this as many people buy and sell cars, trucks and SUVs and the data is not always relevant. A reverse license plate search or VIN search is intended to find out relevant information about the vehicle and it's owner now, not the previous owners. It's good to keep that in mind when using any public record website that offers access to vehicle related data.
What You Can Find With a California License Plate Search
Owner Information For That Car
A Complete Vehicle History Report
Vehicle Options and Manufacturer Specifications
Odometer Verification
Vehicle Title Information
Salvage and Junk Records
Vital Statistics of The Vehicle
Accident History
Recall Information
It is important to note that some information may only be available to law enforcement, insurance purposes, or other legal reasons at outlined by California driver privacy laws . Make sure to review the requirements and acceptable reasons for obtaining the vehicle information you're looking for as it's your responsibility to maintain compliance. Some information may not be accessible if you're not law enforcement or have authority to do so. Additionally, some older vehicles that are 40 years old may not have the detailed vehicle records as newer vehicles since not all records have been transferred into modern cloud-based databases.
California DMV License Plate Lookup Resources
Many people ask the question if they can run a California DMV license plate lookup, or access vehicle records directly through the Department of Motor Vehicles and the short answer is yes, however there are restrictions. You can only access your specific vehicle records and personal information from the CA DMV directly unless you're law enforcement, an insurance company or have a legal reason to do so. If you are interested in acquiring your own vehicle or driving records you can do so by either setting up an account online and verifying your identity, and then you can make your requests online and have documents mailed to you. The other option is to visit a branch in person to make your request. You'll need your driver's license or another verifiable form of identification and have the correct request form filled out before obtaining any information or documentation. This is the fastest way to lookup your vehicle records or driving records however, some official documentation will need to be mailed to you as it's processed somewhere else.
History of License Plates in California
The very first license plates in California date back to the early 1900's. It was 1914 that the state first required car owners to have California registration plates, also known as license plates, on the rear of their car. These first plates were iron registration plates that had the owner's first and last initial stamped on them. These plates were made by independent companies, and they were all a bit different. Then because California wanted to have a standard that everyone used, they initiated the manufacture of porcelain plates in 1915 that each had unique numbers on them, like a social security number, so that a vehicle and its owner could quickly be referenced. This is still the standard today in 2023, according to the California DMV, but with more numbers, letters, and special characters. In 1929 in order to save on costs, the state reverted back to stamped metal plates with a 4-digit number code as well as the county annotated on the plate with a letter. Then fast forward a few decades later, in 1982, the state started to issue reflective license plates to make them more visible and required vehicles to have plates in both the front and back of the vehicle, with motorcycles being the exception. They are only required to have a plate visible on the rear of the motorcycle. 
Statewide License Plate Searches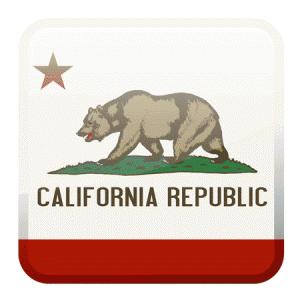 ---
California License Plate Lookup FAQs
Can I lookup the owner of a California license plate?
It is possible to lookup the owner of a California license plate number if you have a valid reason according to the DPPA regulations in California. To get more details about who can run a California license plate search you can contact your local DMV office.
Can I run a California license plate search?
You can run a California license plate search online as long as you have the entire CA license plate number. There are a multitude of online vehicle record websites where you can run a VIN check or license plate lookup without going to the DMV.
How many different specialty plates are available in California?
The short answer is a lot, there are over 150 different California specialty license plates and they represent a multitude of special interests, military veterans, non-profit organizations, cultural plates, environmental themes, and collegiate license plates.
---