How To Run A California Vehicle Title Search
A California vehicle title search is an easy online process that is typically run on used vehicle to find out if there the vehicle title is clean and there are no lien holders still on the title. CA vehicle title searches are often times part of a vehicle history report where you can also find out the history of the used vehicle including accidents, recalls and previous owner information. The intent for most people that run these types of reports are to uncover any potential issues when purchasing a used car, truck, SUV, or motorcycle. It's a best practice procedure that only cost a few bucks, but it can uncover any issues that might not be known or disclosed by the previous vehicle owner. If there is a lien holder on a vehicle or the title is salvaged, it might be very difficult to register the vehicle with the California DMV as well as getting the title information transferred over to the new owner's name. To begin your CA vehicle title search and verification, you will need the full vehicle identification number but you can also use the license plate number as well. Then you'll enter the information into the search fields of and begin. The next step is to verify your results and make sure that the make and model match, one misplaced character can bring up a completely different vehicle. Next, you'll select the vehicle history report which will cost a few bucks and then you'll have access to all the vehicle title information that is available.
Information Included on a California Vehicle Title
The owner's name and address
The vehicle's year, make and model
The date the vehicle was first sold
California vehicle title status
Vehicle identification number
Odometer information, and if it's accurate
License plate number
California vehicle title issue date
Release of Interest section at the bottom of the title
Issues To Look Out For on a California Vehicle Title
There are certain items that should be reviewed carefully on a California Vehicle Title if you are looking to verify a used vehicle you want to purchase. An issue with a CA vehicle title can lead to a real headache if you don't verify them before buying a used car, truck, SUV or motorcycle. Title issues are not always obvious when looking at a vehicle but they can dramatically bring down the value of a vehicle, or make it very difficult to transfer the used vehicle into your name. Some of the issues to look out for are:
Title Branding: If the vehicle you want to purchase says junked, salvaged, rebuilt, flood damaged, or lemon law recall, you may want to reconsider the purchase price of the vehicle or just walk away completely. These title brand issues mean that the vehicle had been damaged or there were significant issues that made it not drivable at some point. There could have been a major accident or it could have been involved in a natural disaster such as a flood. This can dramatically affect the value of the used vehicle you want to purchase
Title Ownership: You want to make sure that the seller of the vehicle is indeed the owner or you may have difficulties transferring the title into your name or registering it in the state of California. You can simply ask the seller to see their ID to confirm the ownership information on the title.
Lien Holder Information: If the title says there is a lien holder or the seller does not actually possess the title of the used vehicle that is a big red flag. If there is a lien holder that usually means the bank still technically owns the vehicle and you will not be able to transfer the title into your name until the bank loan is paid off. Make sure to review this carefully as purchasing a vehicle without a title can lead to significant hurdles when you try to register and transfer it into your name.
Check The VIN: The vehicle identification number (VIN) should be verified so that both the VIN on the title and the physical VIN that is stamped on the vehicle match. If they don't match then you may be purchasing a stolen vehicle. There are a lot of scams out there and many stolen vehicles sold each year. According to the Insurance Information Institute, there were over 1 million stolen vehicles in the United States in 2022. You can also check with the National Insurance Crime Bureau to find out if a vehicle was stolen with a simple VIN check. You can be out a lot of money if you purchase a stolen vehicle and often times, there is little recourse.
Odometer Verification: Make sure that on the CA vehicle title that the odometer reading says it's accurate. If it says anything other than that then you really have no idea how many miles are on that vehicle or if it has something else wrong with it.
These are important items to verify before purchasing a used vehicle in the state of California that can save you a lot of money and headache. If the seller does not have the title or it's lost then you may consider walking away from the deal or ask them to request for a duplicate copy from the California DMV before making your purchase. Running through this check-list is a best-practice procedure before buying any used SUV, car, truck, motorcycle or Motorhome.

How to Transfer a California Vehicle Title
The transfer of a California vehicle title is very simple if you have the physical title in your possession. The previous owner will sign the bottom of the title, as well as the new owner. The purchase price and date of the vehicle must be included as well as the mileage and the "Release of Interest" section that should be mailed in by the previous owner. The Release of Interest, aka The Release of Liability, can also be filled out online through the California DMV website. This is a very important step because if there is an accident or a situation the vehicle is involved in and the release of liability form was not sent in, it will leave the previous owner open for getting sued or being liable for any damages that were incurred. Another good procedure when transferring the California vehicle title is to have a bill of sale and to also make sure to have the condition of the vehicle listed on both the title and bill of sale. Most of the time that a vehicle is sold, especially without an existing warranty, the vehicle condition will be listed "As-Is" which means that what you see is what you get and there are no guarantees by the original owner.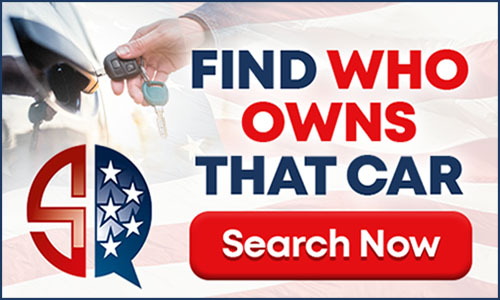 How to Get a Duplicate California Vehicle Title
If you visit the DMV website and you select the "Vehicle Registration" tab, you will select the "Application For a Duplicate Title" form (# Reg227). You can download the form in a PDF format, fill out the form with your full name and address as it's listed on your registration, your driver's license number and any additional information you have. Then you can mail in the duplicate vehicle title form to the California DMV with the appropriate fee for the duplicate title. Please note that when you apply for a duplicate California vehicle title, the original title is cancelled and null and void. Processing may take a few weeks and your duplicate CA vehicle title will be mailed to the address listed on file unless you request to have it sent to another address
Vehicle Title Lookup By State
---
California Vehicle Title Search - FAQs
Can I run a free California vehicle title search?
It will usually cost you around $20 to run a California vehicle title search and vehicle history report on a used car, truck, SUV or motorcycle. You will need to have your vehicle's 17 digit vehicle identification number to run a CA vehicle title search.
Can I buy a vehicle without a title in California?
You can but there are risks with doing so. It's always a good idea to verify the title information on a used vehicle before buying it as there can be major issues that can lead to you not being able to register it or transfer the title into your name
Can I transfer a vehicle title into my name that is abandoned in California?
Yes, it is possible to transfer an abandoned vehicle that is on your property into your name but you will need to first report it as abandoned and make a clear attempt to contact the previous owner before doing so. You should start by contacting the California DMV directly to inquire what is necessary to do this
How long does it take to receive my California car title?
After all the necessary forms and fees have been submitted, it typically takes the California DMV between 4 to 6 weeks to process the paperwork and send the new car title via mail.
What are salvage titles in California?
A salvage title is issued for a vehicle when it has been significantly damaged or totaled, typically from an accident, flood, or other natural disaster. Salvage vehicles can be sold, but the salvage title brand lets potential buyers that the vehicle has been significantly damaged in the past.
What should I do if I lost my California car title?
If your car title is lost or damaged, you can apply for a duplicate title from the California DMV. You must fill out a form for a duplicate title, pay the necessary fee, and submit the application. A copy will be mailed to the address registered on the
How do I obtain a title for my car in California?
To get a title for your car, you must submit an application to the California DMV directly. The application must include a vehicle identification number, proof of ownership, and any other relevant documentation such as a bill of sale
Can I sell a car in California without a title?
Possibly, depending on the documentation you have. You typically need a car title in California to sell it. Itu2019s easy to get a duplicate title if you have lost your original by contacting the DMV directly.
---