Run a Pennsylvania License Plate Lookup
Anyone in Pennsylvania that has a smartphone or computer and an internet connection can run a license plate lookup. This process has become simple and safe with online vehicle record repositories and public record websites. The first step of this search is to have the complete license plate number and enter it into the search field followed by verifying the reason for your search is a valid one. Then once you've completed that first step then you'll have access to vehicle history reports, vehicle title searches, vehicle specs, owner information, odometer verification, accident history, and more depending on what resource you are using. If you are attempting to locate Pennsylvania vehicle owner information then you will need to make sure you are eligible via the Pennsylvania driver protection privacy laws. There are only certain reasons allowable to access personal information, which are typically reserved for law enforcement, insurance purposes, and legitimate business to business inquiries.
Reasons People Want Pennsylvania Vehicle Records
Used car purchases, safety concerns, abandonments are a few of the reasons people use this resource. One example is when you walk outside your home and see an unknown car parked illegally across your driveway, you have a few options. You can talk with your neighbors to see if they know the owner of the vehicle or if they own that car. You also have the option of contacting the local police department about the vehicle. The police department can cite that vehicle or even have it towed to a local tow yard.  Another reason people might seek vehicle information in Pennsylvania is when purchasing a used car. Running a vehicle history report via the license plate number or VIN is a great way to make sure what you see is what you get and it holds the seller more accountable for what they claim. You might find the vehicle options are different from what is advertised or that the car title is salvaged. There are a multitude of reasons people want to know more about a vehicle, including their own. With a quick search online, anyone with a smartphone or laptop can lookup this information online. Below are some of the most common reasons people research vehicle records.
Before making a purchase of a used car, ensuring the vehicle has a clear title, is lien-free, and assessing vehicle safety and accident history.

 

Before selling a vehicle, to provide transparency and assurance to potential buyers, and showing them the vehicle is clean and without any hidden issues.

 

Insurance auditing purposes, to evaluate the risk factor and premiums for new clients and for accident investigations.

 

Vehicle records can be used as evidence in vehicle-related lawsuits, and to determine who might be at fault from a situation involving a vehicle.

 

To check if the vehicle is subject to manufacturer recalls or reported NHTSA safety issues.

 

To track past repairs and maintenance history, emission records, and safety inspections.

 

Banks can use a vehicle's VIN or license plate number to locate debtors and assets that need to be retrieved.

 

To aid in PA police investigations and accident reporting.

 

To verify the information provided during vehicle registration by the PA DOT or registering for a toll road fast-pass.

 

A plate number can be used by parking enforcement to make sure vehicles are parked in the right spots and have paid for their parking passes.

 

Free Pennsylvania License Plate Lookup
Though there are free public record databases available online, those resources can be hard to find. Many of these databases only offer basic information such as vehicle make and model and manufacturer specs and options. You will typically need to pay for premium reports such as a PA vehicle history report or a title verification. You can also find some free vehicle related resources if you have the 17 digit VIN of the vehicle you are researching. It is also important to note that you will not be able to find any free PA vehicle owner information as that is restricted by state privacy laws. Only certain verified entities, for specific reasons, can lookup personal information.
Pennsylvania License Plate Lookup via Private Detective
If you attempt multiple searches but do not get the results you need, consider hiring a professional. A private investigator may charge you for the fuel and for other expenses, but some investigators will actually charge a set fee for all the work involved. Investigators often have resources that the general public cannot. If you need to track someone down and only have a license plate number, this might be a good option. All of these methods can help you look up a vehicle related information if you need something specific that you can find online or from the PA DOT.
10 Fun Facts About Pennsylvania Plates 
The first Pennsylvania license plates were made of porcelain and were flat in shape, not embossed like modern plates.

 

Pennsylvania issued pairs of license plates from 1906 to 1943, but since then, only single plates have been issued. They are only required to be placed on the rear of the vehicle.

 

Pennsylvania was one of the first states to experiment with multi-year plates and stickers. This made it easier for people to keep up with their registration and improved efficiency within the department of transportation.

 

The first graphic on Pennsylvania's license plate was a keystone, that was issued in 1938.

 

Pennsylvania offers over 300 specialty plates, including military, organizational, and personalized plates.

 

The 'Conserve Wild Resources' plate features the state bird, the Ruffed Grouse.

 

The standard Pennsylvania plate has the state motto, "Virtue, Liberty, and Independence," written on it.

 

Pennsylvania was one of the first states to use a seven-character license plate format which is currently used today.

 

In 2017, the "Preserve Our Heritage" plate was introduced, featuring a barn scene with a covered bridge, reflecting Pennsylvania's rich history and cultural heritage.

 
Search a License Plate In Another State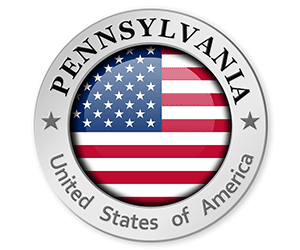 ---
Pennsylvania License Plate Lookup FAQ
Can I find out who owns a car with a Pennsylvania license plate?
It is possible to find the owner of a vehicle by running a Pennsylvania license plate search. You will need to have the full plate number and a valid reason, according to the DPPA and Pennsylvania driver privacy laws to find who owns that car.
Can I find out if a vehicle in Pennsylvania has been recalled through a VIN check?
Yes, a VIN check can reveal if a vehicle has been recalled by the manufacturer.
Are Pennsylvania VIN checks reliable?
VIN checks are typically reliable as they are based on manufacturer records. It is also a good way to obtain a vehicle history report.
Can a Pennsylvania vehicle record request reveal if a vehicle has any liens?
Yes, a vehicle record request can reveal if there are any lien holders on a vehicle, depending on what resource you are using.
How much does a Pennsylvania license plate check cost?
A license plate check or VIN check can cost anywhere from $20 to $30 for a vehicle history report or title verification, depending on what resource you are using and what information you are trying to obtain.
---