Performing a Connecticut License Plate Lookup
Anyone in the state of Connecticut that has an internet connection and a computer or smartphone can run a license plate lookup with ease. The first step in this type of vehicle search is to know the entire license plate number of the vehicle in question. If you have just the VIN, that's OK too as you can typically lookup the plate number from the 17 digit vehicle identification number. The second step is to have an approved reason for running this search as outlined in the state's privacy laws and then finally the search. Using the search form on SearchQuarry.com all a person needs to do is enter the full license plate and begin their search. Once the requirements are satisfied and the correct vehicle is verified you can have access to owner information, a vehicle history report, a vehicle title verification, vehicle vital statistics and more. Search Quarry's online vehicle record resources are safe and confidential and in the member's area, people can have access to unlimited searches and reports. There is also a section at the bottom of this blog where people can ask questions and get answers from one of the vehicle record experts that monitor the blog. Many people use this resource when they're in the market for a used car, to verify the vehicle title is clean or to make sure what the seller of the used vehicle is actually true. It's an accessible resource that anyone can use on the fly and it's service not offered by any motor vehicle office.
What You Can Find With a Connecticut License Plate Search
You can find the history of a vehicle
Lookup license plate owner information
Find out if the vehicle title is clean
Learn about all the vehicle specifications and options
Check the vital statistics of the vehicle
Odometer reading and sales history
Recalls and major safety concerns
Vehicle Salvage and Junk Reports
Additional Connecticut License Plate Information
The state of Connecticut requires all vehicles to have 2 plates displayed. One on the front and another on the rear, and only the rear plate requires the registration stickers. It is also important to note that every person that buys a new or used vehicle in Connecticut is required to apply for a license plate within 60 days after their purchase. Vehicle owners in Connecticut can also get customized or specialized plates for an extra fee. It's also required that all tags are current if the vehicle is on the road or it can be impounded, this also goes for vehicles without current auto insurance.
Run Any License Plate By State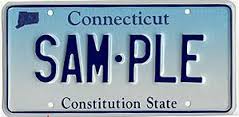 ---
Connecticut License Plate Lookup - Q&A
Do Connecticut custom license plates cost more than regular license plates?
Yes, there is a fee for the different custom license plate in Connecticut and that fee depends on the type of custom plate you choose. This extra fee will need to be paid each year you own the vehicle
---