Performing a Connecticut License Plate Lookup
Anyone in the state of Connecticut that has an internet connection and a computer or smartphone can run a license plate lookup with ease. The first step in this type of vehicle search is to know the entire license plate number of the vehicle in question. If you have just the VIN, that's OK too as you can typically lookup the plate number from the 17 digit vehicle identification number. The second step is to have an approved reason for running this search as outlined in the state's privacy laws and then finally the search. Once the requirements are satisfied and the correct vehicle is verified you can have access to vehicle history reports, a vehicle title verification, vehicle vital statistics, and some limited owner information depending on the reason for the inquiry. Many people use this resource when they're in the market for a used car, to verify the vehicle title is clean or to make sure what the seller of the used vehicle is actually true. It's an accessible resource that anyone can use on the fly and it's service not offered by any motor vehicle office.
What You Can Find With a Connecticut License Plate Search
A license plate lookup in the state of Connecticut allows people to find a wealth of details about a vehicle. Here are some of the key pieces of vehicle information that can be found: 
You can find the history of a vehicle
Lookup license plate owner information
Find out if the vehicle title is clean
Learn about all the vehicle specifications and options
Check the vital statistics of the vehicle
Odometer reading and sales history
Recalls and major safety concerns
Vehicle Salvage and Junk Reports
Accidents history
It's important to point out that depending on the online resource that you are using to access vehicle records in Connecticut, the availability of information may vary and some information may not be available to the general public. Please view the Connecticut Data Privacy Laws for more information about what vehicle records can be accessed. Some owner information may be limited and can only be accessed by law enforcement, business to business inquiries, insurance company inquiries and other allowable reasons set by the state.
Why Do People Want to Run a Connecticut License Plate Search
There are many reasons why someone might want to perform a Connecticut license plate lookup. Here are a few of the most common reasons to run this type of search: 
Used Car Buyers:

Individuals considering purchasing a used car can use this service to learn about the car's history, helping to ensure they are making a wise investment.

 

Law Enforcement:

Police officers and other law enforcement officials often use license plate lookups in the course of their duties to identify vehicles involved in crimes or traffic violations.

 

Insurance Companies:

These firms use this information to validate details given by policyholders and to assess insurance claims.

 

Lenders:

Banks and other lenders might use this information to assess the value and condition of a vehicle being used as collateral for a loan.

 
Even though many people in Connecticut want to know all there is to know about a vehicle with a license plate search, some personal information may be limited due to privacy concerns. It's important to review the privacy laws that frame this type of vehicle record search as some information may only be accessible by specific entities and not the general public.

Additional Connecticut License Plate Information
The state of Connecticut requires all vehicles to have 2 plates displayed. One on the front and another on the rear, and only the rear plate requires the registration stickers. It is also important to note that every person that buys a new or used vehicle in Connecticut is required to apply for a license plate within 60 days after their purchase. Vehicle owners in Connecticut can also get customized or specialized plates for an extra fee. It's also required that all tags are current if the vehicle is on the road or it can be impounded, this also goes for vehicles without current auto insurance. According to the Connecticut DMV, there are over 100 combinations of specialized and vanity plate options available as of 2022.
Connecticut License Plate Search Privacy Concerns
While a Connecticut license plate lookup can yield valuable information, it's essential to be aware of privacy issues. The Driver's Privacy Protection Act (DPPA), enacted by Congress in 1994, is a federal law that limits access to personal information in state motor vehicle records. This act was created in response to concerns about stalkers and criminals using DMV data. There are also state specific privacy laws that should also be reviewed before entering into this type of search. Even though Connecticut license plate lookups don't typically provide personal information, users should still be mindful of privacy concerns. They should ensure that they're using this tool responsibly, within the boundaries of the law, and respect the privacy of others. 
Conclusion 
A Connecticut license plate lookup is a valuable tool that can provide a wealth of information about a vehicle's history and specifications. It has broad applications for various users, from prospective used car buyers to insurance companies and law enforcement. However, while leveraging this tool, it's essential to keep privacy issues in mind and use the information responsibly and lawfully. The balance between transparency and privacy remains very important in our data-driven age. Even though the Freedom of Information Act allows the general public to view public records, it's up to each person performing these types of searches to use the information they obtain in a  responsible fashion.
Run Any License Plate By State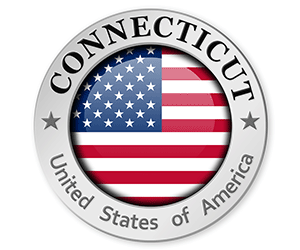 ---
Connecticut License Plate Lookup FAQ
Do Connecticut custom license plates cost more than regular license plates?
Yes, there is a fee for the different custom license plate in Connecticut and that fee depends on the type of custom plate you choose. This extra fee will need to be paid each year you own the vehicle
What is a Connecticut license plate search?
A Connecticut license plate lookup is a tool that allows you to find information about a specific vehicle registered in Connecticut by using its license plate number. Information that can be found with this type of search include vehicle history reports, title verification, odometer verification, accidents and recalls, and some owner information depending on the reason for performing this search.
What information can I find from a Connecticut license plate search?
You can obtain various details, including vehicle specifications, vehicle history (accidents, damage, recalls), title status, and registration details. Personal owner information is is limited due to privacy laws.
Is it legal to perform a Connecticut license plate search?
Yes, it is legal to perform a license plate lookup in Connecticut, as long as the information is used responsibly and within the confines of the law, such as the Driver's Privacy Protection Act.
Can I run a Connecticut license plate search for free?
Some online public record websites offer free basic information, but comprehensive reports may require a fee for more detailed information such a vehicle history reports.
How do I perform a Connecticut license plate lookup?
There are a multitude of online public record websites that offer license plate lookups. One of the great benefits of using an online resource is you can access vehicle information on the fly from any device that has internet access.
Can I check the registration status of a vehicle through a Connecticut license plate search?
Yes, a license plate lookup in Connecticut will typically provide information about the vehicle's current registration status and expiration date. You will want to make your request though the Connecticut DMV directly to inquire about vehicle registration information.
---