Indiana BMV – Bureau of Motor Vehicles
 A trip to the Indiana BMV is not exactly anybody's idea of a fun afternoon, but with more and more BMV services moving online, those visits are becoming shorter and, thankfully, less frequent. This is certainly the case with the Indiana Bureau of Motor Vehicles (BMV), which, as with DMVs and BMVs throughout the country, now offers many basic services, from registration renewal to driving test appointments, online. Below we will look at some of the services that drivers in Indiana can find at the BMV and when they may have to consult a different government agency.
Indiana BMV Driving Records
 The Indiana BMV offers two types of driving records: a Viewable Driver Record and an Official Driver Record. Both can be ordered and downloaded online. A Viewable Driver Record is free and it is useful if you simply want to know what is on your driver record, such as citations and accident reports. The Viewable Driver Record is similar to the driver records you can obtain online through third-party databases, such as SearchQuarry.com. An Official Driver Record, on the other hand, includes most of the same information as your Viewable Driver Record, but it is certified by the BMV. An Official Driver Record costs $4.00 and is usually required for court, employment, or insurance purposes.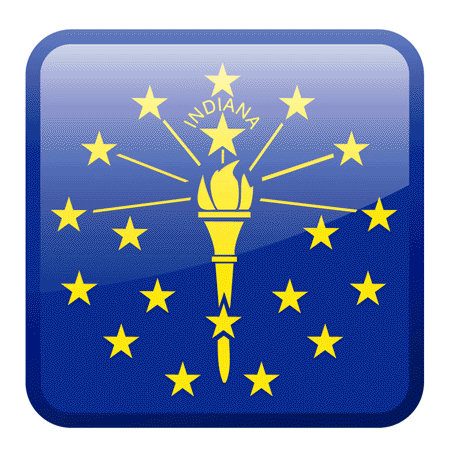 Indiana BMV Driving Test
 You can schedule your driving test online for most non-commercial licenses. If you are an Indiana resident, then you will need to set up a MyBMV account to make your driving test appointment online. New residents can also make an appointment online, but the process is a little different. Links for driving test appointments can be found here. Keep in mind that a knowledge test and a vision test will also typically need to be passed. For those applying for a commercial driver's license, you will need to contact the BMV in person or over the phone.
Indiana BMV Driver's License
 If you only need to renew or replace your Indiana driver's license, then you can usually do so online. Only those with a non-commercial driver's license can renew online. There are also other restrictions for those who want to renew online that can be found here. If you are applying for your first Indiana driving license or you are renewing a commercial driver's license, then you will need to visit the BMV in person. Those applying for a new driver's license will have to meet federal Real ID requirements. A Real ID is a type of driver's license that will soon be required when boarding most commercial airplanes and visiting certain federal facilities. To obtain a Real ID driver's license from the Indiana BMV, you will need to bring proof of identity, proof of lawful status in the United States, your Social Security Number, and two documents proving you are a resident of Indiana.
Indiana Driver & Vehicle Forms
 Unfortunately, the Indiana BMV offers only a very limited selection of forms online. Most of the forms online are related to vehicle registration and license plates. To find other forms, you may need to email or phone the Indiana BMV directly.
Indiana Traffic Citations
 You can pay for some, but not all, Indiana traffic citations online through the website of the Indiana Supreme Court. Their online tool allows you to look up a traffic ticket by the ticket number. You can also look up other citations you may have received by searching with your driver's license number or with your name and date of birth. Some counties and municipalities do not participate in this centralized payment system, however, so just because your ticket doesn't show up online doesn't mean you don't have to pay it. Check the ticket itself for instructions about how payment works.
Indiana Vehicle Registration
 There are a number of registration-related tasks that can be completed online through the BMV, including license plate renewal, registration renewal, and more. In some cases, you can even renew a friend or relative's registration online yourself. You can also print a duplicate of your vehicle registration online. To access these online services you will need to create a MyBMV account
If you are new to Indiana, however, you will need to go to a BMV office in person in order to transfer your registration and plates to Indiana. Be sure to bring with you your out-of-state registration, license, and, in some cases, proof that you have passed an emissions test.
Indiana Title Transfers
 With few exceptions, Indiana vehicle owners must have their vehicles titled in Indiana. If you have bought a vehicle from out-of-state and there is a lien on the vehicle, then a Request of Title must be sent to the out-of-state lienholder who also holds the title. To transfer the title of your vehicle, you will need to visit the BMV in person.