New Mexico License Plate Lookup Options
As it is required in all the states of US to register motor vehicles, North Mexico follows the same rules. All the motor vehicles including passenger cars, trucks, buses, motorcycles, motor homes, trailers, manufactured homes (mobile homes), and off-highway vehicles are required to be registered. If the registration expires, it must be renewed. The department also provides and follows a complete protocol in the event of any changes needed to be made to the original registration. Start your online New Mexico License Plate Lookup with the above form. Enter any New Mexico license plate number to begin.
You will need to title the vehicle before it is registered for the first time. Afterwards, a vehicle can be registered multiple times when needed. This is particularly required when the ownership of the vehicle changes or in case of changing any specific detail in the current registration.
Furthermore, the license plate of every vehicle also needs to be registered. License plates can be selected from a vast range of options which are subject to eligibility. For instance, military veteran plates cannot be used by civilians and a Retired NM State Police Plate cannot be used by anyone except a retired State Police Officer. These include;
Standard License Plates
Personalized License Plates
Organizations and Causes? Vehicles License Plates
Collegiate License Plates
Handicapped License Plates
Police, Firefighters, and Emergency Medical Technician License Plates
Historical Plates and Vintage License Plates
Military and Veterans License Plates
Motorcycle License Plates
For any queries or concerns, you can utilize the online service offered by the New Mexico Motor Vehicle Department. They provide online forms to be downloaded and filled which are required to be submitted in person. Once you have filled the form and have the documents needed for registration, you can visit any New Mexico Motor Vehicle Department office or branch near you to submit the application. The department has also provided a list of their offices along with their current locations and contact details.
License plate registration charges are also applicable for all the non-standard plates regardless of their category. This would be matched with the charges for the term of the plate. So, if you are registering your license plate for 2 years, a fee for that duration in addition to the registration fee will be charged against your name.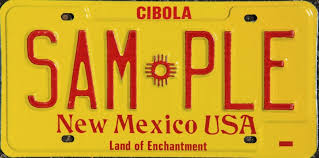 ---
Can I lookup owner of a New Mexico licence plate?
It is possible to lookup a New Mexico license plate owner if you contact the DMV and have a valid reason. There are also 3rd party websites where you can do the same but you must have a valid reason according to the New Mexico DPPA regulations.
---