Types of Warrants in New Hampshire
The warrants within the state of New Hampshire are divided into three categories: search, bench, and arrest warrants. The search warrants are required by all law enforcement officers in order to enter and conduct a search for the specified commodity. Search warrants have a designated time period, after which they expire. Whereas bench and arrest warrants do not expire. New Hampshire has a government website which is helpful in finding warrants online. Another effective way to find warrants in New Hampshire is to use the county sheriff website in which the warrant was issued.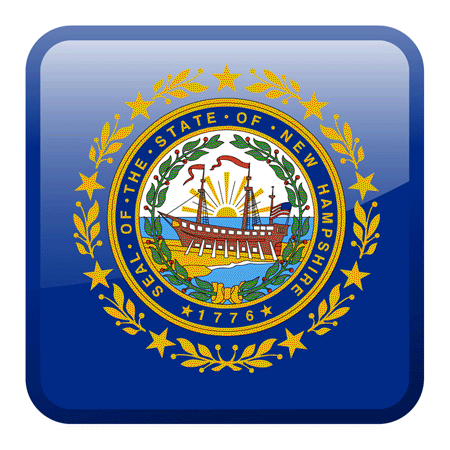 Serving Search Warrants in New Hampshire
The state of New Hampshire entails a law enforcement officer to show a legitimate affidavit, before a search warrant against the suspect is released. Lawfully, a police officer cannot force themselves into someone else?s property without this warrant. However, if the officer does have a search warrant and the suspect tries to resist, they might face consequences.
Serving Arrest Warrants in New Hampshire
Arrest warrants, unless later reversed, are applicable until the individual is arrested by the law enforcement and taken into custody. There must be a probable cause that is provided to the judge, if a law enforcement officer wants an arrest warrant to be issued. If the case is based only on doubts and suspicious beliefs about illegal activities and crimes but lacks sufficient evidence, an arrest warrant cannot be issued.
Moreover, if an arrest warrant has been issued against a person, and the law enforcement officers manage to track down the said person, they have every right to show up to that residence and take the individual into custody. They do not require a search warrant to enter the premises in this case.
In case the person tries to flee or destroy evidence, the officers are lawfully permitted to break the windows or doors in an attempt to arrest the person and/or preserve the evidence. If there is any other individual who is trying to help the accused escape or destroy the evidence, they will be charged with obstruction of justice consequently ? regardless of whether they?re members of the suspect?s family or friends.
In New Hampshire, arresting someone without a warrant is possible but only in specific situations. For instance, if the suspect is posing a threat or danger to others or to themselves, or if the individual is caught committing a crime witnessed by a law enforcement officer.
Bench Warrants in New Hampshire
A bench warrant is issued when a person fails to oblige by court orders. These orders can be issued for anything, such as child custody payments, etc. If the individual fails to appear in front of the court on the date appointed to them, a bench warrant is issued that stands until the person has been arrested or turns themselves up to legal authorities. This doesn?t mean that they will face jail time, but depending on the severity of the situation and the decision of the court, even that is a possibility.
In the state of New Hampshire, individuals with a bench warrant are mainly those who have posted bonds for their bails. Upon failure to attend the court hearing, it is assumed that the person has jumped bail. According to the law of New Hampshire, if a person misses their court hearing once they have admitted to bail, the judiciary can entail forfeiture of bonds. The court can even issue an arrest without a warrant in such circumstances.