How to Obtain a Marriage Certificate Copy
A marriage certificate is a form containing vital information about the wedding that took place. This document is a legal record of the union between the two people who were married. This certificate will include the bride and groom's full names, the date of the marriage and the name of the officiating person. In some instances, it might also contain the signature of a witness to the event. The person who officiates the wedding provides the certificate, and also is responsible for sending it into the county clerk's office. This certificate is the only legal record of the marriage, so it is important to have it filed properly.
How to Obtain a Certified Marriage Certificate Copy
A certified copy of the marriage certificate can be obtained by contacting the county clerk's office in the county where the marriage was performed. This copy is an exact replica of the original marriage certificate filed with the court. Some counties provide their marriage certificate request forms online, making it convenient to complete the form and send it in. People who do not have Internet access can still request a certified copy of their certificate by sending a letter with the required information. Calling the county clerk's office is a good way to obtain needed information about where to send the letter and what fees might be involved.
The letter should contain the names of the bride and groom prior to the marriage, as well as the name of the person who officiated. It should also include the city and date of the wedding, why the person is requesting a copy, the person's name, address, driver's license or ID number and signature. Always include a self-addressed stamped envelope for return purposes, as well as a check for the fees.
How to Obtain a Non Certified Marriage Certificate Copy
There are also non-certified copies of marriage certificates available to purchase online. Commemorative certificates are decorative prints created for display. These prints will have the names of the wedded couple and the date their marriage took place. The background of the print is usually colored and can include some type of sentimental image, such as a pair of wedding bands. These non-certified copies can be purchased online through different government offices, as well as through private retailers. These certificates are not legal records and are designed for informational purposes only.
Additional Marriage Certificate Resources
Obtain Certified Marriage Certificate

Marriage and Divorce Statistics

History of Marriage in the US
National Organization for Marriage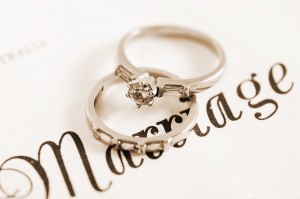 ---
Can anyone get a copy of a marriage certificate?
Records of marriage are public record however, only the married party can obtain a certified copy of a marriage certificate unless there is a court order to procure one for someone else.
---