I Want To Find Out Who Is Texting Me
Most people have had the question of "Who is texting me?" at some point in their lives. Maybe you've heard your phone buzz in the middle of an important meeting, or perhaps it has disturbed you during your slumber, or maybe it's an annoying solicitor.. Fortunately, you can do a
reverse texting search
and find out who is on the other line. There are plenty of reasons why you would want to know the origins of that text message.
Texts From An Unknown Phone Number
You've likely found yourself in a situation where you could not remember someone's name. If it happened in person, at least you recognized the individual's face and could carry on a conversation with the hopes that the name would come up. When you have forgotten someone's phone number, that isn't the case. A reverse phone search could tell you the name attached to the number so you don't have to deal with the embarrassment of having forgotten a relative or friend's number.
Getting a Text From a Potential Employer
These days, places of employment are using all different methods of communication to contact prospective employees. While texting is not the most common way, it is possible. You might ask yourself "Who is texting me?" and set your phone aside, but it could be an inquiry from a place where you sent a resume. If you have recently sent out multiple resumes, you may very well not recognize the number. Therefore, trying a reverse texting search can help you to determine the source and to procure that job.
Text Message Scams
Some texts are simply irritating, but others are trying to destroy you, particularly in terms of your financial life. You may receive text messages with offers that sound intriguing. Maybe the text promises you a fantastic price on a new car or on an enjoyable vacation. Signing up for any sort of offer through text message, especially before checking the source of the text, is dangerous. By using a reverse phone number search, you can discover if any credibility exists to this offer.
Phone Number Spoofs
When you get a message from a number that you don't know, you may assume that the number will take you directly to the person. However, it is also possible to spoof numbers. For example, someone might spoof your number by making the caller ID look like it's your phone number. This individual thinks that you will respond because you see your own number and are intrigued. In the event that you receive information from your own number, you are likely being tempted in a scam. In other cases, you can do a reverse phone search, and you may discover that spoofing experts are consistently using the same number.
Restraining Order For Texting
When you have an order of protection taken out against another individual, you likely want to stay far away from that person both physically and virtually. If the person changes phone numbers, he or she may text you from that new phone number. By looking into the origin of the text, you may see the person's name pop up. Then, you can report that this person has violated the terms and work to keep yourself safer.
Texting Stalkers
It is also possible that someone may attempt to stalk you through text messaging. You may have innocently given out your number, not knowing what the person was like. The text could also come from a person in your past who has changed numbers. Knowing the source of the text can help you take the necessary steps to better ensure your safety.
In some cases, mysterious texts are benign. Someone may have entered the wrong number. In others, knowing who sent the text is pivotal in order to protect yourself.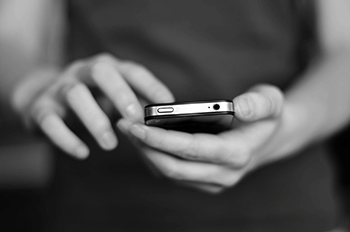 ---
Who Is Texting Me - Frequently Asked Questions
How to Report Unwanted Phone Calls
You can report unwanted phone calls by contacting the Federal Trade Commission online or calling them at 1-888-382-1222. You can also inquire with your service provider if they have a service to block unwanted phone calls from the same phone number.
How do I find out who is texting me?
Finding out who is texting you is fairly simple as long as it's not a soofed phone number or a VOIP phone text. There are a multitude of free resources online such as SearchQuarry.com where you can reverse search a phone number anonymously.
---