What is a Vehicle Registration?
In short, your vehicle registration is a document that connects a vehicle, whether it's a standard personal car, work vehicle, truck or motorcycle, to the owner. This enables the Department of Motor Vehicles – shortened to DMV – to have information on any vehicle and owner of the vehicle in case of a car accident or other issues. Of course, registering your car also has practical functions. When you register your vehicle for the first time, the DMV will generate license plates for your car, provide registration stickers and a registration card you'll need to keep with your vehicle.
The process of registering your car for the first time depends on how you buy your vehicle. Below are a few different common scenarios.
How Do I Register My Vehicle With the DMV?
You just bought a new car. With a new car, the dealership will help with some of this paperwork and generally handle the registration for you as part of the sale. You will typically receive your completed registration, license plates and license plate stickers by mail.
You have purchased a used car from a private seller. When you buy a used car, you will need to take care of the registration yourself. You can do this through your local DMV office in person, by mail, or in some cases, online.
You've just moved to a new state. When you move to a new state you'll need to re-register your vehicle in the correct jurisdiction. In a lot of states, you'll need to visit the DMV in person for a vehicle inspection when you register it for the first time. You may also be required to have a smog check performed by a certified provider.
When you register your vehicle with the DMV, you'll typically need a few documents handy. These may include your driver's license, proof of insurance, vehicle title, smog check certificate and registration application form, depending on your state.
What Information is on a Vehicle Registration Card?
Vehicle identification number (VIN). Your VIN is a unique number that identifies your specific vehicle. No other car will share your VIN.
License plate number. This is the license plate number that appears on your license plate.
Vehicle title number. Your title number helps further identify your vehicle
Registration expiration date. This shows when your registration will expire. Renew your registration before this date to avoid a lapse.
Make and year of your vehicle. This identifies your vehicle. This field may indicate something like "Honda 2021."
Vehicle owner's name and address. This field will show your name and where you live. You'll want to update this when you renew your registration if you move.
Keeping Your Vehicle Registration Current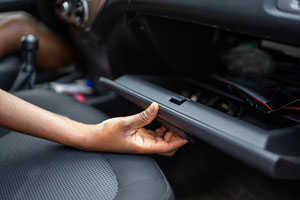 Your vehicle registration needs to be renewed on an annual or semi-annual basis depending on where you reside. Failure to renew your vehicle registration on time could result in an assortment of penalties including late fees. If you are pulled over ,by law enforcement, and your registration is not valid, you will receive a traffic citation and possibly have your vehicle impounded. After a certain number of days or multiple infractions, your vehicle may be impounded. This can be very costly. Your car insurance premium can also go up in some cases if you don't keep your registration current. Some insurance providers may cancel your policy as well. Avoid these issues by giving yourself time to pay registration fees before the expiration date.
Remember that your car is still legal to drive if you've paid your registration but haven't yet received your updated license plate stickers. Just keep your registration paperwork in your vehicle along with any proof of payment like a copy of your check or a printout of your online payment in case you are pulled over.
What If I Lose My Vehicle Registration?
In general, getting a duplicate vehicle registration card if your original is lost or damaged is simple. Typically, this can be done online by simply filling out a form. In many cases, a small fee may be attached. Your new registration will be mailed to you. You may also be able to go into your local DMV office with the same paperwork you used to obtain your original registration and get a replacement. Registering your vehicle is an important step toward car ownership and one you simply can't skip. Keeping your vehicle registration current is also a must to avoid late payment fees, or worse, impound costs if you are pulled over.
---
Vehicle Registration Frequently Asked Questions
Where is the best place to keep my vehicle registration card?
The best place, and often the safest place, to store your vehicle registration card is in the glove compartment of your car. This is a convenient and obvious place to look when you need your vehicle registration if you're pulled over for a traffic citation
---