How To Perform A Reverse License Plate Search
A reverse license plate search can be done in a couple ways. The first way is to go into the DMV to and request this information. They will ask you to provide a verifiable reason of why you're searching for license plate information. They will most likely charge you a nominal fee for a copy. The second and much easier way, to get a reverse license plate or VIN number search, is to use a public records website. Not all public record websites will have DMV and vehicle records so do your due diligence before buying anyone's service. You can try our license plate search for free with our 5 day free trial.
DMV Reverse License Plate Search
When going to the DMV there is a requisite to obtaining license plate information. That requisite is you have a verifiable reason to lookup this information. Here are some of the acceptable reasons for this request:
Automobile Information Disclosure Act
Motor Vehicle Information and Cost Saving Act
National Traffic and Motor Vehicle Safety Act of 1966
Anti-Car Theft Act of 1992
Clean Air Act
You will have to show proof of this and attest to the fact that you won't share this information or use it for any purposes under the FCRA.
Online Reverse License Plate Search
There are some online reverse license plate resources but be careful. Very few of these public record websites can give you accurate nationwide reverse license plate search data. One means of verifying you'll be getting accurate results is if the website asks you the same criteria the DMV would ask you. Additionally, any online website should also give you partial vehicle record results before signing up. This will save you some headache when trying to find vehicle records online.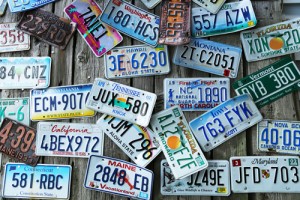 ---
Can a reverse license plate search find the vehicle owner?
A reverse license plate number search can reveal a lot about a vehicle and limited owner information. As long as you have a valid reason according to your state's DPPA laws you can run a reverse license plate search online anonymously. Other options include going to the DMV directly or hiring a private investigator to dig up the details of a license plate number.
What is a reverse license plate number search?
Reverse license plate searches are just that, taking the full license plate number of a vehicle, and the state it's registered in, and running the plate number through a vehicle records database to find out information about the vehicle, the VIN and owner information. Some information might be limited depending on the state you live in and what the DMV rules and regulations are in that state.
---