How to Run a Birth Certificate Search
A person's birth certificate is an essential vital record that represents their identity, citizenship, and age. It's a record of a life event that is part of the public record for everyone born in the United States.. It's a necessary document needed to obtain a social security number, get a driver's license, obtain a passport, and to be an integrated part of society. Running a birth certificate search on someone is an easy way to verify someone's identity, find out their age and where they were born. To begin a birth certificate search online you will need the full name of the person and their state of residence. You can quickly verify anyone's birth certificate record through most any public record website however, if you need an official copy of your own certificate, you will need to order that from the state you were born in.
What is Included on a Birth Certificate
The full name of the person

 

Date of birth

Time of birth

 

Location of birth (state, county, city)

 

Gender

 

Name of both parents, including maiden name

 

Parents birthplace and address

 

Birth registration number

 

Date of birth registration

 

Signature of the registrar or an authorized official

 
Every state manages it's own birth records, which are part of a person's vital record that document life events, which also includes marriage records and death records. Each state issues and registers births and records them at the state and federal level. The look of the certificate and information listed on it may vary slightly from state to state, but the core information remains consistent. For example, some states may not include the parent's birthplace.
How to Get a Birth Certificate Replacement
Visit your state's Department of Health, Vital Records website. They manage the state's birth records and issue official copies of birth certificate replacements

 

Make your request for a replacement of a certified birth certificate, download and fill out the required forms.

 

You will be required to submit proof if identification such as a passport, driver's license or military ID. They will need to verify your identity for security reasons.

 

Pay the required fee and submit the form online or in person if online submissions are not an option. You may also need to upload pictures of your ID and answer some identity verification questions.

 

Your replacement birth certificate record will be mailed to you after processing. Those times may vary depending on the state, but expedited processing may be an option for an extra fee.
It's important to note that certified birth certificate replacements can only be obtained by someone wanting to get a copy of their own certificate, and identify verification is needed to process the replacement certificate. Since this certificate is another form of identity, you may also be required to sign an affidavit or have your request form notarized, as part of the replacement process. Once you receive your replacement, take a picture of it and then put the certificate in a safe location such as a safe or lockbox. If a birth certificate get's stolen, it will make it much easier for someone to steal your identity.
Why Does Someone Need a Birth Certificate?
A birth certificate is a necessary piece of documentation that is needed throughout life for various purposes. It is needed to obtain a social security number, enroll a child in school, apply for a driver's license, and obtaining a passport. It is important to retain the original birth certificate, but certified duplicates can be requested from the state's Vital Records Department. If someone has lost their birth certificate the CDC has a website that is searchable by state. This allows the user to click on their birth state and gain access to links where a replacement certificate can be obtained. It's good to keep this certificate in a safe or lockbox, it is not necessary to carry it on your person. You may need it from time to time, for example, you will need this document in order to apply for a marriage license. Marriage certificates are also part of a person's public vital record, as are birth and death records.
What Do Adoption Birth Certificates Look Like?
They are no different than certificates of birth. When searching birth certificate records of an adopted person, that individual is still issued a certificate of birth with the biological parents names, unless the adoption took place at birth, then there may also be information included on the certificate about the adopting parents. Another scenario is that when a child is adopted by a family, the original birth certificate record can be sealed, and a new birth certificate can be issued with the adopted parents names. This all depends on the state the child resides and the circumstances of the adoption, as well the state that the adoption was finalized. Adoption records are not part of the public record, but it is still possible to view someone's birth record online for research or verification purposes. The official adoption birth certificates are only available to the adopted person and the parents or legal guardians.
The History of Birth Certificates in the United States
The systematic recording of births in America dates back to the colonial era, from the 1600's to the late 1700's, when churches and town clerks maintained handwritten registers of known births. Then in the 1800's, once the United States was established, individual states started keeping track of their own vital records which included births, deaths and marriages. Then in 1902, the first comprehensive federal birth registration system was created. This was a national system that standardized the registration and indexing of births in the United States, which offered a more cohesive means of looking up birth certificates both by state and nationwide. Then in 1907, The Census Bureau's Division of Vital Statistics issued guidelines for states to standardize their vital records. Then over the next few decades, every state adopted this standardization. As of 2023, all states have their records digitized where anyone can research and obtain their birth certificates online. According to the US Census in a January 2023 report, the US population has exceeded 334 million people, which means there are just as many certificates of birth.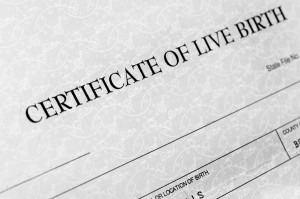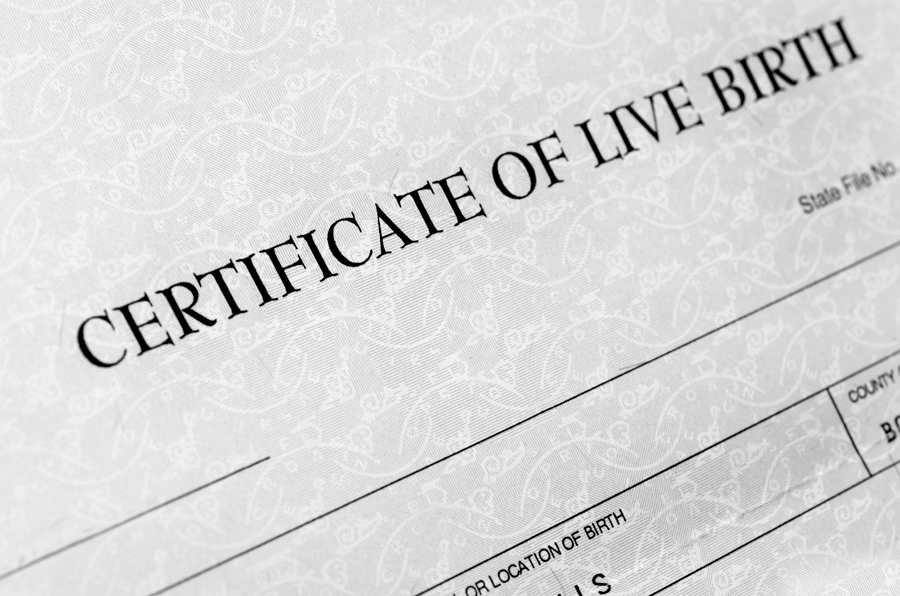 How to Change a Name on a Birth Certificate
In order to change a name on a birth certificate, there are a few key steps and requirements that need to happen in order to complete this legal process. Each state may have a slightly different process to make this change, but the following guidelines are all fairly similar: 
First, you must have your current official birth certificate, or order a new one before entering this process.

 

You must also have a valid reason to make a change to your birth record information such as an adoption, a name change, court order, or a clerical error.

 

Gather all the supporting documents for the name change and have them ready to submit for your petition.

 

Contact your state's Department of Health and download and fill out the required forms. You may need to visit a branch or court in person as well as sign an affidavit to process your request.

 

If you are able to complete your name change request online or through the mail then pay the required fees and submit your paperwork. Processing for name changes can take some time depending on if there are any follow-up questions to your request.

Once your request has been accepted, processing can take several weeks and a new certificate of birth with your updated name will be mailed to you.

 
---
Birth Certificate FAQs
Can I obtain a birth certificate without an ID?
It can be very challenging to get a copy of your birth certificate without proper ID. Most states will need some form of identity verification to issue a copy of this certificate as it would be an easy way for a person to steal someone else's identity. You may need to obtain a court order to obtain a copy of your vital records without an ID.
Can I get a passport without a birth certificate?
There are ways to obtain a passport without your certified certificate of birth. You will need other forms of ID as well as signing an affidavit, or a letter of no record if your birth record was not properly registered with the state. There is a precedence for this situation but you will want to contact the US State Department directly about your inquiry
Where is my birth certificate document number?
The certificate document number can vary from state to state but typically it's located on the upper right corner of the document itself. It may also be printed on the margins of the document or near the vital record information such as the name and place of birth.
Where do I order a copy of my birth certificate?
You can order an official copy of this document directly from the Department of Health and Vital Records Office in your state. You can typically complete this process online or by mail and a copy will be mailed to you after completing all the required forms and documentation
---