Maricopa County Warrant Search
From the Maricopa County Sheriff?s Office official website you can find whether there is an outstanding warrant for a person. When you land on this page you will find that all you need to do is input some personal details about the person, like their full name and the search engine will do the rest for you. To begin your Maricopa county warrant search use the above form and enter a first and last name to begin.
Search warrants are issued by judges when the law enforcement requests it, showing probable cause of criminal activity in the property. This warrant permits the police to enter a person?s property and conduct a search for evidence of an ongoing crime investigation. These warrants are issued during the investigative stages so a case filing is never required.
With an outstanding warrant a criminal case will be filed against you. Bench warrants and arrest warrants are issued by the judge in Maricopa County when the prosecutor files criminal charges. You can check with the Superior Court of Maricopa to find if there is a case pending against you.
The County Sheriff?s department can be helpful in finding information regarding a warrant. The information that you find here may not be as accurate as that you find in court because sometimes the data base is not immediately updated.
A very common misconception is that in time, a warrant is removed from the databases of a law enforcement agency. That is wrong; the warrant remains until it is recalled. Being arrested by the police for an outstanding warrant, or having to go through penalties for failure to appear is the last thing anyone would want. Therefore the best thing to do in this scenario would be to check through online resources whether there is really a warrant; it only takes a few minutes and is super helpful.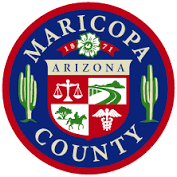 ---
What is an Arizona search warrant?
An Arizona search warrant is an order issued by the Arizona courts to search a person's personal property including their home, vehicle, storage facility. Arizona search warrants are carried out by law enforcement officers.
---