What is a Michigan Criminal Background Check?
A Michigan criminal background check is a process that anyone can complete and that reveals the criminal history of a person. When it comes to criminal background checks, you are able to run one on yourself or another person. You will need some basic information in order to do this. This includes a person's first and last name, as well as their state of residency. Since information is classed as a public record, this means that you can search for anyone. In particular, criminal records are in the public domain. It is also important to note that not all Michigan background information resources are the same. Some can be used for official business such as employee hiring or tenant screening and other background records can be used for reference only. The large majority of official Michigan background checks performed are for businesses. This is typically done through the hiring process and before they welcome a new employee on board. The purpose behind this process is so that the business can find trustworthy employees and that are going to be a safe hire for the position. Often, this is seen in particular industries where trust and care are needed.
What Shows Up on a Michigan Criminal Background Check?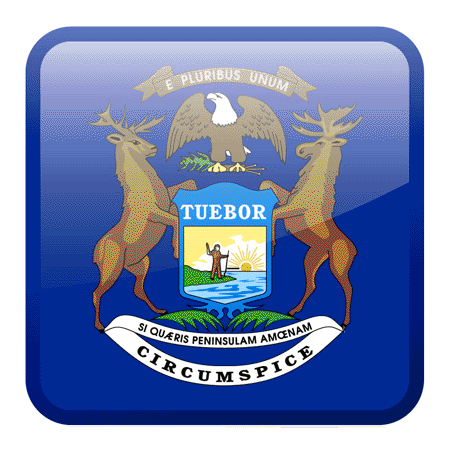 When you conduct a Michigan criminal background check, there is a lot of useful and sometimes alarming information that revealed about another person. For example, the are may be arrest records, court records, driving citations, DUIs, incarcerations, Michigan police records, warrants, liens and a multitude of other public records. With nearly one third of the US adult population having a criminal record, you might be surprised what show's up on your or someone you know. Even a driving traffic citation is considered a criminal offense. Where more serious offenses that result in misdemeanor and felonies can be a result of a DUI. This type of information is going to be recorded on your public record. If someone has been incarcerated then their mug shot is public record as well as their race, sex, height, weight, eye color and even place of birth. Even tattoos are listed for people that are incarcerated in state prisons.
A Michigan criminal background check is going to reveal the criminal charged and sentenced to by the courts. Most all court records are public domain except those of family court and those related to juveniles as well as military court records. If you need an official court record or court docket, for official purposes, you'll want to contact the clerk of the courthouse where that Michigan court case took place.
How Far Back Does a Michigan Criminal Background Check Go?
This is a very common question that is asked regarding Michigan background checks is whether there is a time limit, or statute of limitations, to convictions or if there is a certain period of time where a criminal history will be wiped clean. It is important to note that in many cases there is a time limit when it comes to some criminal information where it can be sealed or expunged.  Often times the statute of limitations on the less serious crimes, which are infractions or misdemeanors, is a seven year time period. That being said, it is still also possible to find information that dates even longer. It can be surprising what can be found out about a person's background public record.
How to Check Someone's Michigan Criminal Background
There are multiple ways you can run a criminal background check in Michigan. For example, the state has something called the Internet Criminal History Access Tool, which is often shortened to ICHAT. This is an online system that is used by the Michigan State Police's Criminal Justice Information Center. This is going to allow you to run a criminal check on anyone you want to. It is able to search for arrests and convictions in all of the 83 counties in the state. It is important to note that you will have to pay for a Michigan criminal background check. For example, using the ICHAT system, there will be a nominal charge per report you obtain through this process. If you are having to run several criminal background checks, this is something that you have to be prepared for.
There are also other online tools you can use to carry out a Michigan criminal background checks. There are a multitude of online public record websites that you can obtain non-official background reports. One benefit is that using these third party public record resources will allow you to search anonymously and often for a much lower cost than government background check resources.
---
Michigan Background Check FAQs
How Long Does a Michigan Criminal Background Check Take?
A lot of people do not want to wait long when they run a Michigan criminal background check. In other words, they want this information promptly. How long a check will take will depend on what method you choose to use. For example, if you are requesting through the ICHAT system, you may have to wait. Alternatively, there are some online tools you can use yourself that are going to provide quick results for the person you are looking for.
---